Would you like to share your thoughts with us and with other RTÉ.ie users on the retirement of Micheál Ó Muircheartaigh? If so, email us at sportonline@rte.ie. Please note: RTÉ.ie may edit your comments and not all comments will be published.

Tributes are being paid to RTÉ's Gaelic Games commentator Micheál Ó Muircheartaigh after the broadcaster's announcement that he is retiring.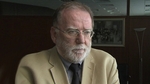 Cathal Goan, RTÉ Director-General, said: 'Micheál Ó Muircheartaigh's first broadcast was on a Railway Cup match in 1949. In the 60-something years that have followed Micheál has become one of the most deeply resonant voices of the GAA on RTÉ. To say he is unique would be to understate the professionalism and the depth of the man.

'Equally, it doesn't capture the colour of his work, the lyricism and richness of his delivery, or the deep, powerful connection he has made both with listeners and players.
'Let the numbers speak for themselves: this Sunday we will hear Micheál's final commentary for the 114th All-Ireland Senior Football Final, his 25th final in the year of his 80th birthday. His voice has defined GAA broadcasting for a generation, and will echo down the generations to come.'
Uachtarán Chumann Lúthchleas Gael, Criostóir Ó Cuana, said: 'Micheál Ó Muircheartaigh has made a huge contribution to the promotion of Gaelic Games through his unique commentary style and it is no exaggeration to say that he has been the definitive voice of the GAA in homes and clubs across the country for over six decades.
'His grá for An Ghaeilge often shines through in his commentary and his attention to detail, recall and natural passion for our games has helped portray the very essence of what makes football and hurling so appealing to legions of supporters, not only in every corner of Ireland but all the way around the globe.'
'As if Sunday's football final prospect wasn't enticing enough there is the added attraction of being able to say that you were in Croke Park or that you listened to what will be the last final commentary of a legendary broadcaster.
'The quality and attraction of his commentaries on such a regular and consistent basis down through the years mean his lyrical descriptions are woven into the fabric of our games.
'His undimmed passion for football, hurling and camogie and all the trappings of our big occasions, have entertained the masses across the airwaves and have brought the action from Croke Park, Thurles, Páirc Uí Chaoimh, Clones, Castlebar and so many other venues into homes and centres where Irish people gather right around the world.
'He is synonymous with the ebb and flow of our matches and the unique relationship he forged with both players and managers, who held him in such high regard, provided him with a unique insight.'

Taoiseach Brian Cowen said: 'I want to take this opportunity to extend my good wishes to Micheál O'Muircheartaigh on his retirement.
'Micheál O'Muircheartaigh is one of the most popular and admired figures in Irish life. He has had a long and hugely distinguished broadcasting career and he has brought pleasure and excitement into the lives of millions of GAA supporters.
'Today, I want to congratulate him on his many achievements and his great service to the Irish people.
'Micheál has contributed significantly to our understanding and enjoyment of great sporting occasions down the years. His enthusiasm, knowledge and passion for Gaelic Games are unrivalled.
'He is an unassuming legend and in many ways he has become a treasured national institution. He is also a great gentleman and despite his remarkable success, he has remained the most modest and gracious of men.
'I want to wish Micheál happiness in his retirement and I look forward to seeing him soon.'
Tributes from RTÉ colleagues:
Micheál has been the voice of GAA for over 60 years and the real sound of Sundays. His genuine of love of GAA, and sport in general, has always shone through. He has been at the core of RTÉ Sport for over half a century and will be irreplaceable.
I would personally like to thank him for his commitment and professionalism. I know I and all of his colleagues would like to wish him well in his retirement; he is a true broadcasting legend.
Ryle Nugent, Group Head of RTÉ Sport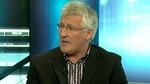 He is a legend, the voice of the GAA and simply irreplaceable. He is the only person about whom I have never heard a bad word spoken, which is unique in Irish life. It sums Mícheál up, a true gentleman.
Pat Spillane

To me he was the greatest commentator of all time. Being involved in RTÉ he was always encyclopaedic on all sport. No matter where you would meet him he would always have time for you. He had a common touch, an ordinary man's touch, it didn't matter if it was 80,000 people in Croke park or three guys at a dog race on a Saturday night.
Cyril Farrell

A wordsmith in two languages. I love his ability to weave a story about a player's family or relation into the match commentary. My favourite piece of Mícheál's commentary is the final moments of Leitrim's Connacht Final win in 1994, their first win since 1927. Mícheál spoke about the people of Leitrim looking down from the veranda in heaven. It caught the emotion of the moment perfectly. A legend.
Des Cahill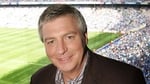 For people of my generation, he and Mícheál Ó Hehir were the voice of GAA. His name is synonymous with GAA games. He brought Gaelic games commentary to people who might not have been huge GAA fans simply because they loved the sound of his voice, his phraseology and the way he would put things, he opened the games to a whole new audience. It is an over-used phrase to say somebody will never be replaced but in this case it is true because his style was absolutely his own and absolutely unique.
Michael Lyster
The word 'legend' is thrown around these days like confetti but for me both personally and professionally there is only one real legend. Mícheál Ó Muircheartaigh is an icon of Irish broadcasting and I have been privileged to work beside him in RTÉ for many years.
His beautiful voice, his effortless switching from Bearla to Gaeilge and his storytelling skills are all part of his repertoire and consequently his impact on the people of Ireland is unquestionable. For 60 years he has described every kick, every puck, every point, every goal - be it League or Championship - to all of us who have listened to his dulcet tones at home, or in the car or in hospital or indeed to the thousands who brought the wireless with them to the match itself.
On a personal level, he has been my hero, my advisor and my friend. An absolute gentleman whose personality and company I love. Nobody will ever replace him for he is quite simply irreplaceable.
Marty Morrissey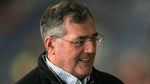 I want to add my congratulations to Micheál on a most brilliant career in sports broadcasting. It has been a great pleasure sharing great moments with him over the past 25 years. He is always most helpful and in good humour. Micheál doesn't change, the person we know and love behind the microphone is exactly the same warm, charming, chatty person behind the scenes.
An abiding memory for me was the conclusion of the Connacht Final in 1994. Leitrim had just tasted victory for the first time since the 1920s. I walked with Micheál from the commentary boxes in Dr. Hyde Park to the dressing rooms located out near the Athlone Rd. An elderly man approached him with the greeting: 'Miceal O Muircheartaigh, you're everyone's friend' There aren't too many people you could say that about!
Ger Canning
Other tributes: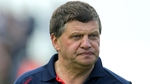 Former Mayo manager and sitting Fine Gael TD John O'Mahony said: 'Micheál was as important to GAA matches as the football, the sliotar and the players.
'He transcended his position as a commentator. In an era when relations between the press and sports people can be an issue, it was never an issue with Micheál. His love of Gaelic football and hurling was there for all to see and hear and he was loved all over the world as well as at home.
'Every person in the GAA has their favourite memory of Micheál. Personally, I remember the final few moments of Leitrim's victory in the 1994 Connacht final when Micheál described how not only were Leitrim people in Croke Park and Leitrim people all over the world watching this but Leitrim people were watching from the veranda of heaven. Micheál is truly the only person who could commentate to anywhere in this world and beyond!'
Fine Gael Tourism, Culture & Sport Spokesman and Kerry Deputy, Jimmy Deenihan, called the Kerryman one of the greatest voices of all time in Irish broadcasting.
'Micheál represented all that was great about the GAA, about Ireland and about Kerry.
'His unique style of broadcasting was loved the world over. In fact, I knew many people who used to turn the TV down and the radio up just so they could enjoy Micheál's unique brand of commentary.
'Something about Micheál pointed to the best of all things Irish and everywhere you went everybody had their favourite story about him. I have known Micheal for 40 years and from a personal point of view, I particularly remember his role in the golden years of Kerry football in the late 1970s and early 1980s. He trained the Dublin based players of the team and his role in our four-in-a-row will never be forgotten.'

Sinn Féin President Gerry Adams said: 'For as long as I can remember Micheál Ó Muircheartaigh has been the impassioned voice of Gaelic games for generations of players and supporters.
'Rinne sé éacht ag cur cluichí Gaealacha agus a n-imirt chun tosaigh.
'Micheál's exciting and insightful commentary will be greatly missed.'
Your Tributes:
The Ballad of Micheál Ó Muircheartaigh
Across grassy fields the summer breeze, it carried the mighties voice.
To close the eyes and smell the grass and see the scores.
It's high, it's wide, it's over.
Oh what a brilliant game that was, and I watched it beside the open door with my eyes closed and the Sundays dinner well settled in my tummy.
He gazes down upon the field, you must close your eyes to see the beauty that he see's.
Ah yes, magnificent.
His voice exuberant, it makes those figurines dance.
My heart is thumping to the rhythm of his voice, the tempo of the game.
The battle done and it doesn't matter who has lost and who has won.
The beauty was in the closing of the eyes.
The referee has blown and the game is over.
The mighties voice like waves has carried me off the pitch shoulder high through another Sunday afternoon.
Oh who, oh who is going to carry me now?
To Micheál, thanks for all the wonderful hours I spent under your spell. John Davis (Mayo).
Greetings and every good wish to a wonderful man. The commentries over the years brought us so much joy even when our team lost, Michael, some way, could sooth your loss.
The 1992 All-Ireland was his finest hour but this year's hurling final ran it close.
RTÉ do the Nation a favour and go out and find new talent don't go for your own cronies to replace this great man.
Hugh Crawford

As a New Zealander I was introduced to Hurling and GAA Football in 1998 by Oliver Lee when he appeared on Radio Sport after it was rebranded from Sports Roundup. Oliver use to broadcast the finals on his own showon another station but when Radio Sport came along he decided to put it on the air since RS has wider coverage.
I have a cassette of the 2000 All Ireland Football final replay between Kerry and Galway and I listen to it when I can. I'll have to see if I have a spair one since all my cassettes have lots of NZ radio history which I don't want to tape over.
This will be my 13th All Ireland final I'll be hearing and the last from a true legend. All the best for your retirement.
David Harvey
Dear Micheál,

I would like to take this opportunity to thank you for all the great years of commentary and to wish you the very best of luck with the greyhounds in the future.

We'll all be listening to you in the early hours here in Vancouver.

Regards,
Pat Lowney
Vancouver Harps GAA club, Canada.
I true legend of a commentator up there with the Likes of Harry Carpenter and Sir Peter O'Sullivan wishing you all the very best in your retirement and have a long and healthy life.
Thomas from Tyrone
Micháel,
yourself and Michael O'Hehir brought the game into our kitchen when we were young. Living in Germany, you brought that same enthusiasm for all things GAA into our living rooms abroad. Thank you, on behalf of GAA fans not only in Ireland, but also around the world. Go n-éiri an bóther leat.
Aidan and Jacquie O'Hanlon. Hamburg, Germany.

Angela Magee
Hi,
I had the great fortune to be involved in Lansdowne Ruby Club as Manager for 5 years. During my time I was involved with running the big match day lunches. These always had a guest speaker, usually a former rugby international. Most were quiet funny, some hilarious and some terrible.
Probably the best ever spaeker was when we had Michael as the guest speaker. He was brilliant! His speech was along the lines that rugby came from Kerry when the balls were big heavy leather and got bent out of shape with age and the wet kerry climate....hence the oval shape!He was hilarious recalling how Kerry footballers were useless at rugby because they couldnt deliberately kick for touch, and not for a goal or a point!!
He is not just a great commentator but a great example of a true Gentle Irish Man.
Hope he has a long and happy retirement
Kind Regards
Sean Kelly
I always remember Micheál's commentary when I was younger when games weren't shown on TV until the later stages of the Championship. Now that I have moved to Auckland, I realise the importance of Micheal's commentary, I mean, what other commentator and sporting organisation would have you up at 230 in the morning?? Thanks for the memories Micheal. Hello to all in Ballylanders and Glenroe. For the record, Down will lose their 100% record today.
Seán Riordan

One word - Irreplaceable! Enjoy Micheál, well deserved but a huge huge loss for the Irish Nation, both home and abroad and for the many thousands of other nationalities that tuned in to listen to you.
Angela Magee

A spirit of kindness and generosity towards the players he was describing ran through every one of Micheál's memorable commentaries. His contribution to Irish life has been immense, and it goes far beyond the confines of the GAA.
My favourite anecdote: as Cork were about to play an All-Ireland senior football semi-final at Croke Park almost twenty years ago, a famous banner appeared at one end of the ground. "Well, I see John 3:7 is with us again," said Micheál. "Could this mean that Seán Ó Driscóil will score three goals and seven points today?"

Legend!
Paul Kelly
Michéal is a living legend..
I had the pleasure of meeting him a number of times at the kick fáda and he is a real gentleman
Enjoy your well earned retirement Michéal Sunday afternoons will not be the same without your voice coming over the airwaves
Slán Leat mo chara
Tony (Bray)

I missed the start of Des Cahill's Radio 1 early morning sport's report that Mícheál Ó Muircheartaigh had announced his retirement from broadcasting after next Sunday's All Ireland. With all the tributes flowing in I thought these were eulogies on his obituary. I looked out the window and saw that Carrantuohill was still there. Normality was restored. That's how big Mícheál's stature is in the psyche of the Irish sporting followers worldwide and particularly in his native Kerry.
Now I won't be able to turn down the sound on RTE on match day.
I owe this quintessential Kerryman a special debt; he opened the windows of wonder of Kerry football for me.
He hasn't gone away you know , buíochas le Dia.
Go maire tú blianta fada eile faoi bláth, a Mhichíl.
Éamonn Fitzgerald
The man is a living legend. I met him only once but to say he was a gentleman is an understatement. Sundays will never be the same again. Enjoy your well earned retirement Micheál.
Trevor Naughton
It was with great sadness when I learned about Michael's retirement. I have so many memories as a child of listening to his commentaries on the radio during my summer holidays. I fell in love with the game after listening to Micheál's commentaries of the great All-Ireland Football finals/semi finals between Kerry and Dublin in the 70s. Such was his influence on me as a young child, I eventually harrassed my father in bringing me to the
Leinster Final in 1979 and I have only missed one Dublin Championshp/League game since. May I wish Michael every future happiness in his retirement and also send my deepest gratitiude to him for all the great GAA memories I have experienced over the years.
Colm Rowsome

Without doubt our greatest Ambassador, I have had the privilege of tuning into Micheal from different parts of the World. Summer Sundays will never be the same, a wonderful treasure much appreciated throughout the globe. Even as a Tipp man I would hope you will do a DJ Carey on it and at least come out of retirement once or twice. Sincere best wishes and many thanks for all the enjoyment you provided to millions and billons.

Mick Mc Carthy in Belgrade, Serbia
Now what can be said about micheal only legendary in his own field pardon the pun but whether in croke park thurles or especially fitzgerald stadium in killarney on munster football final day .Your every clear description of the ground weather ,and most of all the scenery on a fine day.also you always mention people you met on the way to the game people watching over seas the people in hospital and people who are sick and that to me is the complete package that has made you as gaeilge an fear avec an rud mhoir na daoine ata ag eisteacht ar an radio .May i wish you ever happiness and best wishes to you and your family on your retirement .lastly as a fellow kerryman living in dublin for 20 years i am very proud to have listen to over the years especially when in the UK during the 80s thanks a mill .


mise leas
JOHN CORKERY, CASTLEKNOCK GAA DUBLIN 15

I have been living in Los Angeles since 2003.
I lived in an upstairs apartment in Rancho Cucamonga city.
I was able to go online and bring the internet radio speakers outside onto the balcony at 7am on a Sunday morning with my cup of tea.
I would have Micheal commentating on the All-Ireland Championship games back home.
The Mexicans and the Americans would come out of their apartments and start complaining about the noise. They had no idea what all the commotion was about at this hour of the morning. But for me....I might as well have been in Hill 16 watching it live. That is what Micheal did for us exiles....he made us feel like we were right there feeling the wind of the ball as it sailed over the bar!
Micheal brought me thousands of miles all the way home every Sunday morning during the All Ireland Championships.
A small comfort for an exile but it was as god as a phone call from home!

I'm sad to hear of his retiring.....sad because I know that we will never have a character like him again on the air and sad because I know I'll never have that same feeling of being at Croke Park or being back home for the Championship on a Sunday morning like I did when listening to Micheal.
Go raibh a mile maith agat and God Bless you!
John Corkery (Castleknock, Dublin 15)

Donal Drew (Boherbue Co Cork).
Wishing you all the best on your retirement from broadcasting.
Listening to you was always a pleasure.

The excitement and passion you emitted over the airwaves during those many, many commentaries you did, always made one feel they were actually at the match itself.

I thank you for them all, & hope your retirement will as good to you, as your commentaries were to all of us.
From Theresa in Cork

It had to end at some point and being the true gentleman he decided his own way to call it a day.
Tributes and accolades will be paid to this man who was the voice of Gaelic Games in Ireland for so long but, he has transcended the sport he brought to the listener, his commentary of the national games are one in the same.
Indeed like all legandary play by play broadcasters around the world he had his own style and grace, but for me what made him extra special was that he had the common man in the street touch.
For instance it was normal for Micheal to be commentating on a game and saying this player who had just made a fantastic save or scored a point or a goal, for him to say to the listener.
'That was a fantastic play and sure wasn't I at the dogs with his father on Thursday night at Harrold's Cross were we both bet on a four to one shot that got beat in a photo finish.'
He never really said that but something like that and then go right back to game action a true natural talent.
I met him when he travelled with the All-Stars to Toronto Canada in 1991 and having a radio show of my own he graciously gave me an interview and also, I asked him to give me a piece of commentary were as I was playing in an All-Ireland.
He asked what me what team did I want to be playing for so it was the Tipp team of the 1960's in Hurling and the Kerry team in 70's.
It was a memory I'll never forget. Micheal may you be continued to be blessed with good health and for all the emmigrants around the world, Go Raibh Mile Maith Agat..
Hugo Straney, Toronto
Micheál was truly the greatest link between the general population and the action in Croke Park, Thurles, Castlebar or wherever.

Two things stand out for me...his clarity and simplicity in two languages.
Two events stand out as well. An insert broadcast from Meaghers of Fairview in the lead up to some major game and above all his description of the presentation after Leitrim's victory in Connacht.
His description of 'the hordes of Leitrim folk watching from the balustrades of heaven' as Declan Darcy received the cup in the company of 1928 captain Tom Gannon was just magical. go mairfidh se an cead.
Eamon S Davis
RTÉ Sport is losing the best with Micheal's retirement.
May he enjoy long,healthy and happy years because he deserves it all - and more!
Micheal O'Byrne.
Sad to hear of Micheal's retirement, though to realise that he is 80 certainly is some achievement as a commentator on RTÉ.
For many years he has brought the All-Irelands alive - for several years on Shortwave and in latter years either on Radio One or on Internet.
Always the voice brought Ireland alive with lots of wit and background trivia on all players and counties that made it not just an occasion but a celebration.

May his years of retirement be as fruitful for himself as it has been for all of us down the years, enjoying the depth of his personal knowledge as well as his concern for those of us who could not be present in Croke Park for those wonderful occasions. Thanks a lot Micheal!

Fr. Chris Kennedy, Uibh Faile Abu - Philippines

When I heard that Micheál Ó Muircheartaigh will retire, I could not believe it. Even now I cannot really imagine how it will be to listen to the All-Ireland games on Sunday afternoons without Micheál's voice, warmth and enthusiasm.
For me Micheál was not only a sport commentator but the symbol of the GAA or even Ireland itself.
Because in contrast to the most people who have written their tributes here, I have never lived in Ireland and when I got interested in gaelic games I was a child yet and could not unterstand more than few words in English.
So for me, Micheál's commentary was an invitation to learn the language. And from year to year I could understand and enjoy him more.
I will also miss his phrases in Gaelige, even though until now I unfortunately have no skills in this beautiful language.
Matthias Enggist, Switzerland

I was deeply saddened today to hear that Micheál is retiring. He is the voice of GAA and the most wonderful commentator that I have had the privilege to listen to.
He will always be a part of my childhood and those summer Sundays, where regardless of what beach in Ireland you were parked at, all you could hear as you walked by was Micheál's lilting voice. I wish you and your family many wonderful years ahead, but selfishly wish you were staying with us for a few games.
Go raibh mile maith agat Micheál, it has been my honor to listen to you.
Clodagh Moynihan
A true gentleman and genius of GAA commentary. It's hard to imagine listening to a match without his unique style and grace. I can only wish him a long and happy retirement after a job well and truly done!

Kevin Regan
I had the privilege of being present at a function where Micheal spoke in his usual bearla - gaeilge blend with a hint of Japanese thrown into the mix.
Well the real privilege was to be in the presence of Micheal - an absolute gentleman.

Go raibh mile mile maith agat a Mhicheal. Ni bheidh do leitheid aris ann.

D from Kerry.
I just want to add my thanks to Micheal for the immeasurable contribution he has made to Gaelic Games.
I heard the news when I was driving back from dropping the kids to school and I could not believe my own reaction - I was quite emotional. I'm not exactly sure why - I have never met the man - but it was a combination of an overwhelming sense of loss; combined with a sudden flood of memories of Micheál's great broadcasts. And there were many......
In particular I remember the early 90s when we lived in Sydney and I used to listen to the All Ireland on the Radio under my pillow in bed. In the complete darkness thousands of miles away, I closed my eyes and for the next 70 minutes I was back home and in the middle of a bright Croke Park with all the sounds and sights and smells of All Ireland Final Day!
One I particularly remember was his description of a Garda at an all Ireland, in uniform and obviously on duty, the poor man was trying hard but was really struggling to contain himself.
Interspersed in Micheal's match commentary were regular updates on how the Garda was doing; from rolling the programme in his hand, to pacing up and down the sideline, to looking at his watch, to eventually leaping three feet in the air when the final whistle went!
One good thing about his retirement is that Micheal gets to hear directly from the people of Ireland how much of a national treasure he really is!
Martin Kelly

Over the last 20 years or so I have listened to Michael's wonderful
commentary from Leeds, London, Stavanger, Lagos, Melbourne and for many years in Houston, TX, and now in Calgary, Alberta.
He has brought many fond memories, enlightened and enlivened many Sunday morning's and nights in all those far-flunf places, making the separation from home and family seem less distant.
To describe him as a sports commentator is to do him an injustice - call it prose, call it lyrical, call it what you want, but he has a way of bringing one there to the fieldside, to feel the weather, the
excitement and the pace of the game as though one were playing it themselves. His interjections with topical tidbits about the players themselves, or their backgrounds, brought those players closer to you - made them seem more real than many of the other 'professional' sportsmen and woman who so often doimnate our back and front pages for all the wrong reasons.
As for his love of the game, of the Gaelic culture, there's few to
surpass him. But more than that, that love of the culture was infectious.
Go raibh maith agat, Micheál.
Lochlann Magennis

I just want to wish Micheál all the best in his retirement and thank him for the endless hours of pleaseure he's brought to generations of IrIsh people.
One memory that stands out for me is when he was commentating on a Munster football final in Killarney during the early 90s. In the blazing summer sunshine Micheál mentioned that a cottage high in the mountains overlooking Fitgerald stadium had smoke billowing its chimney. He paused for a moment and the he added that 'they must have a bit of dampness in the house!'
Patrick Healy (Cork!)

I have with pleasure read all the tributes to this lovely man as are currently on the website. I wish to add my own tribute because it comes from another angle to most.
I first came across Micheal as a 9 year old student in his class in O'Connell's School in Dublin in 1965. Up to then he was simply a voice albeit a wonderful Gaeilgeoir.
To those who do not know - Micheal was probably a better primary school teacher than he was a commentator!
He certainly bred in me a wonderful appreciation of the beauty of the Gaeilge at a time when most young lads in Dublin were probably more aware of George Best and Bobby Charlton. To me Micheal was the voice of the All-Ireland - I used to love listening to him waxing lyrical on the Minor Games when his colleague in arms Micheal O'Hehir had cornered the Senior games market.
Indeed I often had no clue what he was saying because he spoke so eloquenty 'as Gaeilge' - far beyond what we were learning at school. I met Micheal several times afterwards in various circumstances - without exception, kind, polite, genteel, - a thoroughly lovely person.
Thank you Micheal for a wonderful life of commentary and for instilling in me a lovely grá for the oul Gaeilge - I shall miss you - enjoy your retirement - it is well earned

Paul Maguire
What a wonderful Irishman. I am your average hurler on the ditch and I loved his eclectic commentary. Always expert but humble to go with it. When I get older if I am half the man Micheal is I will be fine. God bless him and all his family

John O' Driscoll
A legend like Micheál. His descripition of play on the field was all ways magnificent no matter how poor the game was he could give you a players life story between a kick of the ball or a puck of the sliotar.
If a game was close and the action furious one could imagine you were in the middle of it with his commentaries. The best of luck to him in his retirement
Slan go fóill
Tom Shanahan (Gaborone Botswana)
One of my most treasured possessions is a recrording of Micheál doing commentary on the 2001 Comortas Peil na Gaeltachta where my own club An Clochán Liath (Dungloe, Donegal) played Baile Bhuirne in the senior final, later the following year Micheál graced us for a full weekend in Dungloe where he spoke to young and old within the club, played golf on Cruit Island Golf Course and attended our Annual Dinner Dance where he enthralled the gathering i mBearla agus i nGaeilge, people who did not speak Irish actually understood Mícheal, such was his presentation.
Adh mór a Mhícheal

Myles Sweeney
Chairman
Dungloe GAA Club
Co Donegal
Sunday afternoons will never be the same again. In the car going to or coming a club match up and down the country there would always be silence for the great man, only interrupted by laughter when he would reveal some amazing fact about some players relative. Enjoy your retirement and you will be sadly missed on the airwaves
John Crotty

Would like to wish Micheál the best of luck on his retirement.He was the voice of the not only the radio but the entire GAA Community. My first memory of you was when I was in the gaeltacht in Connemara about 3 years ago..I was travelling in the Car and was listening to The Cork/Waterford match in the car. It was like being at the match, you could tell the atmosphere just from your descriptions.
You are what makes the GAA what it is..You would descripe the matches as you seen it..I would laways turn down the volumne on the TV and turn on RTE radio one. You could tell from listening to you, Your love for our game,our language and our nation straight from your commentary. As one Chapter ends,another begins for you, enjoy all the things You've been looking forward to, a very happy retirement to you. Thanks for the memories.
Maeve Nagle.
Slán anois Micheál ach amháin ar feadh tamaill bhig agus breithlá shona duit.

Michael.
Sunday afternoons will never be the same again. In the car going to or coming a club match up and down the country there would always be silence for the great man, only interrupted by laughter when he would reveal some amazing fact about some players relative. Enjoy your retirement and you will be sadly missed on the airwaves.
John Crotty

Hail rain or shine, league or championship, Sunday afternoons will just never be same without you. Your commentary always found the good in everyones efforts & littered with gentle good humour. "..... & now the Rabbitte is chasing the Fox...". Wishing you every happiness in your retirement.
Greg Roberts

What a privilege it has been for all of us to have shared our Sunday's listening to Micheál on the Radio 1. He made the game come to life like no one else could and his trade mark changing from English to Irish made you listen even closer. You will be greatly missed on the airwaves Micheál but you deserve a well earned retirement. I wish you your wife Helena and family all the best for the future, may your retirement be long, happy and healthy one. An t-ádh leat.
Dermot McLoughlin
Watching a match on TV you see what the Camera shows you. Listening to Micheál Ó Muircheartaigh on the radio you see the entire pitch; nothing is missed from family history of the goalie to a man in Boston who has a cousin you is a friend of a man who once made a hurl for a Carlow Minor Hurler.
I have listened to games which, I would be recording at home and after listening to Micheál describe the game in his usual passion the box does not live up to the excitement that the Radio Man Micheál created. Video killed the radio star.. not in Ireland… Micheál killed the Video Star.
Paul Kelly, Erin Go Bragh GAA Club
I used to always turn down the sound on the tv and turn on the radio to get Micheál's commentary it would make you feel that you were at the match and that he was just talking to you.
It will be the end of an era on Sunday. I wish you a happy retirement and the best of luck with the dogs. Come on the Rebels.
Graham

For over 20 years here in the US, Micheál has provided a unique and invaluable link for me and so many of us each summer as he brings the championship alive. I believe he has always been very conscious of his worldwide audience and has embellished his commentary with many references and stories for the great Irish Diaspora.
You could easily forget that an ocean separated you early on a Sunday morning when Michaels launched into his unique descriptions of the national game. I have eschewed the television broadcasts on many occasions as I would miss the rich content of Michael's broadcast. It goes without saying that I will choose the radio commentary on Sunday knowing that it will be the end of a remarkable era.
My favorite memory does not come from an actual game but from a radio commercial for Aer Lingus where Micheál is describing a touch-down in American football. Even in a staged event like that he was brilliant, passionate and of course bilingual. How great it would be if we had Michael doing a play-by-play at a Superbowl over here. Saol fada dhuit a Mhicheál. Le gach buiochas,
Sean Johnston
Pennsylvania
I saw Micheál walking in my direction at the U2 concert in Croke Park last summer. I offered my hand and said hello to him. He stopped, shook my hand, stood for a photo, asked my name, what county I was from and what I thought of Tyrones chances of getting past Kildare and how he felt Kildare were the most improved team in the country and were he thought the game could be won or lost. Amazing passion for game and a real gentleman. The voice of the GAA.
Eddy Carey
On behalf of the staff & pupils of Scoil Bhríde BNS, Blanchardstown I want to wish Micheál a long and happy retirement.
Micheál came to our school to conduct a presentation to past pupil Barry Cahill when he was recently honoured with a GAA all-star award. On that day he managed to keep 300 boys of all ages totally enthralled (and quiet) with his account of Barry's exploits on the field of play. It truly is a gift to have the ability to use words in such a way as to portray what is happening on the field of play: 'We watched it on the radio' is an oft quoted line and this is especially true when attributed to Micheál as his commentaries are as graceful and skilful as the players he was describing. The voice of sunny summer Sunday afternoons will be missed by young and old alike.
John Kearns
Principal,
Scoil Bhríde BNS
Blanchardstown,

First of all best wishes on your retirement. Only thing is I am going to miss you so much. I always listened to you on the radio when a match was on, I turned down the television. You are so fair with all the players and never saw any bad in any of them. I have met you on a few occasions, but the one I remember most was when you visited my sister-in-law's house (Rose McCabe Scanlon and her husband Pete) when their daughter Deirdre (Scanlon), (Mattie McCabe's niece), Beauparc was killed in the Navan School Bus crash. You were so nice to all the children and my daughter Aisling asked you if you would get something from Mike Frank Russell which you did. We appreciated you visit so much. There will never be anyone like you again. You brought so much joy to so many people. May God bless you and continued good health.
Mary McCabe

A great privilege to have listened to Michael over the years, I've always felt nearer home when listening to him no matter how far away I was. Thank you for your great contribution and coverage through out the years. Gach beannacht
David Carey

I would like to wish micheal all the best in the future. as a member of the younger generation it gas been a great privilage to listen to you both on radio and television. you brought a new meaning to enjoying the irish language. i and my family wish you all the best.
Sinead Flynn

I would like to thank Micheal for the wonderfull Commentary's he gave on the games over such a long period of time. I left Ireland In 1960 and I used to listen to him and the other Micheal
every Sunday after dinner and for me the bacon cabbage and spuds will never be the same again without Micheál. So Micheál thanks for the wonderfull memories you always gave people like me a bit of home every Sunday.
Chris Keating
As someone living abroad, I would like to thank you with all my heart. My internet connection has allowed me listen to you as you have painted the most wonderfull pictures of GAA for myself & many others who are too far from home. You have made me feel as if I was with you on many a day as you allowed me
to see every kick or puck of the ball.
Thank you sir, and may I wish you all the best for the future. It just won't be the same without you.
David Sweeney, Crest, France.

A few colleagues of mine at work and I were talking about Michéal's announcement this morning of his retirement and how it had hit us all how he waiting so late to announce his retirement, and in so doing, didn't risk drawing too much attention to himself and away from the game on Sunday. He's a gentleman.

Sueanne O'Halloran
For Irish people at home and overseas, Micheal's personality and voice is THE MOST POSITIVE 'BRAND' IMAGE OF IRELAND. He really nearly belongs to the Nation.
Michael Browne

I had the honour of holding an umbrella over Micheál during his commentary on the 1993 Ulster final in Clones between Derry and Donegal. It poured from start to finish but you ploughed on regardless. If you remember the press box was on the back of a trailer in the half completed Gerry Arthurs stand. I followed you about the trailer the whole game and it seemed as if you were out there playing! You are a living legend and I wish you the best of good health and long life in your retirement. Many many thanks for years of enjoyment!!!
Mark Kellett

Micheál has given me some of my earliest memories, sitting in the back of the car on the way to or from a match listening to him on the radio. One of the all time greats across any broadcasting medium, his commentary enhanced every occasion 10 fold and we were richer for his presence behind the mike. I'm sadder today than I was yesterday. Go raibh maith agat Micheál it has been a privilege.
Patrick Thornton

My father always said Michéal Ó hEithir was the greatest of them all. He must have been pretty special to be better than Michéal. Always came across as a true gentleman and he has made many happy memories for many people around the world. A true legend.
Tadhg Hanrahan

As a truly mad sports fanatic of every sporting pursuit I can openly admit to being moved to tears on a few very rare occasions whilst looking at, listening to and playing sport of every code over the past 40 years of my life.
My most memorable tear jerking was when Kerry beat Dublin in the 1978 All Ireland by 17 points and Paddy Cullen was left looking a bit bemused by the genius that was Mikey Sheehy.( I was young and brainwashed by the Dubs' apparent invincibility at the time. Time is no heeler in that regard )
Another tearful experience, I can proudly declare was this morning when I heard the news of Micheáls retirement.
To say that people like me enjoyed and were mesmerised by the commentaries over the past number of years is to completely understate the genius that is Micheál. Its not terribly often that somebody can be described as irreplaceable however in this instance it can, and it is proper and right to say so.
Micheál you and your commentaries have given me and millions of others endless hours of joy, for years. To hear its about to depart is worthy of a tear.
Sláinte agus saol chugat.
Mark McNamara

Micheál O Muircheartaigh has been a sublime commentator.
Fergus Lynch
It would be a great tribute to a great man if he was given the
commentary for RTE tv on his last all ireland football final. Micheal, you are a true GAA legend. go rabh maith agat
Dan Culloty
Long life to Micheal
Vincent Molloy
I had the good fortune to have Micheal speak at a dinner in Dublin, we had visitors from Scotland, England and Wales, most had never heard of Micheal before.
Everyone was spellbound when he spoke to us; his very distinctive accent and his flow of stories and the history lesson he gave was brilliant.
When Micheál told how the first broadcast of a sporting event occurred with 2RN and the GAA, was a world first, it made us very proud, and our visitors very interested in the man and his stories.
To me, Micheál is a true patriot, his love of the language, our games and his touch with all the people are the best examples of this great Irish man, the fact that he never left his roots is one of his strongest traits. May he enjoy a long and happy retirement and a big thanks for all the years of magic he brought to us.
Louis O'Hanlon
I wish you all the best on your retirement. You will be sadly missed in the GAA world. We have grown up to hear that voice and it has always been a pleasure to hear you speak. There are very few if any like you and nobody will be able to take over where you leave off. Best of luck for the future and thanks for the memories!
Orla from Dublin
Micheal is quite simply a seoid náisiúnta- a national treasure.
Ni bheidh a leithéid aris oriann a fheiceáil.
Muiris Breathnach
From a proud Leitrim man to a proud Kerryman, thanks for the memories.
Stephen McBrien
What a legend! Listening to GAA games will not be the same without his voice commentating on them. The best commentator in the world bar none. The GAA world will be a sadder place without his input.
Francis O'Shea.
In the 12 years I have lived outside of Ireland, Micheál's commentary has provided the single most reliable and comforting link with home outside of my own family. Only last Sunday I spent some minutes trying to get Zambian election officials in a remote village 850km from Lusaka to pronounce 'O'Muircheartaigh' as I was crouched over a poor wireless internet connection during the All-Ireland Final. Like thousands of others, I have sat around with fellow gaels listening to Michael, on beaches in Sierra Leone, with Irish Army officers in Liberia, in bars on Beirut rooftops. In an age where Ireland has transformed itself, sometimes painfully, and where so many of the traditional pillars of Irish culture seem remote from our daily experiences, Michael has been one of the great connectors with our past.
Niall McCann
Having lived overseas for a good few years now, its devastating news to hear that Micháel will retire. He made you feel as if you were at the game no matter how far away you may be. Listening to him was pure enjoyment in itself, regardless of how the game went. I wish Michael a happy retiremen. His contribution to the GAA as a whole is immeasurable and his shoes impossible to fill, simply the greatest.
Ronan Kelly, Perth, Australia
How many of us will watch the match on Sunday and listen to Michael on the radio? Hopefully RTE will pay him the appropriate tribute. The GAA have lost a True Legend.
John Lonergan
As as child, I remember my father escaping to the car in the yard to get away from us noisy children and listen to the GAA commentary on the radio. Now many years on, I'm living in Copenhagen and still loving hurling, and since the evolution of the listening to radio on the internet I treasure your commentary. So now it's my turn to lock myself away from my children and listen to the vivid imagery you present. I am a tipperary woman, in Copenhagen, and our All-Ireland is now the more sweeter. I will forever treasure the podcast from his commentary of the all-Ireland 2010.
Síle Kinane Simonsen
A legend, I was in Limerick for the Special Olympics and Micheál was there. The athletes were getting pictures, after a presentation, with him. One of the athletes said 'who is he'. Michael then congratulated the athletes and on hearing his voice the athlete said 'it's Micheal from the radio'. A voice of a nation. Thanks Micháel.
John Heffernan
You will be remembered as one of two great legend's on the box as well as Micheál O H and there will never be a third to match your knowledge of the game and especially the background of the players and their mothers mother to their fathers fatherJ that you knew about them - you have a great gentle voice on the box and would have the hair standing on my head from the way you run the game. Best of luck in your future plans and may your health be your bonus for such great memories to the people of Ireland.
Nicky Butler
Quite simply the sound of Sunday for all GAA followers in Ireland and abroad. I wish Micheál all the best in his retirement.
Sinéad McNamee
A true legend of all that is Irish, read his books, loved his commentary, nobody can fill his shoes. Enjoy your retirement a Chara.
Marian Butler
It has been and honour and a privilege to listen to Michèal down through the years, summers will never be the same from now on from turning down the TV on a Sunday to listen to Michèal while watching the pictures, to listening to one earphone while my dad listened to the other as we sat under the Nally stand in the final seconds as Cork were about to complete the double in 1990, to sitting in my grandfather's car on a spin around Cobh on a sunny Sunday afternoon. There memories that I will treasure forever and the voice in those memories will always be Michèals. Go raibh maith agat as na cuimhní cinn.
Brian Mulcahy
What a wonderful ambassador for Irish culture, sport and language Micheál is and I wish him every happiness and health for his retirement. What a great President of Ireland he would make.......! A true gentlemen, patriot and ambassador of all the good things in Irish life and culture.
Kathleen O'Sullivan
Want to thank you for all wonderful Sunday afternoon's sharing many a big game. The commentary was always engaging, but the pictures you painted were incomparable. Have a happy and healthy retirement.
Ray Moran, Wicklow
I wish you all the very best and thank you for all the enjoyment your commentary on both TV and radio has given us over the many years which will be sorely missed by expats all over the world for when we heard your commentary in the Irish language gave us a great feeling of pride. I will especially remember the time you visited Dubai for our 7's tournament and the great excitement of all the expats when you done the commentary on the All Stars match. Micheál Ó Muircheartaigh a true legend in his own lifetime.
Frank Doyle
Just like to wish Micheál all the best in his retirement. Really enjoyed his commentaries down thru the years. My particulate favourite is from the 1992 senior final Dublin v Donegal. Commenting on the Donegal corner back Noel Hegarty. 'Noel is a sheep farmer – there is a sheep fair in Moville on Tuesday – I wonder will he be at it'
Bernard Mulholland
A sporting Icon who along with Mícheál Ó Hehir will forever be part of Irish Folklore. Thanks for everything.
Michael Butler