Shane McGuigan says that the Derry footballers didn't want to use their abrupt change of management as an excuse if they had failed to retain the Ulster title.
The Oak Leafers followed up last year's first provincial crown in 24 years by beating Armagh on penalties in last month's final, in between then-manager Rory Gallagher stepping back and subsequently resigning from the position.
"The excuses were there," McGuigan told RTÉ Sport as he was named PWC GAA/GPA Player of the Month for May.
"We lost our manager, if we needed an excuse to use.
"But we wanted to hold onto that Ulster crown. We knew how good it felt to win last year against Donegal and the way it panned out, going to extra time and penalties made it even more special.
"We regrouped as players. Selfish as it sounds, it has always been about us.
"We talked about how we want to manage this team ourselves, coach each other on the pitch and off it. It was us that needed to drive it as players.
"Thankfully, we have some leaders there: the likes of Chrissy [McKaigue], Brendan [Rogers], Conor Glass drove it on from there. We had an Ulster final to win and we weren't letting anything or anyone stop us from achieving that."
It also helped that Ciaran Meenagh, assistant to both Gallagher and his predecessor Damian McErlain, has taken over and ensured continuity of approach.
"Ciaran has stepped into the role seamlessly now," said McGuigan. "He has been there for the last four or five years.
"He taught in Ballinascreen/Draperstown and he managed their club team. He has a really good relationship with the boys and he's a top-class trainer. We wanted to keep hold of him.
"We have massive massive respect for him, as a person, not only as a trainer and a manager. He'll always have that respect from us.
"Nothing has changed in terms of training or schedule. This time of the year, if you ask any county player, there's not much actual training being done. If you pick up an injury now your season could be over.
"A lot of it is recovery, get the bodies right and 60 minutes maybe of football. But your tactics, your physical work was done in the months of February, March and April. So you're just trying to fine-tune a couple of things and take it on from there.
"We know what way we want to play. We feel it's the best way to get the strengths out of our players.
"This year, we have tried to switch it up at times with a bit more attacking on the front foot but that has been throughout the league too."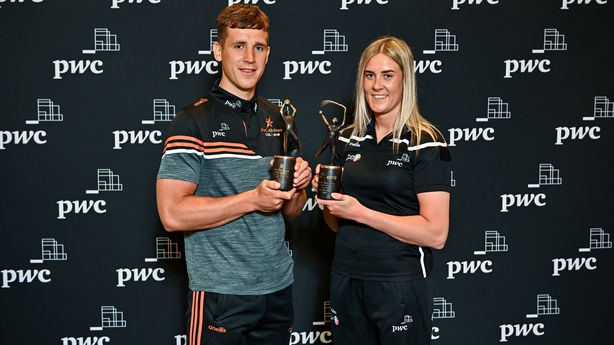 The Slaughtneil forward takes the frees for Derry and dispatched the first penalty of a shootout they won 3-1 after goalkeeper Odhran Lynch saved from Rian O'Neill, Aidan Nugent and opposite number Ethan Rafferty.
That was a relief to McGuigan, who had cramped up but would have had to take number six if it had come to it.
"I chose to go first," he said. "After that it was just asking the boys who was comfortable enough to step up and hit one.
"I believe the better start you get in a penalty shootout the less pressure it is going down so we didn't want to go down to our fifth penalty. Thankfully it worked on this occasion.
"I was cramping up after hitting my penalty, I don't know if I could have hit another one! The physios were working on me because there was a possibility, I would have to hit one again. Thankfully it didn't come to that."
We need your consent to load this comcast-player contentWe use comcast-player to manage extra content that can set cookies on your device and collect data about your activity. Please review their details and accept them to load the content.Manage Preferences

Ciaran McFaul scored the winning penalty, just weeks after his return from the US, which McGuigan says has been "a massive positive for us".
"The skill and the football IQ that he has were evident from his first training session back. It was scary what he was able to do on the pitch after being away for so long.
"He would say himself that maybe physically he still has to get a bit sharper, match-fitter but I think that will come easy to him."
Following a draw with Monaghan and last weekend's win over Donegal, Derry are guaranteed a place in the knockout stages of the All-Ireland championship.
But they will need to better the Farney men's Donegal result when they face Clare on Saturday to be sure of topping the group and skipping the preliminary quarter-finals.
"We have played Clare three times inside the last year and we know we get nothing easy against them," said McGuigan. "They're set up very well and they attack with real pace and through everybody at it.
"We know we have a massive job to do if we want to top the group. It would depend on the Donegal-Monaghan result too.
"But we'll not be looking at score difference, we just have to take care of our business and beat Clare, and hopefully it will be enough to see us come top of the group."