After two rounds in the unnecessarily forgiving All-Ireland football championship group stage, we have a host of teams already guaranteed knockout qualification, albeit not yet sure of their final position.
We have another clutch of teams in perilous shape but with a puncher's chance of surviving. And we have just one team formally eliminated before their final runout in the 2023 championship.
After a sluggish opening, the provincial champions fared rather better this weekend, all four winning away from home against fourth seeded teams. Even if the All-Ireland champions again found the going tough, only just squeezing by their neighbours in Páirc Uí Chaoimh.
The same can't be said for those they vanquished in the deciders. Pot 2, aka the losing provincial finalists, has been the weakest performing pot thus far, with just one win from eight games, and Armagh found it hard going to dig that one out against Tailteann Cup champions Westmeath in Round 1.
As anticipated, Pot 3 has proven to be full of sharks, the league heavy hitters who were knocked out early in the provinces. Tyrone are the only Pot 3 county to have tasted defeat in the opening two rounds, that three-point loss in a damp Salthill.
GROUP 1

Only Mayo are officially qualified here, the placing still to be determined. The probable outcome is top spot, with Kevin McStay's team marching straight through to the quarter-finals.
Some of the giddy enthusiasm that followed the landmark win in Killarney may dissipate after Sunday's one-point win over Louth, with Mayo's longstanding difficulties playing against massed defences still dogging them.
MacHale Park reliably continues to be the site of their most underwhelming championship performances, which is a bit inconvenient since it's also their home ground.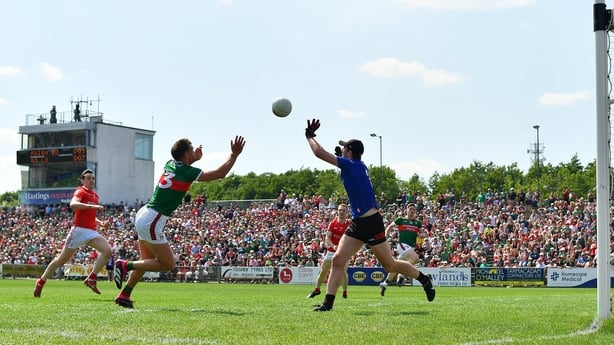 After the jolt of losing to Clare in Munster, which left them sweating on their Sam Maguire status - albeit not as profusely as Kildare - Cork have stood up well in the round robin phase.
Crucially, they won an entertaining, high-scoring ding-dong against Louth in Navan, which left them with a cushion heading into the big games against the big hitters.
They'll be further heartened by the Saturday's display, with only the hotly contested second-half penalty costing them in the end. The evidence is growing that John Cleary and Kevin Walsh are gradually nursing Cork football back to health.
Kerry's form is provoking considerable disquiet among their supporters. After two games, they've just two points and a score difference of -4. The general consensus among the commentariat is that without David Clifford, they'd be doing well to avoid falling into the Tailteann. They may be over-egging this somewhat.
Jack O'Connor has been here before. In 2009, his Kerry team were deemed to be in rag order, after taking a pasting from Cork in Munster and surviving a few startlingly close shaves against middle-ranked teams in the qualifiers. They were waiting to be put out of their misery. You may remember the rest.
In all likelihood, Kerry are heading for a preliminary quarter-final, unless Cork can do them a favour against Mayo and even then score difference will come into play.
After two narrow defeats, Louth still have a shot at qualification, though it will entail beating the All-Ireland champions in a neutral venue to be determined.
If they can do that, they needn't worry on the Mayo-Cork result. If Cork avoid defeat, they'll eliminate Kerry on the head-to-head. If Cork don't, then Mickey Harte's team will be beating Kerry on score difference in that scenario anyway.
Still, a rather tall order, all being said.
RESULTS:
Rd 1
Kerry 0-17 Mayo 1-19
Louth 1-17 Cork 1-19
Rd 2
Cork 0-15 Kerry 1-14
Mayo 0-14 Louth 1-10
Rd 3 (17 June)
Kerry v Louth
Mayo v Cork
Permutation Key Points:
Mayo need draw or win against Cork to take top spot
Kerry can only finish top if Cork beat Mayo - with score difference set to be the determining factor
Cork can finish top with a win if Kerry fail to beat Louth
A Louth victory of any sort will secure their advancement, with Kerry most likely to be eliminated
GROUP 2

Billed as 'The Group of Death in so far as there is one' at the outset, Group 2 hasn't thrown up many surprises aside from Westmeath's relative competitiveness.
Dessie Dolan's side can still progress if they can turn over Tyrone in their final game.
It would be a help if Armagh could avoid defeat in the other game. Should three teams wind up on two points - in case of wins for Westmeath and Galway - then the Tailteann Cup champions will be into a score difference battle.
They are currently at -9, while Armagh and Tyrone are -1.
Galway missed a hatful of goal chances in Mullingar and were still trailing at half-time. The teams were tied at 11-apiece until Ray Connellan's sending off, whereupon the Connacht champions duly sped away to win by eight. Damien Comer's introduction certainly helped, the All-Star full-forward lobbing over 0-03.
Padraic Joyce's side have secured safe passage to the knockout stage in any event. Avoiding defeat against Armagh will send them direct to the quarters.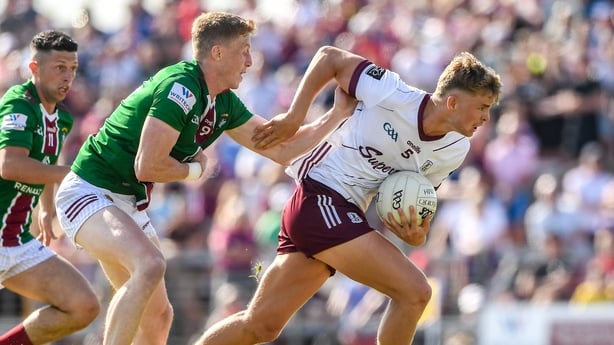 Even a first ever championship loss to Armagh could still leave them in top spot depending on the margin. Galway's stellar record against Ulster teams - won 11, drawn 1, lost 1 - has been a notable feature of Joyce's reign.
Neither Tyrone or Armagh are safe, though the former are in a more commanding position following Saturday's game in Omagh.
A win against bottom placed Westmeath will take the 2021 champions through, likely in second place with a home preliminary quarter-final to come.
Armagh can still theoretically finish anywhere from 1st to (gulp) 4th. A win over Galway combined with a Westmeath upset will send them directly to the quarters. Should both Ulster sides win the next day, there'll be three way tie on four points, with Armagh needing to win by six at least to pass the westerners in that scenario.
They'll have to do so without Rian O'Neill, unless they can mount a successful appeal.
For all the hype, Kieran McGeeney's team have struggled to land a major championship victory in recent years. Aside, that is, from the qualifier wins over Tyrone and Donegal last year, two demoralised and out of form teams.
RESULTS:

Rd 1
Galway 0-16 Tyrone 0-13
Armagh 1-13 Westmeath 1-12
Rd 2
Westmeath 0-12 Galway 0-20
Tyrone 0-13 Armagh 0-11
Rd 3 (17 June)
Galway v Armagh
Tyrone v Westmeath
Permutations Key Points:
Galway will top group by avoiding defeat against Armagh. They also hold a score difference advantage (+10) over the Ulster duo (both -1) if a three-way tie on four points arises.
Armagh can still finish top by beating Galway, though will need Tyrone to slip up against Westmeath. Otherwise, they will need a score difference swing and have to win by six points against Galway to have any chance of top spot.
Tyrone can only finish top if Armagh beat Galway. Will need to make up a -11 score differential deficit against the westerners in the process.
Westmeath need to beat Tyrone to survive. Matters will simplify if Armagh avoid losing to Galway. Otherwise, it's down to their score difference (-9) against the Ulster teams.
GROUP 3

A score difference foot-race could be in the offing here, with the Dubs and the Rossies vying for top spot.
While Roscommon currently hold the thinnest of advantages in that battle, the final round of games may be more complicated for them, with Kildare waiting in the wings.
While in form terms, Davy Burke's team have been far superior to his native county, there'll presumably be residual belief in Kildare that Roscommon should hold no great fear for them.
Dublin were somewhat more impressive in their dismissal of Kildare in Nowlan Park than they had been in the Leinster semi-final. Their performances continue to oscillate between decent and sluggish.
Among critics of the present format, the possibility had been floated beforehand that a team could survive the group phase with one point from three matches.
That will indeed come to pass here should league form prevail, and Dublin and Roscommon win.
The historic prospect of a team trooping out again in championship, having won none of their previous four matches looms on the horizon.
Whether that would be Sligo or Kildare remains to be seen. The simple task remains to better the other's result or margin of defeat in the final game. Kildare hold a very slightest of advantages in the score difference stakes, with a less daunting fixture to come.
Theoretically, both Roscommon or Dublin could be eliminated if both Kildare and Sligo win and all four teams finish on three points. Even that would require a substantial points difference swing.
RESULTS:
Rd 1
Sligo 0-14 Kildare 0-14
Dublin 1-11 Roscommon 0-14
Rd 2
Kildare 0-13 Dublin 0-22
Roscommon 1-21 Sligo 1-11
Rd 3 (17 June)
Dublin v Sligo
Roscommon v Kildare
Permutations: Key Points
Dublin or Roscommon will win the group by bettering the other's result or margin of victory.
Kildare or Sligo will progress by bettering the other's result or margin of defeat.
A win for either Kildare or Sligo would deliver second spot in the group should the other side fail to win
Two draws would send the Rossies through as top team and eliminate Sligo
GROUP 4

Group 4 is home to the only eliminated side, Clare's exit assured after Donegal failed to do them a favour in Ballybofey.
Derry and Monaghan's draw, combined with their two defeats means their summer will be done in a fortnight, and we know the three teams progressing to the knockouts.
At best, Clare will finish level on Donegal with two points, whereupon they'll be condemned on the head-to-head.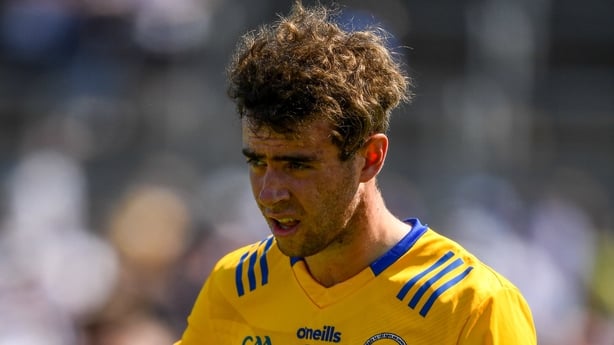 After their upsetting loss at home to Donegal, Clare were considerably more impressive in a freewheeling affair in Clones, with both teams regularly hoisting points from distance.
Darragh Bohannan forced home a goal to give them a lead early in the second half, but Monaghan had more thrust in the final quarter, Conor McManus being sent for and Jack McCarron hitting 0-09 as they won by five.
All that's left to be sorted out is the placings in the top three. Monaghan are ahead of points scored only, though Derry are probably favourites to come top on form. They face a Clare side, who they rattled five goals past in last year's All-Ireland quarter-final. And they were in goal-hungry mood against Donegal, and could have had double their final tally.
Monaghan face a trickier task against a Donegal team, whose morale has been lifted slightly since their desperate league campaign and Ulster championship exit.
Paddy McBrearty made a return to action late in Sunday's game, clipping over a free, while Oisín Gallen emerged as a potential star attacker. Their defence, however, looked remarkably porous and but for some untidy Derry finishing, it could have been much worse.
Vinny Corey's side will be favourites to take second spot and a home prelim game.
RESULTS:
Rd 1
Clare 0-09 Donegal 0-14
Derry 0-14 Monaghan 0-14
Rd 2
Monaghan 1-23 Clare 1-18
Donegal 1-15 Derry 3-14
Rd 3 (17 June)
Derry v Clare
Monaghan v Donegal
Permutations: Key Points
Derry or Monaghan will finish top if they can win by a bigger margin than the other - or if the other fails to win
Donegal can finish top with a win over Monaghan and a Clare victory against Derry. If Derry avoid defeat against Clare, then a Donegal will win will get them 2nd place and home prelim game.
Clare already eliminated
Listen to the RTÉ GAA Podcast on the RTÉ Radio Player, Apple Podcasts, Spotify or wherever you get your podcasts