Roscommon manager Davy Burke says they will tailor their gameplan depending on the opposition as he looks ahead to a match against his own county with top spot in Group 3 up for grabs.
The Rossies ran out 10-point winners against neighbours Sligo following a final-quarter burst in Dr Hyde Park on Sunday.
Burke's side had provoked the ire of the traditionalists with a marathon six-minute bout of passing late in the first half of their draw with Dublin in Croke Park last weekend, a play which concluded with a score for Ciaran Murtagh.
Heavy favourites this time out, Roscommon played with more dash and abandon in running up a score of 1-21 against Sligo but Burke says they'd adapt their approach in line with the opposition.
"I'll watch the footage of Kildare tomorrow or the next day and we'll get going," Burke told RTÉ's Sunday Sport afterwards.
"We changed our plan this week to last week. Kildare will probably be a variation of the two. We're not stuck to the one plan. We've a framework we play to every week and we add layers to it after that."
Roscommon took a while to shake off the Division 4 champions, with Alan Reilly's well-constructed goal leaving just two between the teams on 50 minutes.
However, they revved up the engines thereafter, hitting 1-08 in the final 20, with Enda Smith finishing with 0-05 from play.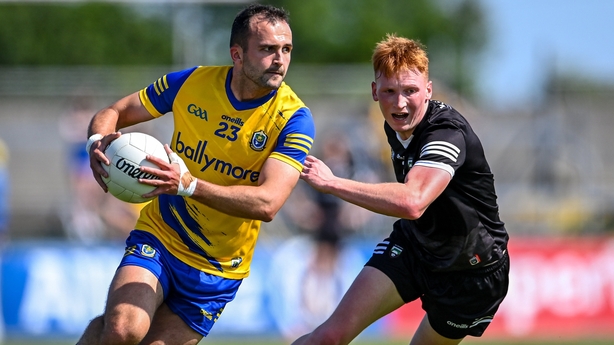 "We're in the last-16, I don't think there's any soft touches whatsoever in this competition. We were preparing on Friday night that we were two points down with 60 minutes on the clock and we said 'dig it out, lads.'
"We were hoping we had the depth. So, we went as flat out as we could and hoping we could run the legs off them. I did think our conditioning in the last 15-20 showed level.
"We're operating in Division 1, they're coming into Division 3. Sligo are a right good side, with Sean Carrabine and these boys.
"We knew it'd be tight but we thought our bench might be enough and it was."
As for facing his own county in the final group game, Burke has no hang-ups, given he's been placed in a far more testing quandary before.
"I did worse. I managed against my home club, Confey, which was worse. When you manage against your home club, it's worse than managing against anyone else.
"I'd say it's a 50-50 game. Let's see if we got through this with no knocks and we'll go from there."