Peter Canavan believes it is inevitable that that the GAA will look to address the growing trend in football that allows possession for possession's sake, something he says is spoiling the game.
The former Tyrone forward was speaking on RTÉ 2fm's Game On following more scrutiny over teams retaining the ball and taking very few risks with lateral, often short handpasses the order of the day, the most recent example coming from Croke Park on Sunday in Roscommon's draw with Dublin.
Shortly after the half hour mark Roscommon goalkeeper Conor Carroll tapped the kickout to Brian Stack.
What would follow was a move that incorporated 77 passes between Roscommon players – Carroll was involved 19 times – over a period of five and a half minutes.
For a large portion of that time, there was little or no pressure on the man in possession, who often took a safe option with a short hand pass, before the play finally ended with Ciarán Murtagh splitting the posts in injury time to give the Rossies a four-point interval lead.
"It's not just the Dublin v Roscommon game, this has been a trend in our games these past couple of years," the two-time All-Ireland winner said.
"When teams elect to get a lot of bodies behind the ball, rather than go direct for your score, the traditional route, teams are becoming patient. They are trying to draw the opposition out.
"In some cases it used to be you held on to the ball for a minute, maybe two minutes, but I think we reached a record on Sunday when it was nearly six minutes.
"I get it, it's part and parcel of the game. It's a tactic that managers are using, but it's terrible to watch and spoiling our game as a spectacle.
Speaking on the RTÉ GAA podcast thiis week, former Kerry manager Eamonn Fitzmaurice suggested it was a tactic to nullify any Dublin scoring surge before the interval.
"Often times you could have a good 25-30 minutes against them and then they put on a bit of a power-play coming up to half-time," he said.
"Roscommon didn't allow them to do that and frustrated the life out of them and frustrated the Hill."
We need your consent to load this YouTube contentWe use YouTube to manage extra content that can set cookies on your device and collect data about your activity. Please review their details and accept them to load the content.Manage Preferences
Pressed for solutions, the 1995 Footballer on the Year suggested that making it mandatory to have two or three players in the opposition half, making the game 13-a-side or introducing a shot clock similar to basketball are options worth looking at.
Until something is introduced, he doesn't foresee any great change in the current approach.
"I've no doubt we'll see more of it," Canavan said. "It's inevitable that that style of game will continue.
"In so many of the games this year already, it's been a game of chess for the first 50/60 minutes, and then the last 10 minutes break out into a game of football.
"For those that are paying a lot to see it and those who are watching it, it's not good enough."
The six-time All-Star was at pains to point out that the westerners are keeping within the rules. In pursuit of victory, the Red Hands legend appreciates players will do whatever it takes to get over the line.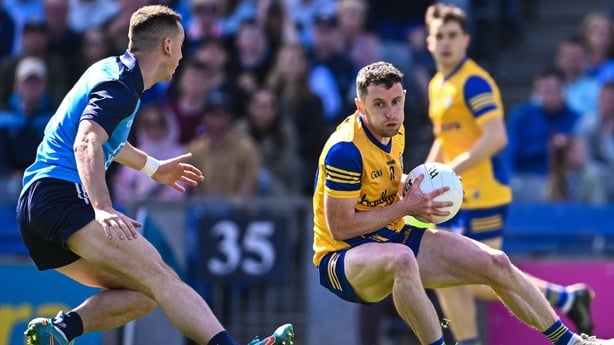 "I'm not blaming Roscommon one minute for the way in which they went out and played. If I was a Roscommon player going to Croke Park on Sunday, and my manager told me, 'We can play a nice style of football and get beat here by 15 points, or we will go out and try and win'', there is no doubt as a player what I would want.
"They are playing within the rules, but at this stage, for the betterment of the game, we've got to look at another approach.
"I hate to say that because there have been so many tweaks to the rules, but it's inevitable that something has got to be done to make our game a better viewing spectacle."
Listen to the RTÉ GAA Podcast on the RTÉ Radio Player, Apple Podcasts, Spotify or wherever you get your podcasts