Saturday
Group 1: Louth v Cork, Pairc Tailteann, 3pm
The first game on Saturday sees Cork take on Louth in Tailteann Park.
Louth beat Cork this year in the league. It's always important when you can overcome your opposition in the league and take that into championship.
Two weeks after such an emphatic defeat to Dublin, it will be hard for Louth to press the reset and Cork on the other hand have had a disappointing loss to Clare.
I can see a narrow win for the Rebels, which would set them nicely up for the group and put Louth under pressure.
Verdict: Cork
Group 2: Armagh v Westmeath, Box-It Athletic Grounds, 4.45pm
Armagh take on last year's Tailteann Cup winners Westmeath in their Group 2 opener.
After their brilliant performance in the Ulster championship, Armagh had a really devastating defeat at the end of a penalty shootout to Derry in the final. They will need to learn how to close out games
Now they have a chance in these group stages to figure those small things out in relation to game management and closing games out.
I think this will be the start of that for them this weekend.
Verdict: Armagh
Group 4: Derry v Monaghan, Celtic Park, 7pm
It's a repeat of the Ulster semi-final last month.
The Ulster champions steamrolled the Monaghan men in the Ulster semi-final (1-21 to 2-10) and I find it hard to see any other result in this game.
It might not be in the same fashion – I think Monaghan will have learned a lot from that game - and the Farney men will come with an intent and keen to get a good performance under their belt.
They have two other games in the group, against Clare and Donegal, which they will definitely target as winnable games.
Verdict: Derry
Sunday
Group 3: Dublin v Roscommon, Croke Park, 4pm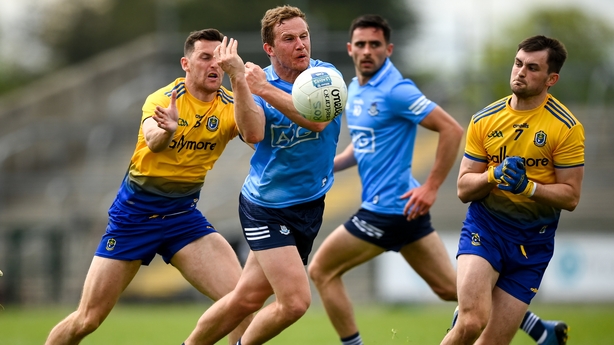 While this group looks less competitive than the others, it should be the tie of the group.
Dublin will have a big challenge on their hands trying to break through this set defence that Roscommon have used as a foundation to their positive performances this year.
Roscommon, after a couple of weeks' break, will have targeted this game to reset after the Galway defeat, but to also set themselves up to progress through the group.
They are playing with a fearlessness, and that showed in the league. They won't fear Dublin coming into this game.
Dublin on the other hand will really have to figure out how to break down this set defence. Can they be patient? Can they control the ball, attack the wings and find runners through the centre in space?
I think they will, just about, though I'm expecting a tight game.
Verdict: Dublin
Paul Flynn was speaking on RTÉ Radio 1's Morning Ireland
Listen to the RTÉ GAA Podcast on the RTÉ Radio Player, Apple Podcasts, Spotify or wherever you get your podcasts
---
Watch highlights of the weekend's football and hurling championship action on The Saturday Game and The Sunday Game, 9.30pm on RTÉ2 and RTÉ Player