Stephen Cassidy still remembers the moment clearly.
The Donegal underage player, and older brother of two-time All-Star Kevin, was sitting on the plane two days after taking part in New York's first ever championship game against Mayo in 1999.
Cassidy wasn't the only person among the travelling party who had concerns over his immigration status, but as he buckled up at his seat, the nerves began to dissipate somewhat.
Then came the announcement over the tannoy: "Could Mr Cassidy make himself known to staff please."
"I froze as I was illegal at the time," he tells RTÉ Sport.
As luck would have it, he shared his surname with a member of the backroom team, with Jim Cassidy removed from any documentation issues given he was settled in the Big Apple.
"He jumped off and saved me."
In a time before 9/11, such scenarios were not as far-fetched as they might appear today.
The New York team that took on Mayo in Castlebar in May 1999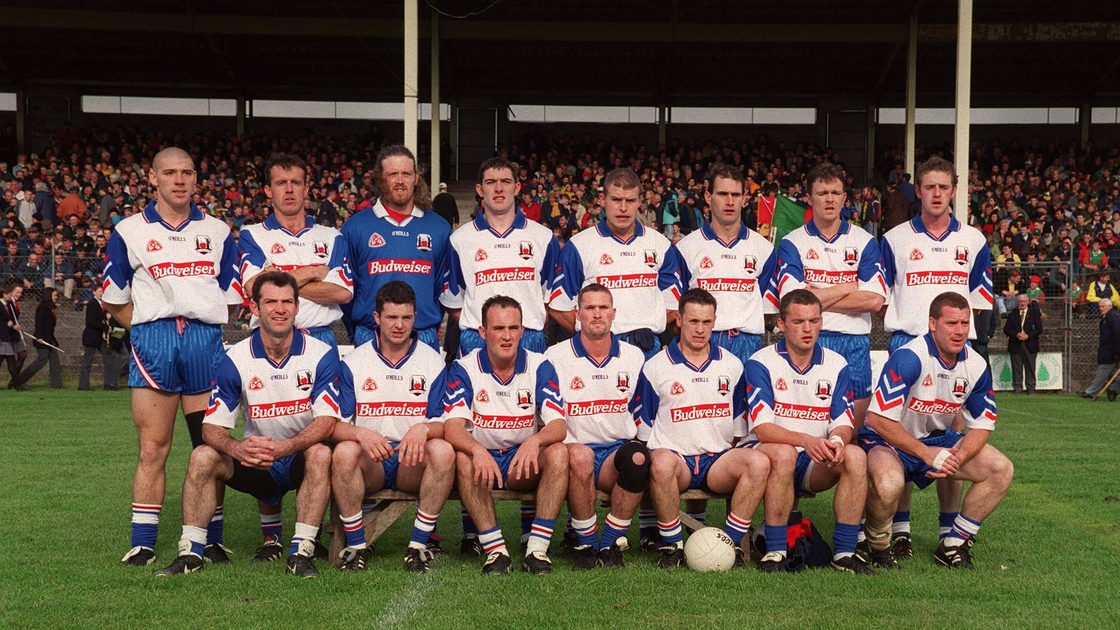 Only one player in the end failed to get through customs. Six weeks later, after taking the scenic route through Mexico, he too was back in New York.
"I played against him in the club championship the following year," Cassidy says. "I don't think he ever returned home."
Ahead of today's clash with Sligo, New York manager Johnny McGeeney insisted last week that immigration concerns were not part of the panel's thinking.
"No, my only concern is injuries," was his reply when asked about whether or not some players would opt not to appear at Markievicz Park.
After claiming victory at the 23rd time of asking, New York are in uncharted waters. Another win would secure a Connacht final and a place in the All-Ireland round-robin, while defeat would see them head for the Tailteann Cup.
It's a far cry from the knockout championship 24 years ago when the team set out on a new path.
Between 1950 and 1967, New York claimed three national league football titles, the last seeing the Exiles get the better of All-Ireland and 'home' league champions Galway.
That would be the high point as they began to slip back, with exhibition games and emigrant tournaments becoming the focal point as the club scene began to thrive instead.
However when New York got the better of London in an emigrant final – and London had been partaking in the Connacht championship for the guts of two decades – the board pushed for their own inclusion.
Off the pitch, board president Marty Maloney's strong friendship with then GAA President, the late Joe McDonagh, also helped push their cause as Croke Park gave the green light.
A panel of more than 45 club players assembled in January, when temperatures hovered around the -10 mark, for the upcoming championship journey.
After a couple of hard months were put down, the numbers were trimmed to 22, with four reserves to travel for the novel Connacht quarter-final clash in Castlebar.
Back in Ireland, Mayo manager John Maughan had little to analyse their upcoming opponents. The green and red had watched neighbours Galway claim the previous All-Ireland after they fell to final defeats in 1996 and 1997, yet the step into the unknown applied perhaps more to them than New York.
"People said we would beat them out the gate," Maughan recalls. "You just didn't know what to expect. You had no idea. You are reliant on soundbites."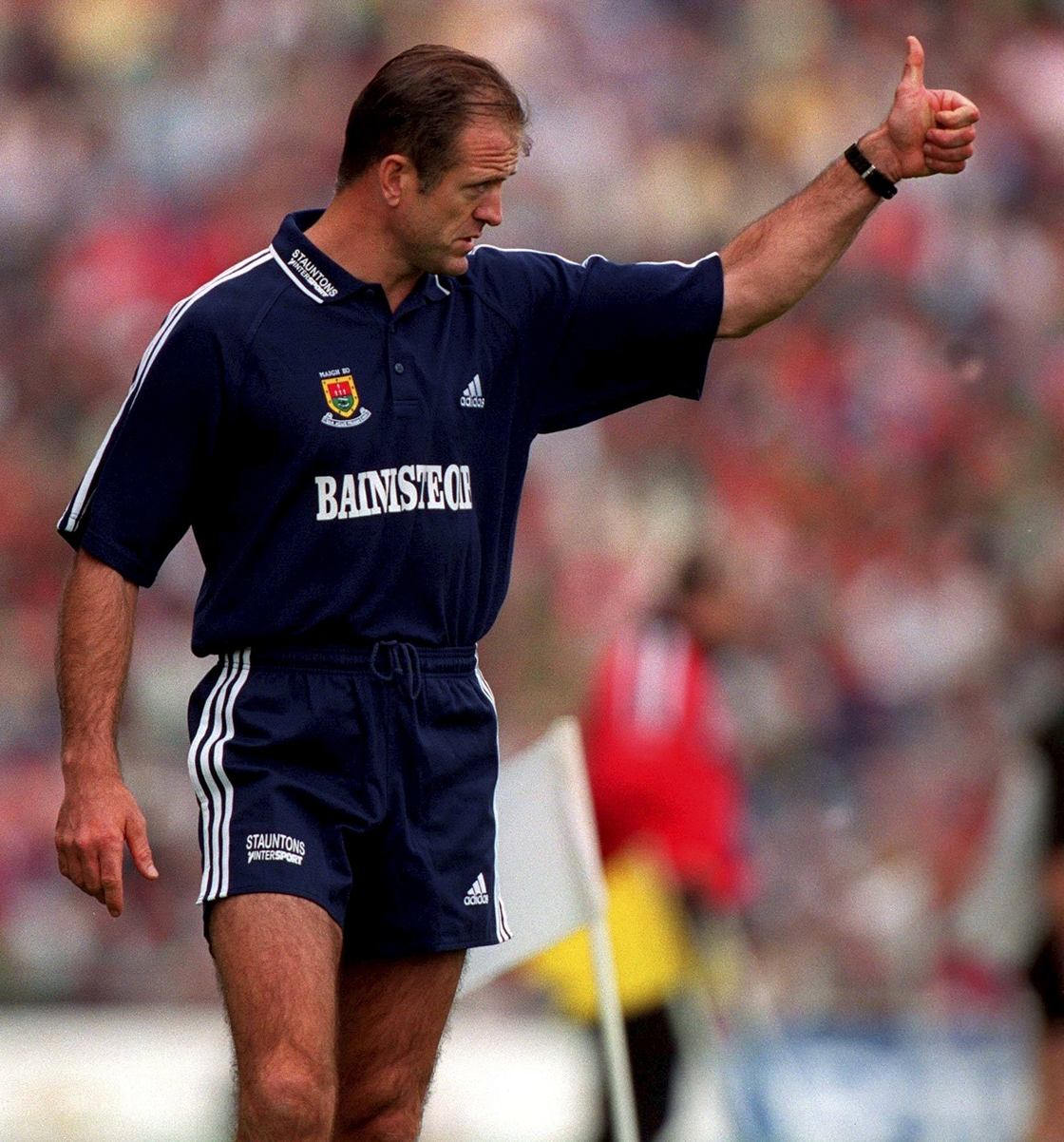 Some of those soundbites came from within the camp.
As preparation for the Mayo game, New York hosted an Irish Army representative side for two challenge games in Gaelic Park, where Jim Gavin, Anthony Rainbow and Dermot Earley were among a number of inter-county stars togged out for Defence Forces.
With five Mayo men in the army panel – Kevin McStay coached the side - Maughan had something to draw on, with the Army taking the first game and the second ending all square.
"That alerted me at the time given the quality of that travelling team," Maughan says, who had departed from the army at the start of the year.
Cassidy, who moved to New York in 1997 after Donegal exited the Ulster Under-21 championship and quickly immersed himself in the football scene, was up against Gavin on those occasions, though the pair had previously been Donegal New York team-mates when the Dubliner made a few transatlantic summer trips of his own.
The pair manned the inside line - Gavin took left-sided frees, Cassidy the right – but the future Dublin manager's level of preparation made him stand out even back then.
Jim said 'No, I won't touch a beer for at least four hours until my body is right'".
After a notable championship over Leitrim, the customary beers were passed around the changing room.
At the subsequent barbeque, he opted for salad. The following morning, as others nursed sore heads from the night before, Gavin undertook his own training session.
"I had never seen that type of thing. I knew he was going to be special."
The rumour mill had been spinning to such a degree that there was talk that Ciarán McDonald could line out against his county men.
The Crossmolina star had built up a strong rapport with New York manager Frank Brady from his time playing under him with New York Leitrim the previous summer. In the end, he didn't feature for or against the Exiles, but he was Mayo's top scorer by the time they eventually made their championship exit at the hands of Cork in an All-Ireland semi-final.
New York arrived in Ireland 10 days out from the match, full-on preparations combined with functions befitting the historic trip.
"It was an unbelievable week. We were treated like royalty," Cassidy says.
Based in Westport, they stayed in Spanish Point to take on Clare in a challenge match four days out from championship.
Two players picked up knocks that ruled them out of facing Mayo – flying wing-back Donal Breslin from Donegal suffered a cruciate injury – and full-forward Cassidy says he never put his best foot forward on Irish soil.
"I was poor against Clare, and my form just seemed to dip in Ireland."
The morning of the match, Brady was surprised to see Maughan and his Mayo team arrive into their hotel in Westport, telling the Western People in 2020: "John thought he was using a psychological ploy to bring his team in so the New York boys could get a good look at them. Unfortunately, none of the New York lads were up!"
The truth was that at the time, when playing in Castlebar, Maughan always took the team there for pre and post-match preparations.
"There was talk that we were coming in, showcasing we were Mayo, but that wasn't the case at," says Aidan Higgins, who made his championship bow that day at corner-back.
"That's where we ate all the time."
Higgins recalls plenty of fanfare leading up to and around the game, but he was just champing at the bit to make an impression.
"It was knockout football, so we were a little concerned as a team, but even though it was my first championship game, I was never a nervous type. I was ready for it."
Higgins was joined by two other debutants in Michael Moyles and Ger Brady, while Brian Maloney made his bow off the bench in a team that contained a core group from the recent All-Ireland finals.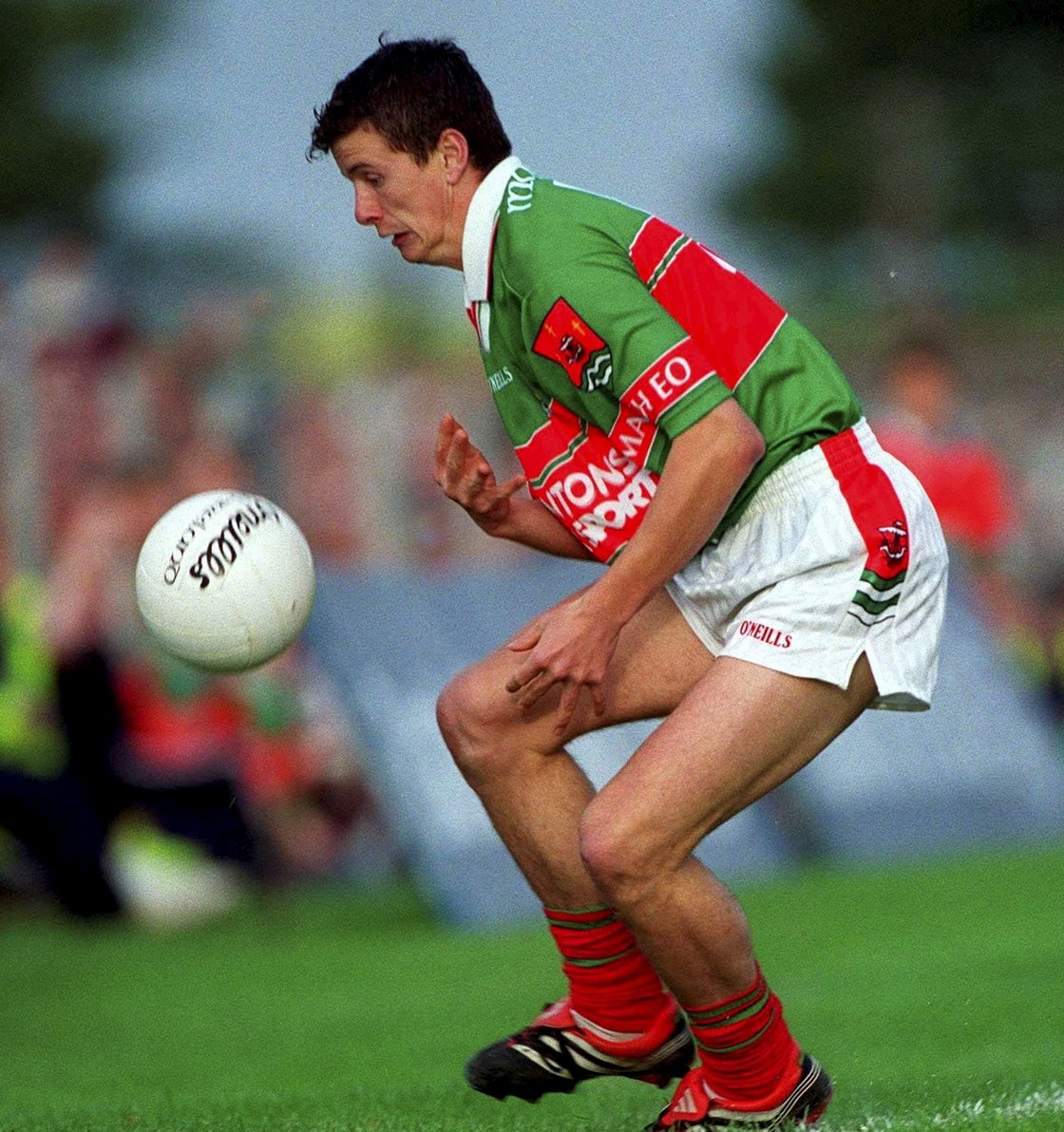 Goalkeeper Emmet Haughian and Kevin Lilly were the only New York-born players to start for the Exiles, with team captain Neville Dunne (Leitrim), Brian McCabe (Westmeath) Sean Teague (Tyrone) and Mikey Slowey (Monaghan) adding some inter-county nous.
The New York team that took to the field showed three changes to the one in the match programme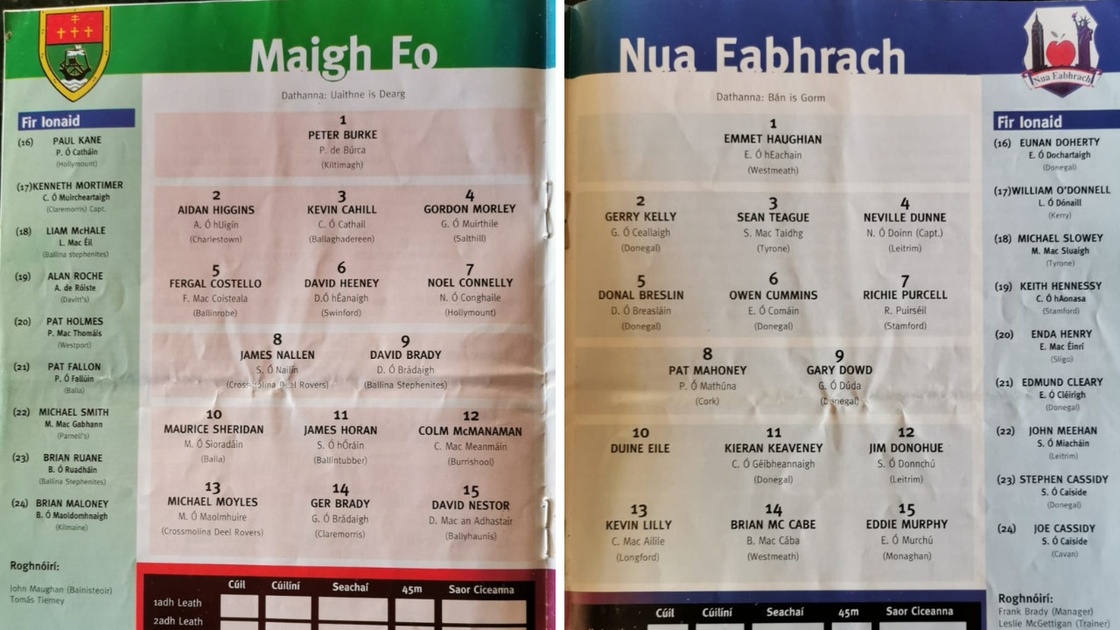 The New York dream quickly died in Castlebar, with goals from David Nestor and Colm McManamon in the opening 15 minutes effectively killing the tie.

"It took the sting out of the game. I think they dropped their heads a little after that," Higgins says.
Kerry's Willie O'Donnell claimed his own bit of history by swinging over New York's first score in championship fare, but the gulf in quality was there for all to see.
Cassidy got little change out of full-back Kevin Cahill, but has no complaints over the 3-13 to 0-10 final score line, with Slowey top scoring for the Exiles with 0-03.
"Mayo were simply way ahead of us."
Teague's only championship outing for New York – he returned home the following year and rejoined the Tyrone panel, captaining the side to an Ulster title in 2001 before injuries denied him the chance to share some of the county's glory days - was a game they struggled to get going in.
"The goals left us chasing the game," he says.
Mayo's Ger Brady wins possession ahead of New York defenders Neville Dunne, left, and Sean Teague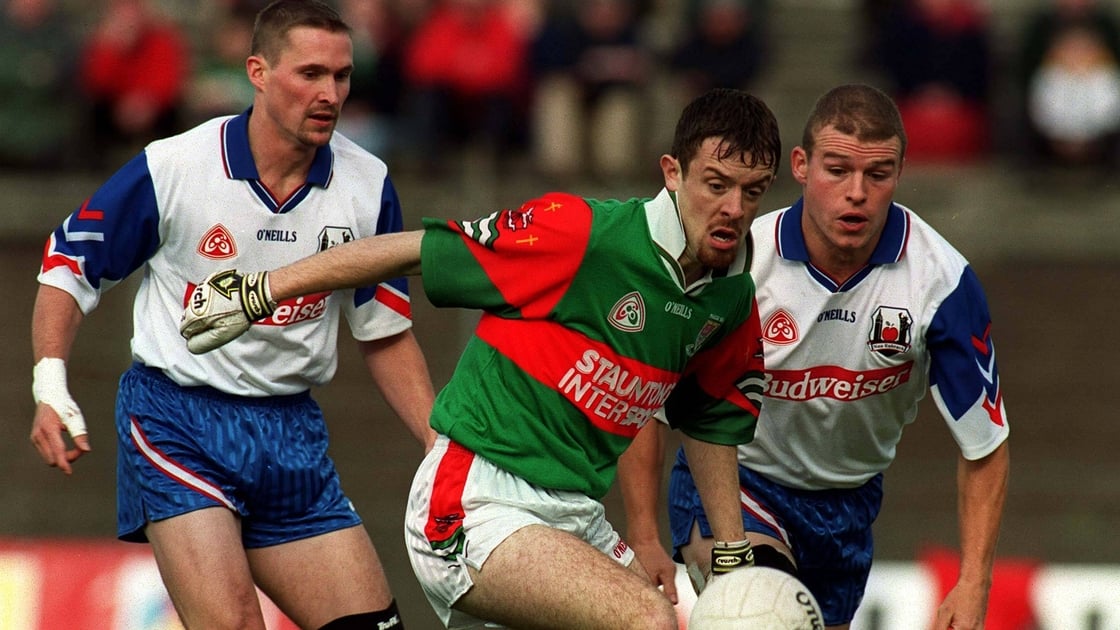 With a job well done and a semi-final to look forward to against Roscommon in a fortnight, Maughan went into the losers changing room to both offer encouragement and acknowledge the occasion.
Teague, who shipped a blow to the head during the match, cut Maughan short, telling him in no uncertain terms to leave as he thought they still had a game to prepare for.
With a 7pm throw-in, it was going to be a tall order for RTÉ to show the match report on the Nine O'Clock News that night, but another event that night meant the news was pushed down the schedule.
The 44th edition of the Eurovision was taking place in Israel with Ireland bidding for a fifth win in eight years.
Unfortunately for Belfast sister act Bronagh and Karen Mullan, only the 1989 entry from Kiev, Connolly and The Missing Passengers, saved 'When You Need Me' from becoming Ireland's worst showing in the 34 years of the competition.
The upshot was events from Castlebar were broadcast shortly before midnight.
We need your consent to load this comcast-player contentWe use comcast-player to manage extra content that can set cookies on your device and collect data about your activity. Please review their details and accept them to load the content.Manage Preferences
The New York contingent enjoyed their last few days on Irish soil before departing on the Monday, Cassidy making a successful return to the Big Apple despite a close shave with customs.
Mayo were good value for the Connacht title, ending Galway's Sam Maguire defence in the provincial final by winning the second half 0-08 to 0-01 before falling short against league and Munster champions Cork in an All-Ireland semi-final.
After 24 winless years, New York are seeking a second win in a month and there promises to be a greater national interest in the game than perhaps if Leitrim had avoided defeat at Gaelic Park.
Similar to Andy Moran's team, Division 4 champions Sligo will begin as favourites, but aside from anything else, perhaps the travel aspect could prove the Exiles' biggest obstacle.
Maughan was in charge of an Offaly side that coasted to a 15-point win over New York in last year's Tailteann Cup
"We got off to a great start and they just didn't put up any kind of performance," he says.
New York players celebrate the win over Leitrim at Gaelic Park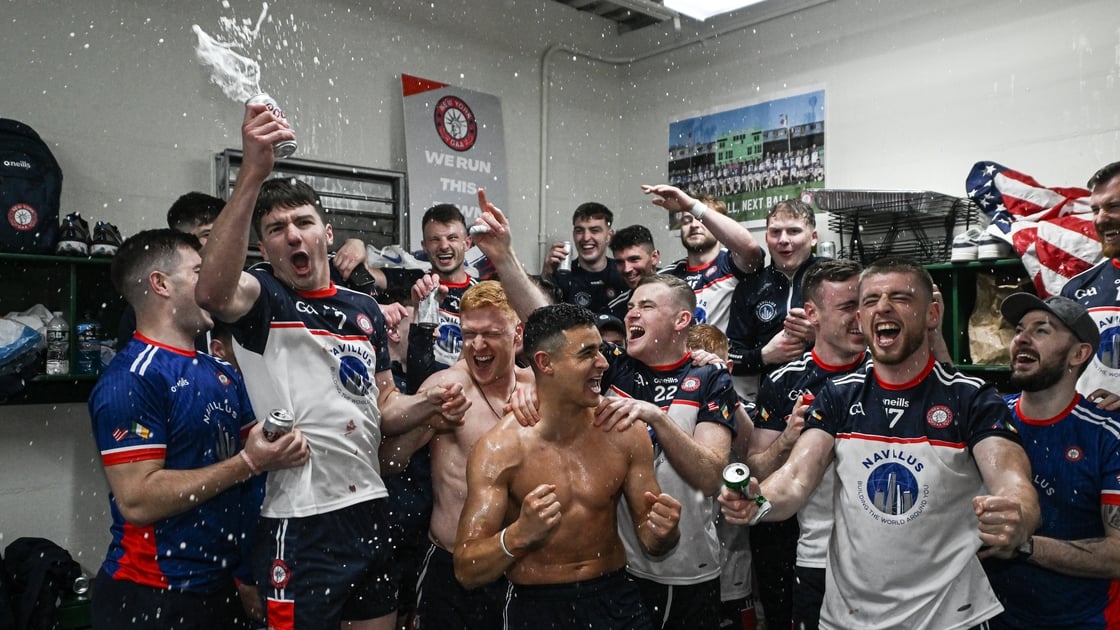 "Travel cannot be underestimated. Even for Leitrim the last day, it takes a certain amount of adjusting, even basic little things like a team meeting room."
He expects the Yeats County, with a bounce in their step, to advance to a Connacht final.
As far as Cassidy is concerned, it is now bonus territory. The monkey off the back was finally breaking that barren run.
"It was great watching the win thinking I was part of the first team to play in the championship."
1999 Conancht SFC quarter-final
30 May, McHale Park, Castlebar
Mayo 3-13 New York 0-10
New York: Emmet Haughian (Westmeath), Gerry Kelly (Donegal), Sean Teague (Tyrone), Neville Dunne (Leitrim, captain), Willie O'Donnell (Kerry), Jim Donohue, Richie Purcell (Stamford), Pat Mahoney (Cork), Gary Dowd (Donegal), Kieran Keaveney (Donegal), Brian McCabe (Westmeath), Mickey Slowey (Monaghan), Kevin Lilly (Longford), Stephen Cassidy (Donegal), Eddie Murphy (Monaghan).
Mayo: Peter Burke; Aidan Higgins, Kevin Cahill, Gordon Morley; Fergal Costello, David Heaney, Noel Connelly; James Nallen, David Brady; Maurice Sheridan, James Horan, Colm McManamon; Michael Moyles, Ger Brady, David Nestor.
Subs: Liam McHale for Brady, Brian Maloney for Moyles.
Referee: Seamus Prior (Leitrim).