Sligo's superb second-half saw then wrap up their Allianz Football League campaign in style as they won the Division Four title with a two-point defeat of Wicklow, 2-10 to 0-14, at a wet Croke Park.
A better second-half display, sparked by midfielder Paul Kilcoyne's goal, saw Sligo overturn an interval deficit.
Team captain Niall Murphy, who top-scored for Sligo with 1-04, afterwards dedicated Sligo's win to the late Red Óg Murphy, the Curry and Sligo star who passed on April 1 of last year.
This was Sligo's first AFL silverware since their Division 3 title in 2010.
Even with both teams heading up to Division Three for 2024 – irrespective of the outcome – there was still a sense of occasion about this fixture and, don't forget, a piece of national silverware for two counties who've had more lows that highs.
The game's big subplot was the presence of two Crossmaglen pals in the respective dugouts – Sligo boss Tony McEntee was up against his former club and county team-mate Oisin McConville, who is in his first term at Wicklow's helm.
McEntee, who is in his third year in charge of Sligo, took the bragging rights earlier in the campaign when Sligo beat Wicklow by six points, 0-18 to 0-12, at Aughrim's Echelon Park.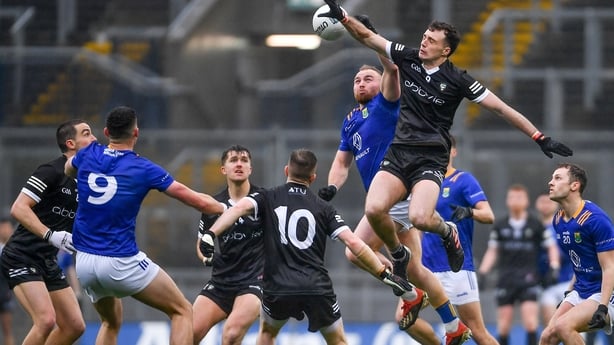 That was the first of six consecutive wins for an improving Sligo side following their opening round slump to Laois, with Wicklow showing their credentials by beating Laois – both Laois and Wicklow had made the drop from the Allianz Football League's third tier last year.
Sligo nearly made an ideal start with a goal shot from David Quinn but the ball flashed across the face of Wicklow's goal with just 37 seconds on the clock.
This spurred Wicklow into a period of dominance and they struck four unanswered points in the opening eight minutes, including a very good effort from Kevin Quinn, who bagged 0-4 in the opening period, and JP Hurley, who fisted the ball over when a goal shot was on.
Sligo, who struggled to find any sort of rhythm as the rain began to fall, finally opened their account with a 17th minute free from Niall Murphy, their only first-half scorer.
Wicklow continued to set the pace. They were sharper in everything they did and had established a five-point lead, 0-07 to 0-02, by the 26th minute.
Sligo could have been worse off and were fortunate that goalkeeper Daniel Lyons denied Eoin Darcy's goalbound shot and the excellent Kevin Quinn was unlucky with a fisted point attempt that came off the upright.
Sligo, who lost full-back Eddie McGuinness to a 25th minute black card, were revived by Niall Murphy's goal after 29 minutes – he finished off a slick combination that involved Nathan Mullen and Luke Towey.
Wicklow, looking for their first Division Four title since 2012, finished the half with a second point from goalkeeper Mark Jackson to give them a two-point lead, 0-8 to 1-3, at the break.
Paul Kilcoyne's 43rd minute goal put Sligo in the driving seat – he was given the ball by midfielder partner Cian Lally.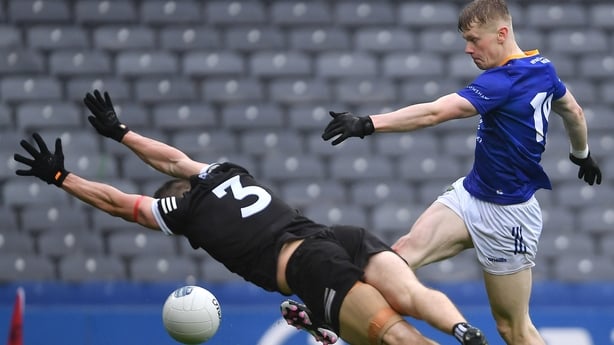 Kilcoyne had made a crucial block at the end of the first-half that denied Mark Kenny a possible goal.
Sligo, who were much improved in the second-half, extended their lead to four points, 2-7 to 0-9, with 43 minutes played.
Excellent play from Sean Carrabine set up Niall Murphy for another Sligo goal chance but this time Wicklow netminder Mark Jackson made the save.
Wicklow remained competitive, however, and they had the gap down to two points, 2-08 to 0-12, with 60 minutes played as Eoin Darcy converted frees and midfielder Dean Healy landed a big score from play.
A classy score from Niall Murphy summed up his brilliant day – he scored 1-04 in all – but Sligo were then indebted to their goalkeeper Daniel Lyons who saved superbly from Kevin Quinn's goal shot.
Sligo almost finished with a third goal but substitute Mark Walsh sent a shot into the goalkeeper after a surge through the centre.
Sligo: Daniel Lyons, Nathan Mullen (0-01), Eddie McGuinness, Evan Lyons, Luke Towey (0-01), Brian Cox, Paul McNamara, Paul Kilcoyne (1-00), Cian Lally, Keelan Cawley, Sean Carrabine (0-02, 1f), David Quinn, Pat Spillane (0-01), Patrick O'Connor, Niall Murphy (1-04, 1f, 1 'mark')
Subs: Mickey Gordon for David Quinn, 39; Alan Reilly for Patrick O'Connor, 57; Gerard O'Kelly-Lynch for Keelan Cawley, 63; Mark Walsh for Pat Spillane, 65
Wicklow: Mark Jackson (0-03, 2 '45', 1f), Malachy Stone, Eoin Murtagh, Jacques McCall, Tom Maher, Patrick O'Keane, Cillian McDonald, Dean Healy (0-01), Padraig O'Toole, Andy Maher, JP Hurley (0-01), Darragh Fitzgerald, Kevin Quinn (0-05, 3f), Mark Kenny (0-01), Eoin Darcy (0-02f)
Subs: Karl Furlong for Jacques McCall, 52; Zac Cullen for Andy Maher, 53; Cian O'Sullivan (0-01) for Darragh Fitzgerald, 57; Fintan O'Shea for Tom Maher, 60; Johnny Keogh for Mark Kenny, 70
Referee: Paul Faloon (Down)