Diving and "buying frees" has always been part of the GAA, according to Galway forward Damien Comer.
A number of high-profile incidents in the league saw a number of players accused of exaggerating impacts from opposing players, leading to calls for the association to tackle the issue before it becomes even more widespread.
Dublin's Dean Rock said the behaviour is "embarrassing", while RTÉ Sport analyst Éamonn Fitzmaurice has said that the yellow card is a weapon that must be readily utilised to clamp down on simulation.
Speaking ahead of Sunday's Allianz Football League Division 1 final against Mayo, Comer said it is certainly not a new development, and believes only the brandishing of cards will help address the issue.
"I think it's always been there to be honest, it's been there and you can call it diving or you can call it buying frees whatever you want to do, but it's like if you go back through any generation," he said.
"You can see on Twitter, there's enough people giving out about it who were probably one of the ones who were at it themselves when they were playing so I don't think it's anything new that's crept into the game.
"There's always going to be an element of you look at in every sport, it's there."
Rule 5.4 of the GAA rulebook says that yellow card can be awarded for any "attempt to achieve an advantage by feigning a foul or injury" and Comer says the issuing of cards would have a swift impact.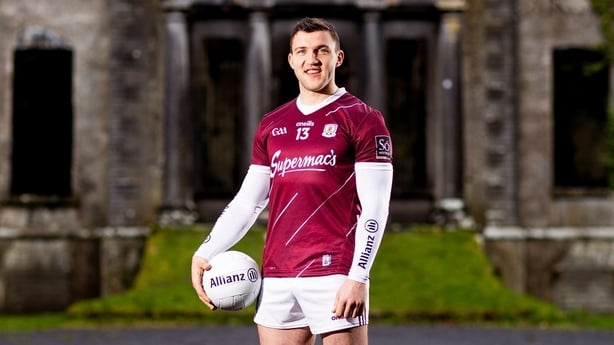 "It's up to the GAA to this discipline and the black [yellow] card is there for that. If it starts being used for that it will fairly cut it out then."
Of more pressing concern is Galway's first outing at Croke Park since last year's All-Ireland final defeat to Kerry.
The Tribesmen are looking for a first Division 1 league title since 1981 and similar to Paul Conroy's comments last week, there is a hunger to start adding silverware to the cabinet.
"It's a national title at the end of the day. Between management and players there isn't any Division 1 league medals there," the current All-Star said.
"It's a great test against Mayo for a chance to win silverware, it's a game you want to be playing in and we've had a good lead campaign were they're on kind of merit. So it's one we're looking forward to."
The bustling forward is delighted to be playing at all after picking up an injury at the start of February to join a lengthy list of players unavailable for manager Padraic Joyce.
"Immediately you are thinking the worst, is it another season on the sidelines?" he said of the setback against Roscommon.
"But the positive straight after the game was the initial pain that was there settled fairly quickly, even by time I got off stretchered. There was no swelling. I was taking that as a good sign.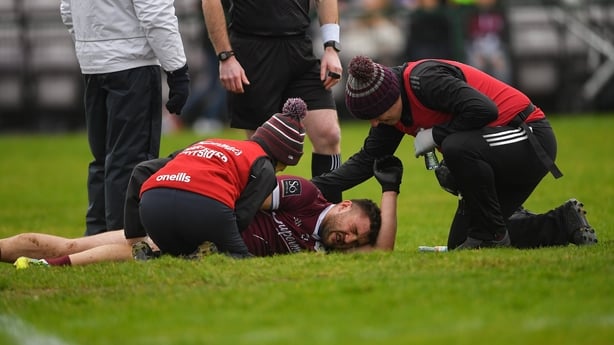 "Knowing my luck with injuries the last while, I said I'd surely get the full brunt of it, but thankfully it was grand.
Bruising and stretched ligaments aside, it was a short time out and it took little time for him to make his presence felt upon his return against Kerry at the weekend.
Just minutes after replacing Tomo Cuilhane, the Annaghdown man fired over a trademark score, gathering primary possession, taking on his man and firing over the bar.
#GALvKER 45 nóim@Galway_GAA 1-09@Kerry_Official 0-09

An scór ar fad ó Damien Comer! 👌

A brilliant point for Galway! 👊@GAA_BEO @AllianzIreland
#AllianzLeagues | #GAABEO | #GAA

BEO/LIVE ar @TG4TV pic.twitter.com/7jpSclriJr

— Spórt TG4 (@SportTG4) March 26, 2023
The victory in Salthill sealed a place in the league decider and Comer admits that things are moving in the right direction in Galway.
"There is a buzz and excitement in the place. Last year in my own club epitomised that, the place went mad.
"We hadn't seen it for a long time, not since the good days of 98 and 2001. To get that buzz around football in Galway is really important. It's what the sport has needed.
"There have been some dark days in the maroon and white, it's what everyone has wanted.
"The crowd at Salthill the last day for the Kerry game was great and I'm sure there will be big numbers in Croker again on Sunday. It's where we want to be as players.
"You want to be competing for national titles and for Sam. You want to be at the business end."
And with that brings growing expectations. Comer, currently on a career break as a secondary school teacher, says it is something that should be embraced if they are to achieve their ultimate goal.
"Playing at the top level of GAA you're going have pressure and you're going have expectation. There would be something wrong if we didn't.
"We all play football for different reasons. And the majority of majority of people want to play to win. I suppose for us it's to win trophies, to win medals, so that's pressure you put on yourself. It's pressure you put on your own team."
Listen to the RTÉ GAA Podcast on the RTÉ Radio Player, Apple Podcasts, Spotify, or wherever you get your podcasts.