Kerry took a major step towards maintaining their Division 1 status with a three-point win over Roscommon in Tralee, a result that leaves the losers with a bit of work to do next weekend before they can say the same.
It is a result that also keeps alive Kerry's chances of qualifying for the final and retaining their league title, but they will have to go to Galway next weekend and win there, and then see if other results play out in their favour.
For their part, Roscommon have now stacked up three losses in a row to go with the three successive wins they banked at the start of the league, and it might come down to them beating Donegal in round seven for the Rossies to retain their top-tier status.
Some credit to Roscommon for making the result as close as it was, which looked unlikely as they went six points down very early on, but while Kerry couldn't really kick on from there and completely shake Roscommon off, never did the home side really look in danger of losing this one either.
A lightning-fast start for Kerry saw them race into a 1-02 to 0-00 lead after six minutes, points from Dara Moynihan and Donal O'Sullivan bookending a brilliantly-finished David Clifford goal set up by an equally-brilliant through ball from Tony Brosnan.
O'Sullivan's second point put Kerry six ahead after ten minutes and one feared for what value, if any, the travelling Roscommon support would get for their trip south.
Former Kerry player Conor Cox converted a 20-metre free for his adopted county to get Roscommon off the mark in the 12th minute but all the smooth running and crisp passing and best shot execution was coming from the home side.
Case in point was Kerry's fourth point: Gavin White – playing his first minutes for Kerry since the All-Ireland Final – pulled down the Roscommon kick-out, lasered the ball into Donal O'Sullivan on the endline who popped it back out for Brosnan to clip it over the crossbar.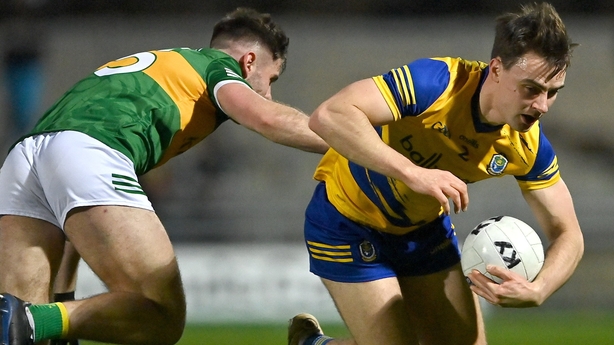 Diarmuid Murtagh converted a Roscommon free, but the attacks from the visitors were, at that stage, too infrequent and too incisive, not helped by some solid Kerry defensive work.
Points from Brosnan and Sean O'Shea extended Kerry's lead to 1-06 to 0-02 by the 27th minute, but just as it seemed the hosts might have this thing sewn up by the interval Roscommon hit them for three unanswered scores from the Murtagh brothers and then Cox from an advanced mark to make it 1-06 to 0-05 just after the half hour mark.
Surfing that momentum, Roscommon should have mined a fourth point but they butchered the chance, and David Clifford's converted free late on sent Kerry to the interval five ahead, 1-07 to 0-05, when it might have been four, or even three.
Roscommon scored the first three points of the second half, from Daire Cregg and two from Cox, and when Graham O'Sullivan's 45th-minute black card reduced Kerry to 14 men, Roscommon had more than reason to hope of winning just their second-ever league game on Kerry soil.
However, Kerry outscored the visitors by two points to one while O'Sullivan was in the sin bin, and further scores from O'Shea and Clifford put Kerry five ahead, 1-11 to 0-09.
Donie Smith came off the bench to convert two frees for the visitors as Kerry ended the game with Tadhg Morley in the sin bin, but the home side clung on for a crucial win that sees them looking up now, rather than down. The same cannot be said for Roscommon.
Kerry: Shane Ryan, Graham O'Sullivan, Jason Foley, Tom O'Sullivan (0-01), Paul Murphy, Tadhg Morley, Gavin White, Jack Barry, Barry Dan O'Sullivan, Dara Moynihan (0-01), Seán O'Shea (0-02, 2f), Paudie Clifford (0-01), Tony Brosnan (0-02), David Clifford (1-02, 1f), Dónal O'Sullivan (0-02).
Subs: Diarmuid O'Connor for B O'Sullivan (51), Killian Spillane (0-01) for D O'Sullivan (55), Pa Warren for G White (64), Ruairi Murphy for D Moynihan (64), Paul Geaney for T Brosnan (68).
Roscommon: Conor Carroll, Conor Hussey, Brian Stack, David Murray, Niall Daly, Eoin McCormack, Robbie Dolan, Tadhg O'Rourke, Dylan Ruane, Ciaran Murtagh (0-01), Ciaran Lennon, Enda Smith, Daire Cregg (0-1), Diarmuid Murtagh (0-2, 2f), Conor Cox (0-06, 4f, 1m).
Subs: Keith Doyle for R Dolan (25), Richard Hughes for C Lennon (48), Ben O'Carroll for D Murtagh (48), Donie Smith (0-02, 2f) for C Murtagh (60), Cian McKeon for D Ruane (64).
Referee: Derek O'Mahoney (Tipperary).