Recalling the Armagh-Donegal game from a fortnight ago, I'm reminded of one striking incident where Donegal won a free on the halfway line, with the home defence not yet set.
Any chance of a quick free bombed into the forward line to exploit the chance? No, their first move was to turn and play it backwards.
It summed up Donegal at present - and for a few years, in truth. It smelled of a team who are too 'safe' in their approach. There's an air of staleness around them.
It feels like the county is at a low ebb at the minute and there's no doubt it has been a torrid time for the new regime. Negativity is coming from every angle.
Michael Murphy retiring in the off-season has been compounded by injuries to Paddy McBrearty and Ryan McHugh.
Now, there are stories bubbling up in the background about Karl Lacey quitting the academy set-up. We've had Jim McGuinness revealing (in the Irish Examiner) that he had been involved in a prospective coaching ticket with Lacey under Rory Kavanagh and then criticising the county board for their handling of the process.
It's often remarked these days that Donegal are in transition. And yet they haven't changed their style of play in years.
Transition is often about style of play, structure, set-up, as opposed to simply being about a raft of new players unseating the older generation. New players have arrived but the style hasn't changed.
To be honest, I feel that was one of the reasons Murphy left when he did. One of the greatest forwards who ever played the game and yet they were so reliant on his influence, he was asked to play midfield, roaming around the middle third, performing donkey work.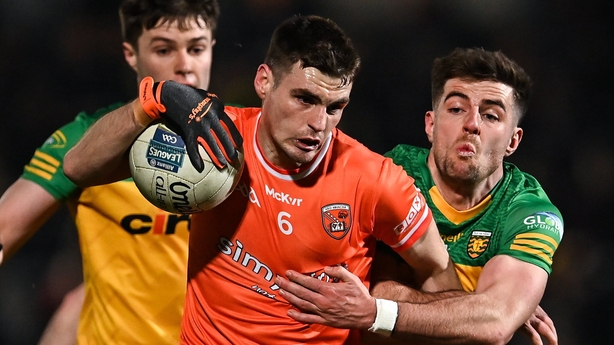 It wasn't sustainable for him to do that. I think if Donegal had been more ambitious in the latter part of the last decade, they would have plonked Murphy on the square and approached games with a more attacking mindset.
They've been stuck in a rut since 2014. I know they've won a couple of Ulster titles but haven't really challenged at national level since that year's All-Ireland final defeat.
The Jim McGuinness revolution delivered Donegal an All-Ireland title - you can never challenge that. But I don't think they've adapted to the way the game has evolved since.
They're still too lateral, they're trying to play too safe. Teams figured out their approach some years ago. They haven't reacted to that.
In Mayo, the bulk of our game was built around the running game and yet we still had a bit of adaptability in our game where we did kick a bit of ball and gave a bit of scope for our forwards to thrive.
With Donegal, they run the ball and run the ball and by the time they get as far as the 45m line, it's too late to kick it then. By that stage, the defence has so many bodies back, the space isn't there for a foot-pass. So, they have go sideways - or backwards - again.
Managers have changed since but Donegal really haven't. They're too preoccupied with safety and need to add more speed and aggression to their attacking game.
All the top teams now transition to attack quickly. There's a kick-pass involved, they're skipping lines, it's about moving the ball fast.
Whereas watching Donegal now, if they get a good turnover, their first instinct is to give the safest lateral pass. Rather than getting their head up, scanning to see whether they can get the ball quickly to the furthest advanced free man and rustle up a quick score out of it.
The whole problem is compounded again by the absence of McBrearty. They were already excessively reliant on him in attack - and will be if he returns this year - and now their scoring threat is fairly slight.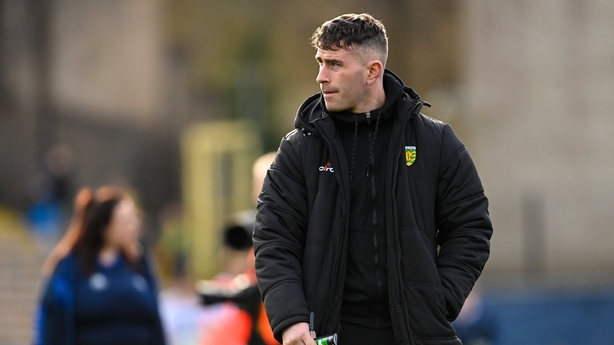 In some respects, they're doing well to have three points on the board. They got a draw against Galway - I really thought Galway should have won that game. They beat a Kerry team in the opening round that were only back on the pitch a couple of weeks. I think they're flattered with their points tally, to be honest.
Now, you've a high-flying Mayo team heading to Ballybofey at the weekend. The place is perceived historically as a fortress but Mayo will have no fear of it.
After the 2012 All-Ireland final defeat, we enjoyed decent success against Donegal, knocking them out in 2013, 2015 and 2019.
In the '12 final, facing the Donegal structure was new to our culture of football. We were still very man-on-man at the time and they were ready for it at the time.
The 2013 game you could probably discount to an extent. Donegal were still in the post All-Ireland hangover and it wasn't a fair representation of their team.
In '15, we put a huge amount of emphasis on Michael Murphy, we double-marked him with Barry Moran and Ger Cafferkey. Once we got the other match-ups sorted, we were quite comfortable to be honest.
The 2019 Super 8s game was probably a pivotal game. Post 2014, that was probably the year when Donegal appeared to be most in the groove and primed for a tilt at national success. That defeat in Castlebar in July '19 was probably Donegal's biggest defeat of recent years.
I know the purists were annoyed that we managed to steal their place in the semi-final. They had won an Ulster title in fine style, had been going reasonably well in the last-eight, playing out an exciting draw with Kerry in Croke Park.
We had been beaten by Roscommon in the Connacht championship - for the first time at home in 33 years - and then had gotten hammered by Kerry in the first round of the Super 8s.
It was a cracking game, cracking atmosphere. We got to the pitch of it and won quite comfortably, really. I feel 2019 was the year for Donegal to squash the narrative that they struggled to win back championship games and they didn't. And they haven't done so since.
Finally, all football concerns were put into perspective by the tragic passing of Liam Kearns on Sunday night. It was a such a huge shock to the entire GAA community.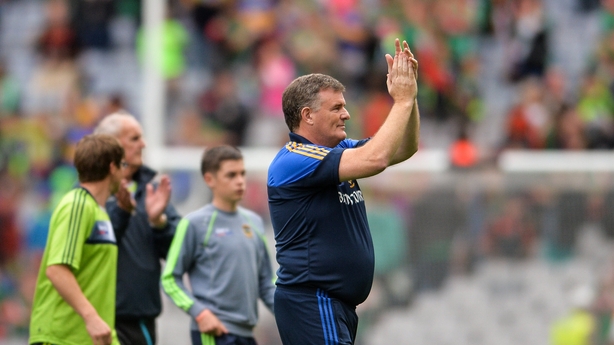 My main memory of Liam is from the night of the 2016 All-Ireland semi-final. We had played a hard-fought game against the Tipperary team he had brought to the last-four.
They were a free-spirited team and it was obvious how much they loved playing under Liam. He always seemed to maximise the potential of any side he was managing.
I met him that night after the '16 semi-final. We went downstairs for a few beers afterwards. He was such a great character and it was such a great chat with him. It was all football-related but all in good fun. And he had some great stories. Even thinking about the night I met him, it's hard not to smile.
The outpouring on social media and the tributes from past players is testament to the man he was. He's such a huge loss and I would like to wish his family my condolences at such a tough time.
Watch Meath v Dublin (3pm) and Armagh v Galway (5pm) in the Allianz Football League on Saturday on RTÉ2 and RTÉ Player and follow a live blog on all matches on RTÉ.ie/sport and RTÉ News app