The new condensed season means supporters are unsure how much to read into last weekend's results and performances in the opening round of the Allianz Football League.
Are teams targetting the league? Are they focussed on the provincial route to the All-Ireland or are they happy to build towards the business end of the championship?
The S&C implications to a manager's approach to the season are huge.
Some teams have been back training since mid-September and last weekend was the first proper competitive outing where they could really test to the full all the running, speed, agility, plyometric, weights, repeated sprint ability, stretching and game-based football training they have done in pre-season.
Every match last weekend lasted 70+ minutes. Teams now must plan and prepare to play for 70+, 75+ and even 80+ minutes. This has to be reflected in pre-season planning and training and has massive implications on teams' fitness periodisation (season training schedule) plans.
What do they need to build into players at this stage of the season to be competitive in the league, without compromising finishing strong at All-Ireland stage?
The training prescribed by the various fitness coaches in the pre-season physical development block will very much depend on the respective team's performance objectives initially in the league, followed by which respective All-Ireland competition they are competing in.
For example, what are Mayo's plans? Are they banking on getting to a safety position in Division 1 and then putting in hard training in preparation for championship? Are four or five games in the league enough for them to divert their training focus on winning Sam.
What are Dublin thinking? Have they pushed hard in pre-season to get out of Division 2? But will this have a fatigue effect on them come July?
How about Roscommon? They came flying out of the traps on Sunday. Have they sights on Connacht this year and if so, can they carry this over to an All -Ireland run?
All the teams would have done a lot of running to increase the physical development of their aerobic capacity (training the heart and lungs) for the forthcoming season. There would have been a mixture of long runs (3-5 minutes continuous running), interval running where the players run hard for a certain distance (200-600metres), rest for a certain length of time (30-120 seconds) and do this 8-12-15 times.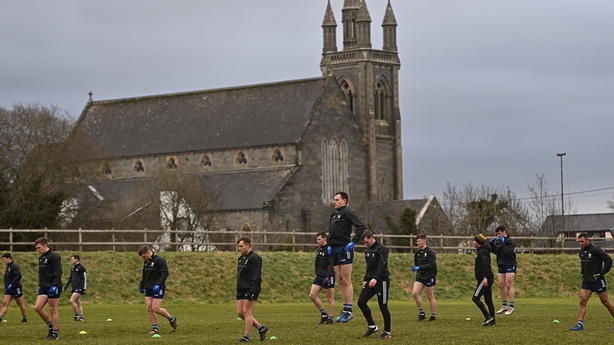 Closer to the beginning of the season these distances will reduce, and the speed of the runs will increase.
The nature of the conditioning training will now take the form of what is known as anaerobic training, this is short (less than 10 seconds) explosive efforts, and this mimics what the players will be exposed to when playing matches.
This transition from slower longer training to a faster more explosive type will take place 4-6 weeks before the league campaign begins.
This will include players sprinting at speeds typical to what they do in a match, some of the speeds reached last weekend in some games where as high as 8.6m/s (metres per second) which in layman terms is 19.23 MPH or 30.96 KPH.
Another big aspect of the pre-season training would have involved weight training. Some teams would train in certain blocks. The first four weeks would involve teams doing a block of general strength training. The second block of four weeks will involve maximum strength training. The third block of weight training would entail four weeks of power and speed training.
The type of exercises used in these phases would include squatting, deadlifting, single leg work like step ups, Romanian deadlifts, pull-ups, push-ups, and push-press among many other types of gym exercises.
The purpose of this type of training is to make the players run faster, jump higher, kick the ball further and tackle harder. Another really important factor is trying to prevent injury and build resilience for both Allianz league and All-Ireland competition.
The distances run by players in matches will vary match to match, position to position and competition to competition. Last weekend most teams averaged between 8,500 and 9,186 metres covered in their matches.
We have two very different phases of the season in which teams need to be very fit and robust
The fitter players at present would have covered 10,500-11,500 metres based on their playing position. Normally your middle eight (half-back, midfielders, and half forwards) cover the most distance in Gaelic football. These distances (metrics) are vital information to fitness coaches when planning the training year, the training month, the training week, and the training session.
There is no point in a player running just 4-5,000m in training every night week-in-week-out, as they will not be fit for purpose to last the duration of the match and ultimately will get injured. Conversely there is no point players constantly running 14-15,000m in training as they will not do this in a match, and it will lead to overuse injuries in the muscles. So, all these factors need to be considered when designing training programmes for GAA players.
The fitness coach in GAA must be very meticulous when planning the physical development of an inter-county football team, we now have two very different phases of the season in which teams need to be very fit and robust for the physical qualities required to play the game.
Do teams gamble and come into the league in tip top shape and try and blow teams away at the start of the campaign? Can they then maintain these fitness and strength levels right through to championship? (Very unlikely).
Will teams start the league slightly undercooked physically fitness wise, with the intention and hope they consolidate their league status to get a real crack at the championship?
A lot of questions and variables that managers, fitness coaches and teams will have to navigate through in the season ahead.
We need your consent to load this rte-player contentWe use rte-player to manage extra content that can set cookies on your device and collect data about your activity. Please review their details and accept them to load the content.Manage Preferences
Listen to the RTÉ GAA Podcast on the RTÉ Radio Player, Apple Podcasts, Spotify, or wherever you get your podcasts.