Mayo star Lee Keegan said he has no regrets about walking away from inter-county football as family life and professional commitments made him view sporting ambitions in a different light.
Earlier this month Keegan, 33, announced his retirement from inter-county football after 12 campaigns with the Green and Red.
He was named Footballer of the Year in 2016 and was nominated for the award in 2013 and 2021.
Speaking on The Late Late Show, Keegan, who has two young daughters, insisted it was the right call.
"I had 12 brilliant seasons [with Mayo]," he said. "I just felt it was a time in my life that I can just walk away and be happy with what I did.
"I had a brilliant career, I'm really happy with my career but I've got kids at home now, I have a job, a house so I just want to give time back to that and see where that brings me.
"Every person that plays GAA will say the same thing: you have to be very selfish. If you're not you're not going to succeed at the top level. You're committing to five, six days a week and if you really want to be ambitious and strive to get the All Ireland [championship] you have to commit to that.
"[In the past] I didn't have the full commitments and responsibilities that I have now in terms of kids, mortgage, job, so I just said, 'I don't want to be relying on people all the time, people to pick up my slack that I should be doing at home and missing milestones with the kids'.
"You start blinking and they're getting older before you know it."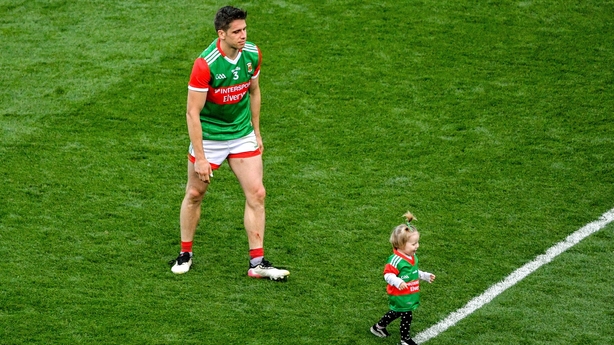 Keegan played in six All-Ireland SFC finals and lost them all.
In the summer he lined out for Mayo in the All-Ireland quarter-final loss to eventual champions Kerry - his last appearance for the county.
He has endured plenty of on-field anguish but Keegan has no regrets. Reflecting on the 2021 defeat to Tyrone in the decider, he added: "No final is easy to lose, that's straight up, and they don't get easier. But when I saw my young girl running around the pitch after it, it just lifted me up a little bit.
"I said, 'the world didn't stop... I still have to get up and feed her at five o'clock in the morning' or whatever it is.
"You should always be looking forward. My sole responsibility to a degree was Gaelic football. As I progressed through life, different things changed."