Mayo 0-13 Roscommon 0-09
Following on from three Connacht FBD League contests that finished 3-21 to 1-13, 3-17 to 2-13 and 2-18 to 3-12 on the astroturf surface at the Connacht GAA Air Dome, Mayo and Roscommon delivered a tense, dour final on Friday evening that was far more in keeping with what supporters might have come to expect at this time of year.
In the end, Mayo's veteran talisman Cillian O'Connor stepped up to deliver two crucial late points, with Aidan O'Shea also producing a valuable cameo role after coming on at centre-forward, to see Kevin McStay's charges over the line and secure a first win in this competition since 2012.
As a form guide for the upcoming league however, neither Galway or Tyrone, who have to travel to Castlebar and Roscommon respectively next weekend, would feel that they saw anything to be afraid of in this game, with a distinct lack of attacking craft.
If there was a difference between the teams, it was Mayo's superior ability to run at a defender and win a free, as evidenced by their final tally of four points from frees, in contrast to Roscommon's one.
An early point from Fionn McDonagh after just 20 seconds suggested that another free-flowing shootout was in store, but instead the next 15 minutes passed by without a score, as both sides probed patiently but struggled to open up space through packed defences.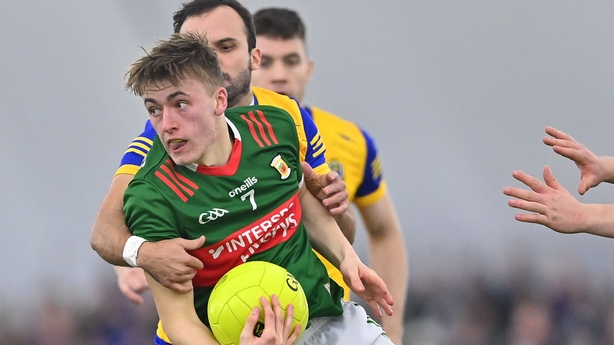 Dead ball scores from Ryan O'Donoghue and Diarmuid O'Connor pushed the lead out to three before Roscommon finally got off the mark in the 21st minute, Niall Daly the scorer after a slick passing moved ended with Ciarán Lennon playing in the Pádraig Pearses man.
That was to be a rare moment of quality at that end of the pitch however, As the Mayo backs locked down their direct opponents, save for a glorious shot from Diarmuid Murtagh just before the break.
By that stage, Mayo had put five points on the board, while the also found the Roscommon net through Ryan O'Donoghue, though the score was ruled out by referee Michael McGirl following consultation with his umpires.
Another majestic strike from Murtagh after half-time suggested that Roscommon might be ready to get into the game, but instead Mayo settled about their work, and good straight running lines down central channels opened up chances that led to points for Conor McStay and O'Donoghue.
Keith Doyle, by some distance Roscommon's best player in this competition, fired over a towering kick to drag the gap back to three points, but it was only when both managers went for some heavyweight reinforcement that the scoring rate started to really pick up.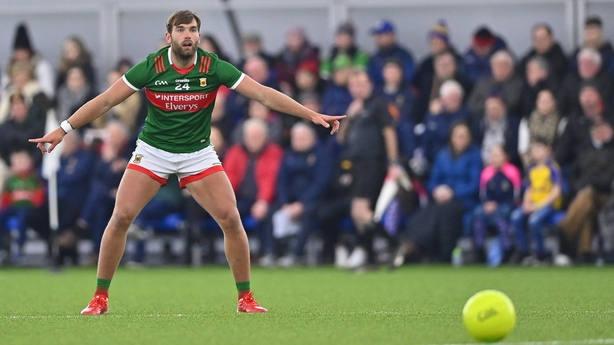 Conor Cox and Donie Smith fired over two points each for the Rossies, with the second of Smith's struck from the left-hand sideline to make it 0-10 to 0-8, but at the other end, Aidan O'Shea had set up one point for Jordan Flynn, while Stephen Coen also strode forward to split the uprights.
With two points between the sides and Mayo down to 14 men due to Rory Brickenden's second yellow card, the stage was set for Roscommon to try and pip their western neighbours at the finish line. Instead Cillian O'Connor, introduced with 13 minutes to play, slotted two vital late scores either side of a fine kick from Conor Loftus, to clinch the win.
Mayo: Colm Reape; Jack Coyne, Rory Brickenden, Enda Hession (0-01); Donnacha McHugh, Conor Loftus (0-01), Stephen Coen (0-01); Jordan Flynn (0-01), Diarmuid O'Connor (0-01, 45); Fionn McDonagh (0-01), Bob Tuohy, Bryan Walsh; Aiden Orme, Conor McStay (0-01), Ryan O'Donoghue (0-04, 0-03 frees, 0-1 mark).
Subs: Jack Carney for McDonagh (29 mins), Aidan O'Shea for Tuohy (47 mins), Eoghan McLaughlin for Walsh (49 mins), Paul Towey for McStay (51 mins), Sam Callinan for McHugh (53 mins), Cillian O'Connor (0-02, 0-01 free), for Orme (57 mins), Ruairí Keane for Hession (63 mins), Ethan Gibbons for O'Donoghue (68 mins), Fentaon Kelly for Loftus (70+3 mins), Joe Tuohy for Coen (70+3 mins).
Roscommon: Conor Carroll; Conor Hussey, Conor Daly, Eoin McCormack; Robbie Dolan, Brian Stack, Niall Daly (0-01); Rúáidhrí Fallon, Keith Doyle (0-01); Cian Glennon, Ciaráin Murtagh, Dylan Ruane; Diarmuid Murtagh (0-02), Ciarán Lennon, Paul Carey.
Subs: Donie Smith (0-02) for C Murtagh (half-time), Conor Cox (0-02, 0-1 free) for Carey (half-time), Adam McDermott for D Murtagh (44 mins), Darragh Heneghan for Glennon (51 mins), Connell Kennelly for Ruane (51 mins), Colin Walsh for N Daly (56 mins), Ben O'Carroll for Lennon (56 mins), Paul McGrath for Fallon (68 mins), Peter Gillooly (0-01) for McCormack (70), Dylan Gaughan for O'Carroll (70+2), McCormack for Gaughan (70+4, blood).
Referee: Michael McGirl (Leitrim)