The death has taken place of former GAA president Seán McCague at the age of 77.
The Scotstown native was the first Monaghan man to take up the position when he led the association from 2000 to 2003 and played a key role in securing funding for the redevelopment of Croke Park while his tenure was most remembered for the removal of Rule 21, which banned members of the British security forces from playing GAA.
He first joined the Scotstown committee in 1996 as club secretary and rapidly ascended the ranks to hold the highest position in the GAA, replacing Galway's Joe McDonagh.
McCague's contribution to the association extended past administration as he managed at club, county and international level having seen his playing days ended early by a back injury.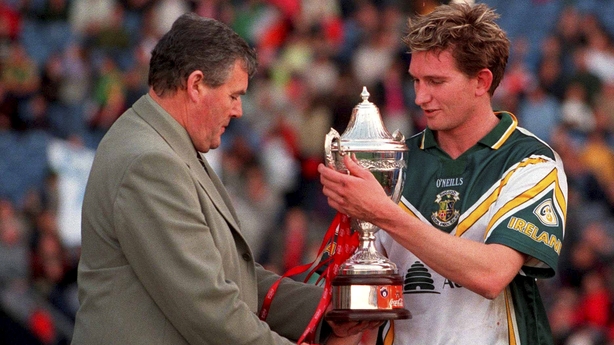 He led his club to the Monaghan Championship in 1974 to end a 13-year wait for the title and three years later he was in charge of the Farney County, guiding them to Ulster glory in 1979. Two more Anglo Celt titles and a National League crown would follow under his watch.
McCague, who also acted as a referee, was Ireland assistant manager to Eugene McGee for the International Rules series meetings in 1987 and 1990.
He is survived by his wife Bernie and daughters, Paula, Nuala, Martha, Freda and Emma.
Current GAA President Larry McCarthy paid tribute to the former school teacher.
He said: "On behalf of our members and the Association as a whole, I would like to offer my condolences to Sean's wife Bernie, and his daughters Paula, Nuala, Martha, Freda and Emma and also to his wide circle of friends and those who admired and respected him.
---
ARCHIVE: MCCAGUE GUIDES MONAGHAN TO 1979 ULSTER TITLE
---
"Seán was an astute leader at a time when the organisation benefitted greatly from his wisdom, experience and undoubted influence.
"He served the Association at every level, from Scottstown up and he left an indelible mark on our games and the GAA as we know it today."
"It is with a heavy heart today we mark the sad passing of former Uachtarán Monaghan and Scotstown's Sean McCague," Monaghan GAA said.
"In his renowned GAA career Sean served as the 33th President of our association from 2000-2003 in which his legacy still remains and managed Monaghan Senior Football team to Ulster historical success in the 70s and 80's.
"Former Principle of Scoil Mhuire in Monaghan, Sean was always at the helm of our association both locally and nationally and will be sadly missed by all.
"Our thoughts and prayers are with Sean's family and friends."