Tipperary minor football manager and Clonmel Commercials stalwart John McNamara says the club's progress this season has boosted the game throughout the whole county.
McNamara was in charge of the Tipp minor side that topped their Munster Phase 1 group before losing out to the eventual provincial champions, Cork.
He has since been delighted to see his club Commercials beat Upperchurch in the Tipp final before taking off all the shackles and delivering an exhilarating display against Cork's Nemo Rangers.
This weekend they meet back-to-back Limerick champions Newcastle West in the AIB Munster semi-final at FBD Semple Stadium.
And McNamara says that while the win against the Cork champions is firmly in the past, it reminded people in Tipp and beyond of the standard that can be achieved.
"What you saw against Nemo complimented the work that has been done at club level and also the work that has also been at intercounty level," he tells RTE Sport.
"It reassured people with ideas, the likes of Tipp football chairman Conor O'Dwyer, that such style and success can be gained.
"It complimented the promotion of the game by the Friends of Tipp football and it complimented the wish we have in Tipp football that this is the spectacle we can promote.
"Others from around the county looked at that Nemo game and said, 'these guys are from the next parish' That's how close this is. The glory we all have is that young kids can see it, it is not the World Cup in Qatar. Instead, teachers like Richie Carroll were able to bring the likes of Jack and Conal Kennedy out to Grange NS to meet the kids. This is something that is achievable."
Although there was no trophy in the mix on the night they beat Nemo, the nature of the win was special for those invested in Commercials, like McNamara whose late father, John senior, was a driving force for so many decades.
Colman Kennedy coolly slips home a second goal for @CommercialsGAA - They currently lead by five against @NemoRangersGAA

Live now on RTÉ2/RTÉ Player pic.twitter.com/yGDUUMrAId

— The Sunday Game (@TheSundayGame) November 12, 2022
"It reminded me of our last probable landmark in Tipp football – the 2020 Munster final when we were all mid Covid," he says. "You just wanted to knock on someone's door and talk about what you had seen."
Not that it will come easy on Sunday in the semi-final against the battle-hardened Limerick champions, driven on by talisman Iain Corbett and toughened by an extra time win over Adare in their domestic decider.
When the sides met in the 2015 Munster championship, Newcastle West had Commercials on the ropes, only for the Premier champions to snatch a win.
Indeed, the result should have been beyond doubt.
With five minutes remaining, Commercials trailed by four points against the visitors with former Limerick star Stephen Kelly on fire.
They led 1-07 to 0-06 lead down the home straight but the Tipperary champions hit six in a row down the home straight to win.
"They won't have forgotten that," McNamara says.
"They are a fine side who have fought hard to win in Limerick again this season. They are producing results on the back of huge work that has gone in at underage and they have had successful minor teams in the past number of years too – meaning that they have serious youth, like we do.
"So, this will be another tough one for our lads. Remember also that we had four weeks between the Tipp final and the Nemo game. We have only had two weeks since then and we went at Nemo hammer and tongs so it will have been tough on the bodies."
But Commercials are in a nice rhythm all the same.
A golden generation, they have prized six county titles and one Munster crown in the last 11 years.
They look intent on adding more to their haul.
Experienced stars like Michael Quinlivan, Seamus Kennedy and Kevin Fahy have been refreshed by the addition of classy youngsters like Sean O'Connor, Tadhg Condon, Peter McGarry, Cian Smith, and James Morris.
It is a nice mix.
"Yes, lads are mature, others are maturing and it's exciting," McNamara says.
"They have retained that steel, structure and professionalism that Charlie McGeever put in when he was manager.
"Now with Tommy Morrissey and Philly Ryan at the helm they are building on that, adding to it with their attacking strategies too.
"Maybe they attacked too much against Nemo," he joked.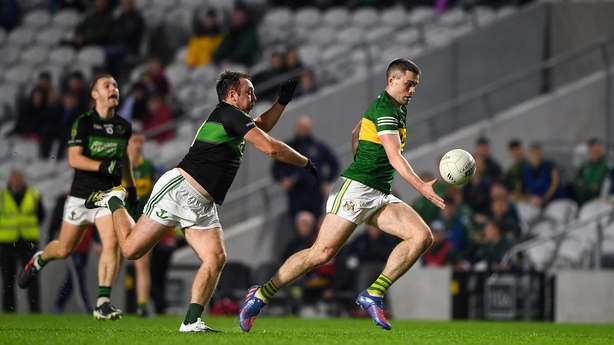 A physically strong side, they play an open brand of football but also have the option of a running game or sending it in directly to the likes of O'Connor on the edge of the square.
Newer players like James Morris have quickly adapted to whatever the preferred game-plan is.
Only 19, he was put on an S&C programme with the Tipp U-20 hurlers last year and is currently playing freshers college hurling. He looks to the manor born as a footballer.
"With the likes of James, he is showing the benefits of having a conditioning programme with the hurlers and it's a two-way street as far as I am concerned, McNamara says.
"If we in Tipperary can understand the benefits of each game and the crossovers that it can bring, we are going to achieve things.
"I think it would have been a regret for the lads if they hadn't stood up and counter punched and really attacked the Nemo game but now they will want to go further.
"The club is in a good place," he added. "My father always spoke to me about minor football being so important as it gives you a glimpse into the future.
"We are trying to establish that mantra again at minor level and won our first in a few years under Philly Ryan this season.
"We are trying to get good lads involved and we have this mentality of promotion of the game to make it enjoyable for kids.
"In time they will get to the standard and know all the tactics but whilst they are kids let them out and play football. Nemo are the yardstick for us in that regard."
And McNamara feels that Newcastle West are very similar too.
"They have been around a long time but it's only recently that they have had success at adult level.
"In 2009, 2013 and 2015 they had county minor winning teams and now they have a tight knit group who have come through the system.
"There are similarities between both clubs."