Portlaoise man Zach Tuohy will have a second opportunity to write his name into history when he steps out on the famous Melbourne Cricket Ground on Saturday.
Tuohy is bidding to become only the second Irishman, after Tadhg Kennelly, to win the AFL Grand Final as his Geelong side chase their first title since 2011 when they take on the Sydney Swans, having lost at the same stage in 2020.
Kerry's Mark O'Connor is on the Geelong emergency list and may make an appearance as an injury substitute.
It's been some journey for Tuohy who, by a quirk of fate, will also play his 250th game in the AFL on Saturday, closing in further on the great Jim Stynes (264).
The former Portlaoise footballer initially made the move Down Under in 2009 for a four-week trial with Carlton. Tuohy duly impressed and after a spell with their development club Northern Bullants, he was called up to the seniors.
Five successful seasons with Carlton followed as Tuohy made his mark on the AFL as a tough and heavy-hitting defender with a unerringly accurate kick, but that came to an end in 2016 when a poor contract offer that belied his status and his ability as a player, was put in front of him by the club.
"It was sub-par, very sub-par," Tuohy explained. "Almost insulting. It made it virtually impossible (to stay). Perhaps I was a victim of circumstance.
"The club's going in a certain direction and that's been very clearly documented. I was very happy there, but it was made clear to me that I might need to look at my options."
In terms of player movement, the AFL exists in a middle-ground between GAA and soccer. Transfers aren't exactly as rare and difficult as club switches, but nor are they as regular and straight-forward as soccer deals.
Making a move from one club to another is a big deal in the AFL and Tuohy had to be sure of his destination. Geelong was his preference although not a guarantee for him but a deal was made with Billie Smedts going the other way.
Geelong got the better end of the swap with Smedts struggling to fit into his new team and lasting just one season. Tuohy meanwhile has gone from strength to strength and has found himself at a club and a place he now considers home.
"Geelong is basically a bigger version of Portlaoise," he said.
"I love Melbourne, but Geelong fits me perfectly in what I'm used to growing up. A bit more slower paced, and a great town to have a family in. It's perfect for me."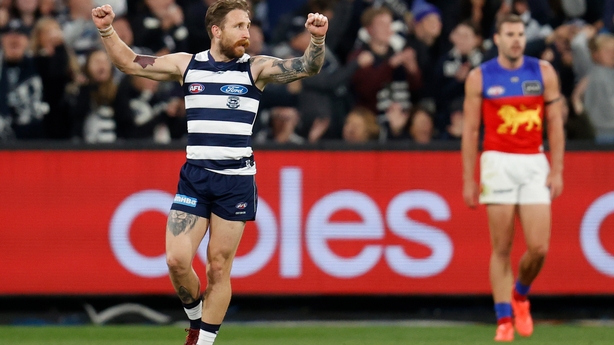 It's a mutual appreciation with Tuohy firmly established as a fan favourite, so much so that the local fans were flying a Portlaoise flag in celebration last weekend after Geelong hammered the Brisbane Lions to secure their place in the Grand Final.
"That was awesome," Tuohy said. "That never happened before. It was a green and white flag which caught my eye immediately. It is my local team. I am very proud of where I am from.
"I am a Portlaoise man born and bred. That is my first love and my first club. To see the flag, I think I'll reminisce more next week provided it all goes well. It feels like it highlights the full circle."
That full circle will be complete with victory over the Swans and Geelong go into the game as the favourites, but Tuohy is taking nothing for granted, especially as he knows what it feels like to lose on this stage.
Geelong came away from the 2020 final, feeling like they'd left one behind. They came out on the wrong end of a 81-50 scoreline against Richmond in a game that got away from them on a wet and soggy day at the Gabba.
Leading by 22 points in the second-quarter and seemingly on course to deny Richmond a third Premiership in four years, Geelong fell prey to a major second-half fightback and were comfortably seen off of by the end.
Tuohy is determined that does not happen again.
"It's the absolute pinnacle of any player's career," he said. "It would mean everything.
"The Premiership has only become an obsession for me in the latter part of my career the closer we've got to it as a team.
"I'm really proud of the club that I play for, (it) keeps giving me an opportunity to win it and if it's not to be, it's not to be.
"This is why we play and to be back on the big stage again is something I'm not taking for granted, but I still appreciate there's a tonne of work left to do."
That work gets underway at 5:30am Irish time on Saturday morning, with coverage available on BT Sport.