Former Dublin star Jason Sherlock believes that the GAA's split-season format requires a period of reflection to ensure that all parties are as satisfied as possible.
An All-Ireland winner 27 years ago, Sherlock went on to manage his county at minor level and was also part of Jim Gavin's coaching staff for five Dublin Sam Maguire triumphs.
Now though, he is approaching the situation from the standpoint of a spectator, and he said that it's important that all personal biases are removed when deciding whether changes needed to be made.
"I kind of see it from a few different perspectives and like all changes, they're brought in for a reason," said Sherlock.
"At the moment, from a supporter perspective, it feels like it's a bit of a wrong thing to do, and rightly so.
"I was watching sport yesterday [Sunday], the Italian Grand Prix, the golf and the rugby and I'm not watching inter-county GAA. I had flicked on Ballygunner and Mount Sion but there is a deficit there from a supporters' perspective, and that's really important.
"The GAA is also an association, and how they progress and probably more importantly [consider] the players – inter-county players and also club players... it's important to factor in everyone's perspective to try and come up with the best solution.
"It will probably be unfair now in September, when we used to have the All-Ireland final, to say it's terrible, I think we have to step back and reflect on it.
"I'm sure if you asked players, either county or club players, or if you asked the association, I'm sure they have strong opinions.
"Hopefully, there will be a process where we can reflect on it because I can see both sides of the coin.
"But certainly as a spectator with a supporter's hat, I am missing it at this time of the year."
Sherlock said that the shortened inter-county season puts extra pressure on coaching teams between games, and he believes Derry's All-Ireland semi-final loss to Galway was a good example of this.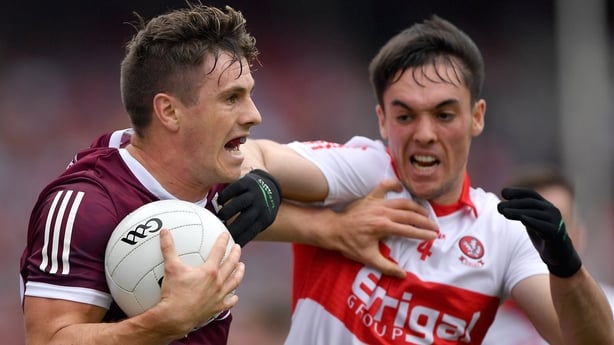 "The challenge with a shorter season is the preparation. It's very hard to prepare, particularly going from a semi-final into a final.
"Obviously, physically and mentally, it almost takes a week before the players recover from what they've done. Then, you have to focus your attention on another team. So you have to prepare for them. Then you obviously have to prepare for yourself.
"You take Derry as an example. Going into that Galway match, it's easy to say in hindsight that they should have had 'Plan B', and should have played attacking football, but when you have such a limited window, there's only so much you can work on.
"The reality is if guys are together three or four times a week, that's as much as you have. You don't have time like a professional where you can cover everything.
"From a coaching point of view, I'd prefer the longer season because you have more time to ensure that you have all your players, a full compliment, because you'll obviously have injuries.
"Then, tactically, you can prepare against what you're going to compete against but also then you can work out what's the best team for a given day."
The former Republic of Ireland under-21 player, who recently withdrew from the race to be the next Monaghan manager, has enjoyed his time on the sidelines since hanging up the boots.
He hasn't been involved with a team since stepping down alongside Jim Gavin at the end of the 2019 season, but in that time he has reflected on his own career and spoke with honesty when admitting that there was a period when sport just didn't motivate him.
"I did find that it wasn't just sporting focus, but I lost focus after '95 when we won an All-Ireland. That definitely had an impact on my performance in all sports.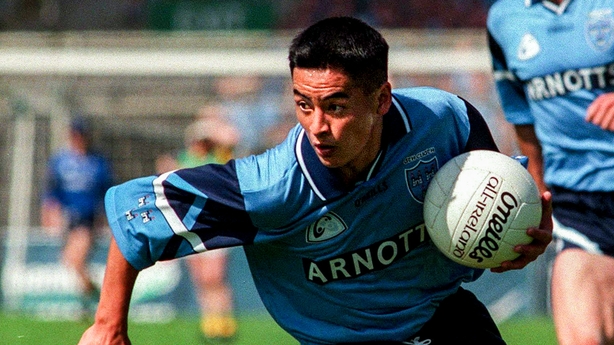 "After a few years, I realised that to give myself the best chance of performing at any sport, I need to focus. That kicked in around the late '90s, early 2000s where I only played a season with Shamrock Rovers, and then at that stage decided to focus on GAA to give myself the best chance to perform.
"And my team-mates, I'm sure they were sick of me trying to play [both] for a few years when I wasn't performing to any decent level."
"I spoke about this before. For me, sport was always an outlet to be accepted," he continued.
"When I won an All-Ireland, you are accepted. My sporting ambition dwindled in that time because I was happy to be accepted
"When I won an All-Ireland, you are accepted. My sporting ambition dwindled in that time because I was happy to be accepted, as such.
"I didn't realise it at the time, but it's something that I reflected upon. I definitely feel I wasn't the player I was before I won, probably because I lacked that focus and motivation once we got that little bit of success."
These days, Sherlock plays a range of sports at a more leisurely pace, such as soccer and golf, and he was speaking as Sport Ireland launched the 'Workout What Works for You' campaign, which is supporting men over 45 to be more active and increase their daily physical activity.