Last Sunday we were treated to an epic All-Ireland final. For long periods Galway looked like they were going to cause a surprise.
So what did Kerry do over the course of the game to earn the win?
Play it as you see it
Throughout the game Kerry showed huge variety in their play. At the start they went at the Galway full-back line and goalkeeper with long diagonal kick passes.
After a few minutes they changed and their players played it as they saw it. They were comfortable taking short and long kick-outs, carrying the ball, kicking early, attacking at pace or when they faced a wall of Galway players they were patient.
Their sound decision-making allowed them adapt and roll with everything Galway threw at them.
Club coaches watching the final would have seen the ease at which players on both teams executed the fundamental skills of football, the handling and kicking by players was simply outstanding. What stood out even more was the decision-making in possession by the players.
Inter-county management should be 'sharpening the pencil'. Priority should be fine-tuning players' mindsets, timing physical conditioning so they peak at the right time and selecting and setting up a team in a manner that gives them the best chance of winning.
Unfortunately, players that join county senior squads are often the best athletes but not always good decision makers.
Good decision-making comes from playing games, but making players into good decision-makers isn't easy. Adult coaches would have a far easier job if juvenile club, school and academy coaches aligned themselves and planned training sessions that challenge the decision-making of players.
The excellent decision-making of the Kerry players is not the fruit of this season's training. It is from years of coaching blended with an annual calendar that is packed with lots of games.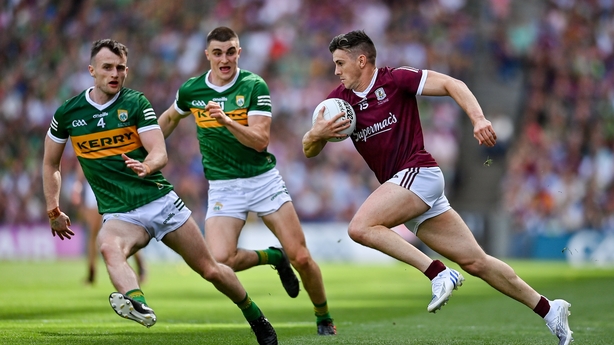 Efficient attacking
Galway had an outstanding first half. Their shooting at the posts was incredible with only one wide. Shane Walsh and Cillian McDaid were unplayable. They undoubtedly were the best team. They deserved to be winning at half-time.
Kerry turned the tables in the second half. They continued to create chances as per the first half but they converted a higher percentage of their chances.
Over the course of the match Galway were more efficient than Kerry in their shooting, 64% to 57%. The big difference was attacking efficiency and number of shots taken. Of their 37 attacks Kerry managed to get 35 shots away. Galway managed 25 shots from 32 attacks which is very good (78% efficiency), but Kerry's 95% efficiency is just on another level.
Kerry had nine different scorers, Galway had six. They got off 40% more shots than Galway. If you don't shoot you can't win.
Attack with pace
Both teams had plenty of possession. Neither dominated kick-outs, both won 86% of their own kick-outs. Most attacks came from slow possession from kick-outs and turnovers that generally happened in the attacking third of the field. Consequently, both teams had time to get back and set up their defensive structure throughout the game.
The big change came after half-time.
The 15 minutes in the changing room was well used by Jack O'Connor. He got his players to attack with more intent and purpose. Paudie Clifford was like a new man in the second half. Kerry remained patient, playing passes sideways and backwards. They probed and waited for the right moment and then they attacked at pace.
Well timed support runs at top speed did serious damage. Paudie Clifford, Diarmuid O'Connor, Seanie O'Shea and Stephen O'Brien were relentless in their desire to attack at pace. They were aided by late support runs from defenders Gavin White, Graham O'Sullivan, Brian O'Beaglaíoch and Tom O'Sullivan. White and Graham O'Sullivan both scored excellent points.
Captain O'Shea referenced Kerry strength and conditioning coach Jason McGahan for praise in his post-match speech. The Kerry players showed exceptional levels of speed repeatability in the second half. Being able to make a run fast once is important but being able to make high speed runs over and over again adds massive value to a team in football.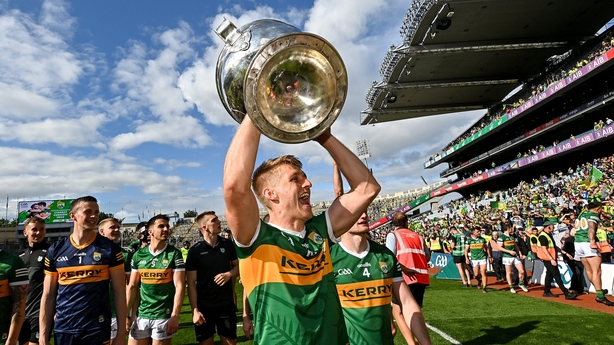 Impact from the bench
In the first half Paul Geaney and David Moran made valuable contributions. Geaney had scored from a mark and was close with two other shots. Moran had gotten on lots of ball but due to Galway's defensive shape he wasn't getting an opportunity to show his exceptional range of kick passing. The safe call was to make no substitutions. As a team look to improve conversion rate from shots and then make changes as the half went on.
Jack O'Connor, Diarmuid O'Connor, Mike Quirke and Paddy Tally made a big call, both Geaney and Moran were called ashore, and the Spillane brothers Killian and Adrian were introduced. Killian showed for the ball and chased down Galway players. He scored two points and won two frees. Adrian worked his socks off, tackling, chasing and supporting team-mates.
Both players' energy was instrumental in Kerry's strong start to the second half.
Stephen O'Brien had an outstanding All-Ireland final. His ball carrying and support play were on point from the first whistle.
Defensively he never stopped running and tackling, he made two massive blocks in the first half. Again, the safe option would have been to leave him on the field. O'Connor didn't wait for him to run out of gas.
Micheál Burns replaced him and again brought high levels of energy to the game. Tracking men, making contacts and linking the play.
Paul Murphy made an important contribution again when called into the game for Brian Ó'Beaglaíoch. Murphy brought experience and willingness to get on the ball in the final ten minutes when Galway needed to push for scores.
Galway may have been the stronger for the first half but Kerry's improved decision-making, pace and execution in the second half made all the difference. The game is never over until the final whistle.