Former Kerry manager Éamonn Fitzmaurice believes that the Kingdom should forget about an aggressive press on the Galway kick-outs in Sunday's All-Ireland final, instead opting to try and close down a few key gaps and battling for possession in the middle of the pitch.
Pádraic Joyce's side have not been afraid to go long in the All-Ireland series, winning nine from 12 against Armagh and five of nine against Derry in the semi-final. In that last-four triumph, they opted for a long kick 60% of the time.
Speaking on the RTÉ GAA podcast, Fitzmaurice said that Galway goalkeeper Conor Gleeson will be happy to punt long, and won't be too phased if there is a flood of green of gold jerseys in close proximity to his goal.
"As always, the kick-outs are going be huge," he said.
"I think Kerry's approach to Conor Gleeson, I'm going to be interested in it early on because basically Conor Gleeson is most comfortable going long.
"He has a big boot, Galway plan for it. They have one that they kick out to [Paul] Conroy and they get a bit of an overload, [Matthew] Tierney helps them out, they get the bodies around the breaks.
We need your consent to load this YouTube contentWe use YouTube to manage extra content that can set cookies on your device and collect data about your activity. Please review their details and accept them to load the content.Manage Preferences
"Even though they're at just over 50%, they're happy to do that and if they lose it, lose it long.
"They've another one that they like to go straight down the middle to Damien Comer, high or sometimes a low scud thing.
"They do go with the short ones but it's only if it's really obvious, they'll chip out the short one.
"Another one they have is they come in for the bunch and rather than the backs being the target, it's actually Johnny Heaney or Shane Walsh that comes down from the 12 [right half-forward] side into that space and they get a chip out.
"Kerry have a press that they can do, they can do an aggressive press – the 4-4-4 or 5-3-4.
"I don't think they should do it on Sunday from the point of view that Conor Gleeson wants to go long. I think they need the bodies further out to the field.
"They just need to tag the Galway backs, take away that pocket at 7 [right half-back] that Galway like to hit and then be out under the long one."
At the other end of the pitch, Fitzmaurice believes that Joyce and his Galway coaching staff will be having a few doubts about whether or not they push as aggressively as they did against Derry.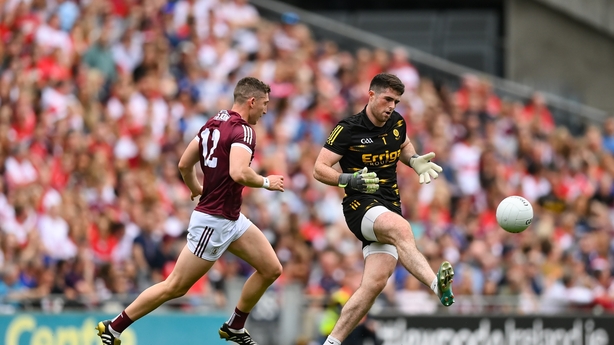 "It's going to be a test of their mettle," he said.
"Against Derry in the second half they pushed five into the full-forward line to take away Odhrán Lynch's [short option], who got away a couple of chips in the first half.
"They pushed five up, which was brave, and they backed themselves out in the middle of the field.
"I'm not sure if they'll do that against Kerry because obviously if they do that, Kerry go long and win it, they'll be caught with their pants down at the back then and they're really open.
"I think Kerry will go man-on-man and try to force them to go out long and try to go after it in the middle of the field, which Conor Gleeson would be happy to do anyway."
Listen to the RTÉ GAA Podcast at Apple Podcasts, Soundcloud, Spotify, or wherever you get your podcasts.
Follow the All-Ireland Football Championship final on Sunday, Galway v Kerry, from 2pm via our live blogs on rte.ie/sport or on the RTÉ News app. Watch live coverage on RTÉ2 and RTÉ Player with live radio commentary on RTÉ Radio 1
---
Watch Up for the Match this Saturday from 9.45pm on RTÉ One and RTÉ Player