Pat Gilroy became Dublin manager at the beginning of the 2009 season. He inherited a squad from Paul Caffrey that had won four Leinster titles in a row and played free-flowing attacking football but struggled to win Sam Maguire.
In Gilroy's first couple of seasons in charge, much of the focus in the media was about their early-morning training sessions and double-sessions on certain days.
The big changes I could see were how Dublin were setting up on the field and the types of players that they were selecting.
More systematic defensive structures were introduced. For example, in 2010 Dublin played with a half-back line that held their position more than any other team I have played against. During 2011, things evolved more, with the team as whole defending and attacking as a unit. From the outside looking in, it was as if Gilroy and Mickey Whelan were working on getting defence right first and then build from there. It proved to be a fruitful approach. They conceded only three goals throughout the All-Ireland-winning 2011 championship season.
Gilroy made big changes with team selection. He ripped apart the starting team from the 2008 Leinster final. By the time he led Dublin to All-Ireland success three years later he had introduced 10 new players to his starting 15. That is a big shift - changes in starters for top tier teams in championship are generally slow. The top-tier sides are built around a settled team, collective understanding and familiarity. Gilroy broke the mould.
The new players he brought in were very athletic and coachable. Perhaps less flamboyant and more functional. A player that caught my attention as soon as he was selected on the Dublin team in 2011 was James McCarthy.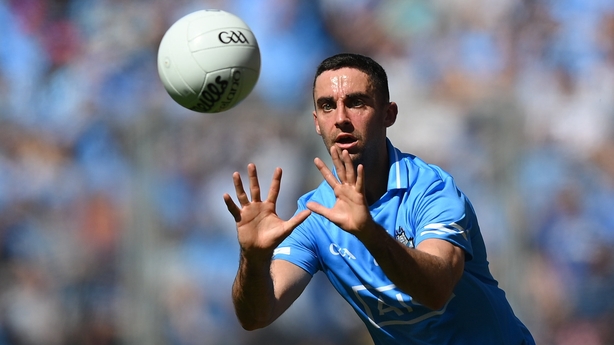 The Ballymun Kickjhams man played a central role in the Jim Gavin-managed U21 success of 2010. McCarthy's influence on the field with Dublin just rolled on from there.
Modern football is focused on kick outs and transitioning from attack to defence or vice versa. Running power, strength, ability to carry the ball, willingness to tackle and make good decisions under pressure are key for players looking to play in the middle eight. McCarthy excels in all those areas.
His skillset and physical attributes allow him to be versatile enough to play in any of the half back positions and midfield. The key performance Indicators of a wing-back, centre-back and midfielder are very different at inter-county level. McCarthy has effortlessly moved from one position to another, game after game, and on many occasions his role has been altered seamlessly mid-match.
Last Sunday, McCarthy was brilliant against Kerry. Since 2011, he has consistently set the tone in games with a brilliant tackle, an inspirational catch from a kick-out or a storming solo run. The biggest surprise for me is that he has only won four All Star awards.
His direct running, either carrying the ball or supporting a team-mate is hard to handle. He is quick and very strong. I have been at the receiving end of his storming runs at club and inter-county level. The last day our paths crossed he scored a goal for Ballymun 40 seconds into a Dublin SFC match against Thomas Davis in Parnell Park. He set the tone straight away.
'McCarthy can have a central part to play in the Dublin team over the coming seasons'
McCarthy's no-nonsense approach and big physical presence lead to him having a few chats with referees. He often acts as an enforcer. Tracking danger men and making big hits as needed. If there is a moment of conflict in a game, McCarthy is in there quickly to support and stand by his team-mates.
Eight All-Ireland winner's medals later and McCarthy is still a key man for the Dubs. Before the game last Sunday most of the talk was about the Con Callaghan v David Clifford shootout that, unfortunately, never happened. The Dublin medical team were working frantically to get Con fit to play but they deserve credit for getting McCarthy back on the pitch. His reintroduction to the team coincided with Dublin's improved form at the latter stages of the Allianz League and in the Leinster Championship.
McCarthy can have a central part to play in the Dublin team over the coming seasons. The comments being made that he is 32 and coming to a decision regarding his future is ridiculous. Last Sunday showed that he is still performing at an elite level. That is all that should matter.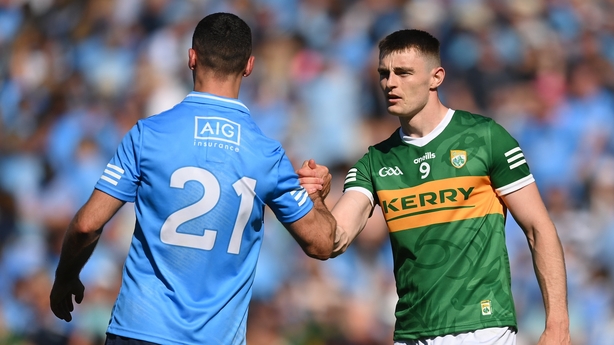 Far too much is made about the age of players in GAA. Ageism should have no place in sport. I had the pleasure of working with Barry Solan, Arsenal's strength and conditioning coach. With Wexford he acted in a consultancy role and with Kildare he was our lead S&C coach for a year. He had spent time in the US working with NBA, MLS, NFL and NHL athletes. When he talks you have to listen. The man is a fountain of knowledge. He spoke to me on several occasions highlighting that age of players is just a number. What is far more important is how athletes take care of their bodies.
Supports such as mentoring, life coaches, S&C coaches, peak performance coaches, nutritionists and career guidance counsellors need to be available for and availed of by all inter-county players. The more care and attention given off the pitch leads to better performances on the pitch and an elongated inter-county career. Each county doesn't need to go to the levels of the Milan Lab that kept players like Paulo Maldini, Alessandro Nesta, Cafu and Pippo Inzaghi playing for AC Milan into their late thirties but generic S&C, nutrition and supports just isn't good enough.
NFL star Tom Brady retired this year aged 44 before promptly making a u-turn on that decision. NBA star Lebron James is still performing at 37. Elsewhere in the NBA, Al Horford played in the finals for Boston Celtics. He is 36 and played 69 games this season. MVP in the NBA finals was Steph Curry, age 34. He played 64 games this season.
I look forward to James McCarthy making another massive contribution to Dublin's drive for success in 2023. Have no doubts he will be leading from the front as always.