On taking the Galway manager's job in late 2019, Padraic Joyce announced that his immediate target was winning an All-Ireland title as soon as possible.
After two frustrating, pandemic-interrupted years - where their seasons ended at the hands of provincial rivals Mayo - Joyce has now, at the third attempt, guided the Tribesmen back to a first decider in 21 years.
In the process, he was keen that Galway shed their tag of being the possessors of a soft underbelly, hard-fought wins over Armagh and Derry in contrasting circumstances going some way to scotching that perception.
"I'd said from day one since I got the job, it's about winning an All-Ireland," Joyce told reporters after the five-point win.
Ye lads know from writing about us, there'd be a soft belly that people see in Galway
"It's taken us three years to get here but lookit, we're here now so we're definitely going to make the most of it.
"Ye lads know from writing about us, there'd be a soft belly that people see in Galway. And until we actually go and win these big games in Croke Park, that tag is going to follow you around.
"So after winning that game (against Armagh) and the way we won it, being six up, letting them back into it, and the row, normally gone by we might have folded a bit, but we took a lot of solace from that."
Galway have been a free-scoring force for most of 2022 but today's cagey semi-final required different qualities and Joyce was especially pleased that his side 'found a way', repeatedly smothering Derry's attacks in the second half.
"There is a sign in the dressing room going out the door saying 'find a way'. You have to find a way – whatever goes on. You are not always going to win a game by kicking 2-19 or 2-20, the most pleasing part is the lads did find a way.
"They eked it out, they put the shoulder to the wheel, worked really, really hard. They took the hits, they gave the hits, I think they completely snuffed Derry out.
"Semi-finals are for winning. It mightn't be pretty at times. We have won it and we have a final to look forward to in two weeks time. We are going to enjoy tonight, we are going to enjoy the build up for the next two weeks."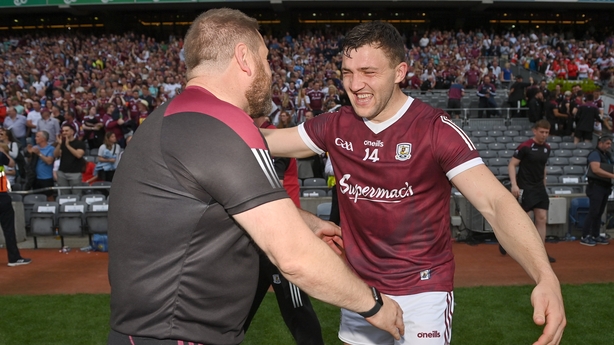 Galway were infamously shaky under the high ball late in the quarter-final, and while Derry, as their manager acknowledged, don't quite have the weapons to fully expose that, Joyce insists that it's not a habitual problem for his team.
"Derry have a specific gameplan in the way they play. They don't really kick in the high ball. But we thought they might stick in Conor Glass or Emmet Bradley and put in a few. If they did, they did.
"We don't have a problem with the high ball. The problem we had the last day was fellas weren't talking to each other, fellas tuned out, watching the ball instead of their man. It's not that we need a 6ft 7 giant in there, we just tuned out.
"But today, to a man at the back, they were excellent and they snuffed out Derry really well. I know they got the goal at the end but other than that, they hadn't too many clear goalscoring chances all day. The way they play, you can't switch off for any second."
Is there a problem with HawkEye? Shane Walsh's free late in the half was deemed wide by the technology at Croke Park, but the replay would suggest otherwise
📱 https://t.co/AhGH0dO2Ff
📺 https://t.co/ced90fBubg
📻 https://t.co/2SRRKdgjzu pic.twitter.com/NAimqXO9P2

— The Sunday Game (@TheSundayGame) July 9, 2022
The half-time was dominated with the discussion of Hawkeye gremlins, the technology intervening to chalk off a Shane Walsh score, which replays indicated had clearly drifted inside the far post.
While outside, Galway officials successfully lobbied to have to score amended, Joyce said he only learned of the controversy after his team-talk and he doesn't have major concerns around the issue ahead of the final.
"At the time the kick was taken, I thought it was over the bar. I just couldn't believe it. But anyway, they rectified it. Technology is human too, maybe!
"I've no concerns. Officials do their job. It's been in the game for many years, it's had its issues but I'll sure they'll iron them out."
The current run carries echoes of Galway's two modern All-Ireland victories, in 1998 and 2001, both of which included semi-final wins over Derry.
"It's panning out that way because we beat Mayo away and then we'd Roscommon and then we beat Derry in a semi-final as well. I hope it stays going, it'll be great."
Joyce was player of the match was the last time Galway won Sam, demolishing Meath in a swaggering second half display in '01.
Since then, they've endured lean times, drifting from the big-time and watching Mayo establish supremacy in province. Joyce's own playing career concluded in 2012, with a jarring one-point qualifier loss to Antrim.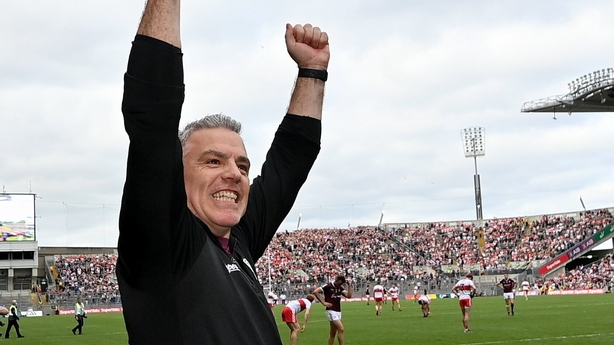 The Galway manager was quick to remind reporters of the county's historical standing and had little time for hand-wringing about the easy side of the draw.
"You look at history, Dublin and Kerry are way ahead. Galway are actually the third most successful team in football in the country. People sometimes forget that.
"But it is a long time since we were competing at this level. People might say we've had the easy side of the draw and all this kind of stuff. But we're there on merit.
"The lads have put in a tremendous effort and let's hope we can get ourselves sorted for two weeks time and really go at it."
Follow Dublin v Kerry (3.30pm on Sunday), via our live blogs on rte.ie/sport or on the RTÉ News app. Watch live coverage on RTÉ2 and RTÉ Player with live radio commentary on RTÉ Radio 1