Twenty-five years ago, just as referee Brian White was about the throw the ball in for the 1997 All-Ireland football final, Mayo corner-back Kenneth Mortimer bucked the trend at the time and moved out of position.
Having blotted out Dara Ó Cinnéide 12 months previously in an All-Ireland semi-final on his way to winning the first of successive All-Stars, the sticky corner-back once again made a beeline for the An Ghaeltacht man who was stationed on the edge of the square.
"In those days, the numbers of the forwards and back usually added up to 17," the Kingdom forward recalls.
Ó Cinnéide was expecting Pat Holmes to take up marking duties, but instead he was left to keep tabs on Maurice Fitzgerald, a thankless task with the mercurial forward kicking nine of Kerry's 13 points on the day.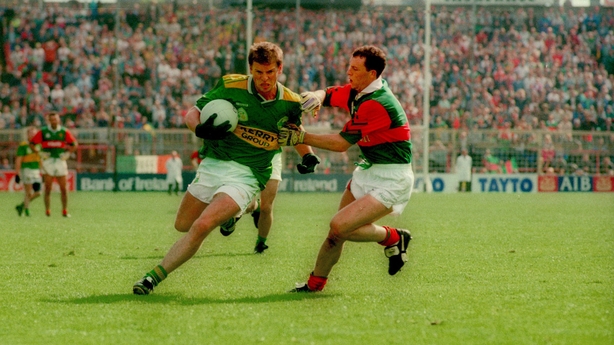 Mortimer won the battle, but Mayo lost the war.
"Mortimer did a job on me both times, but from Mayo's point of view, they would have been better off putting him on Maurice," he says.
"He was our main forward and our biggest threat all year. They let Pat Holmes on him all game. Mortimer kept me out of the game, he would have been better off keeping Maurice out of the game."
---
It forms part of the reasoning why the three-time All-Ireland winner believes talk of match-ups, so popular among fans and pundits in the lead up to season-defining games, is almost a pointless exercise.
"They are important, but you can get totally caught up in it before a match. But the fella could be injured. You could change players within five minutes. Modern defences pass men on a lot of the time, it's more fluid."
And yet having said that, two men he argues come into a special category and warrant detailed assignments.
The fitness of David Clifford and Con O'Callaghan is one of the many sub-plots to the latest Dublin – Kerry joust.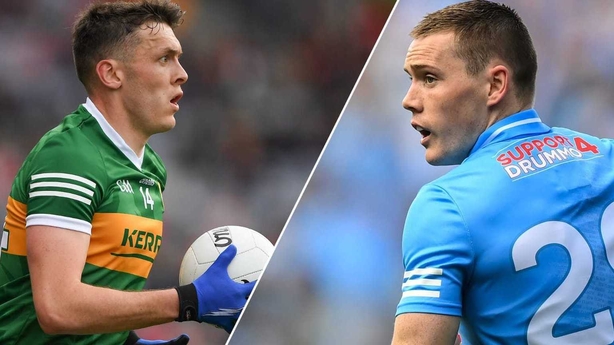 "They are the two players who can elevate their performances to 10 out of 10, like no-other person on the team can," he says.
Clifford is named to start while it remains to be seen if O'Callaghan is in the 26-man squad - he is not in the starting XV - but if both start, who will shadow the star men?
Jonny Cooper's 2019 All-Ireland final was cut short after struggling on the Fossa man, and while Davey Byrne was handed the task in February, the smart money is on Mick Fitzsimons. He stuck to the task for the 2019 replay and with Byrne struggling for match fitness, is the most natural man-marker.
The term sweeper may not be in vogue among players and management these days, perhaps due to its negative connotations, but whatever way it is dressed up, former Dublin defender Ger Brennan says it's not the man-marker that is key, but rather the willing worker alongside him.
Generating a plus one, whoever that person will be, will be key for Dublin
"Regardless of whether Clifford starts or not, Dublin will want to generate a plus one in their defence, which more than likely could be Eoin Murchan. He's played that role quite a bit. Jonny Cooper has played it a bit as well since Cian O'Sullivan's retirement.
"Generating a plus one, whoever that person will be, will be key for Dublin."
At the other end of the pitch, O'Callaghan needs little introduction to a Kerry defence that has endured plenty at the hands of the Cuala man since his inter-county debut against them in 2016.
The last time he faced the green and gold he plundered 2-01 in a majestic league outing in Thurles, and before that was the 2019 All-Ireland final and replay.
Tom O'Sullivan picked him up both days, restricting him to a point the first day before the ace forward put in a dominant display the second time round, picking off four points and creating havoc in the attacking third.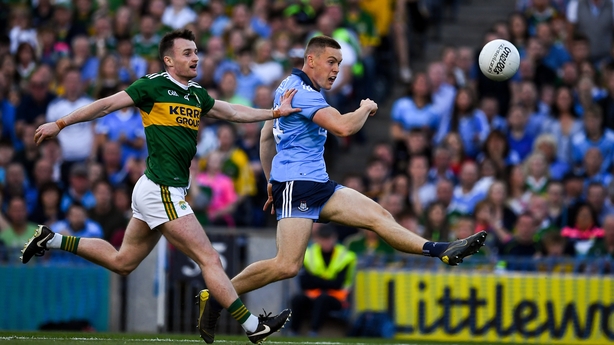 O'Sullivan is their best marker and most complete back, racking up three points in the quarter-final win over Mayo, but would resuming rivalries with O'Callaghan rob the Kingdom of a serious counter-attacking outlet?
Perhaps Jason Foley, now in his fifth season with Kerry, could take on the thankless task. The Ballydonoghue man has really settled in a meaner looking Kerry rearguard and Sean O'Sullivan, the former Kingdom player and current Kerry Under-20 coach, feels Foley is the man for damage limitation.
"He got off to a shaky start with Kerry, but has really settled in well, and is a lot stronger physically," he says.
"Con will obviously win a lot of ball, but Jason would be the type of guy that would be good at working his feet, working his hands, making it as difficult as possible," adding that the presence of Tadhg Morley, who has soldiered in the full-back line, including the 2019 final and replay, will be a boost.
Speaking of Morley, the Templenoe man could have a big say in Kerry's challenge.
Jack O'Connor has stationed him at number 6, holding his position rather than tracking his man. Which makes Ciarán Kilkenny's role around the half-forward line all the more interesting. If he starts in the middle, does Morley track? If the Castleknock man drifts to the wing, does Gavin White pick him up, and potentially cost Kerry a key attacking outlet?
In recent years, Kerry's Achilles heel has been the centre their defence. Whether it was direct running through the middle, or the inability to keep out goals, it was held against them as a major reason for their inability to topple Dublin in their pomp.
Paddy Tally's influence this year could be a contributing factor to the concession of just two goals in their last 13 games. Behind the stingy defence lies a keeper now established firmly as the number one.
After some chopping and changing, Shane Ryan has seen off the challenge of Shane Murphy.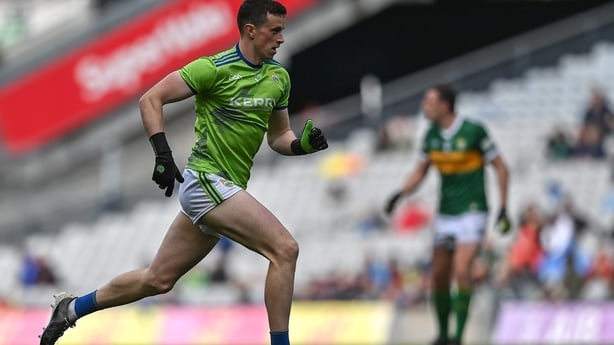 While the marauding Ethan Rafferty has shown the attacking benefits to having an outfield player between the sticks, Ryan is a different operator.
Used outfield by Rathmore, he rarely ventures past the full-back line, and doesn't have the same level of comfort on the ball as the Armagh man. This matters little to Ó Cinnéide once the basics are covered, which has been the case all season.
"The fundamentals of a goalkeeper are still the same. Save the shots you are expected to save, catch the ones you are expected to catch. You're not expected to make wonder saves, that's more bonus territory."
Days of one v one battles in the middle of the field are a thing of the past, but getting the upper hand around the middle third is still a solid foundation for victory.
"Jack Barry is to Brian Fenton what Kryptonite is to Superman," Eamonn Sweeney wrote after the drawn final in 2019 and there are those in Kerry who would like to see the rangy Na Gaeil man included, even if returning from injury, just to get another run at the two-time Footballer of the Year. His inclusion in the match-day 26 suggests he will see some game time.
David Moran and Diarmuid O'Connor are the likely pair, with Adrian Spillane also a willing deputy.
James McCarthy could come in to bolster Dublin around the middle, but O'Sullivan has reservations whether Kerry have the tools to combat Fenton, with the Raheny man showing glimpses against Cork that his play-making ability and shooting are still of the highest order when required.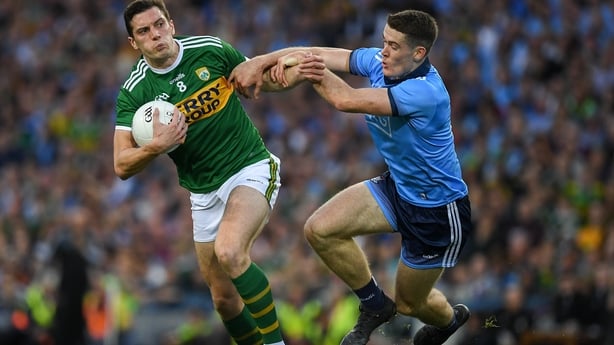 "He's (Brian Fenton) a guy that can dictate games and lift the performances of those around him.
"Jack Barry is a doubt and while Diarmuid O'Connor has been having an excellent season, I just don't know how he would suit Fenton.
"David Moran proved against Mayo he is still a top-class operator, but would he have the legs for Fenton over 70 minutes?"
In a game likely to be decided by small margins, everything comes into play. How stringent will Paddy Neilon referee the game? How will the bench impact the game, where on paper at least, it seems for the first time in more than a decade, Kerry have the upper hand.
Could a free decide the outcome?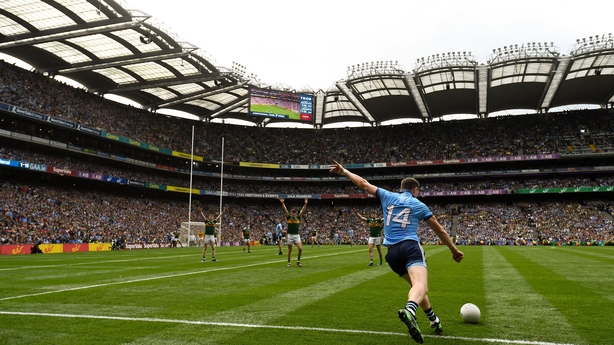 During Dublin's five-in-a-row, Dean Rock's placed ball accuracy stood at 86%. This year he hasn't miss a single free, knocking over eight against Cork last time out, including some unfavourable positions for a right-footed kicker.
Not that Kerry are short in that department. Sean O'Shea, as well as his prominence from play, hit eight frees and three 45s over the two games against Dublin in 2019, with his overall tally of 10 points in the drawn game noticeable as he didn't hit a single wide and successful with both feet.
"When you see Sean O'Shea putting the ball down, you just expect it to go over the bar. So do his team-mates," says Ó Cinnéide, often Kerry's go-to man from dead ball situations during his playing days.
Kerry supporters are having to balance up being marginal favourites against the fact Kerry have failed to perform against Cork (2020) and Tyrone (2021), their biggest tests since letting Sam Maguire slip from their fingers in 2019.
While back then the likes of Jason Foley, Tom O'Sullivan, Diarmuid O'Connor, Sean O'Shea and David Clifford were tyros looking to make their mark, three years later there is a feeling that now is the time to deliver.
"The core of this group has been together for the past three or four years, many of them coming through together from underage," says O'Sullivan.
"They are not young fellas anymore. They all have big game, and Croke Park, experience. They would be looking in the mirror themselves and saying, 'we need to get over the line here'.
"The immediate pressure is to win the game on Sunday. If they get to an All-Ireland final, that's a different type of pressure."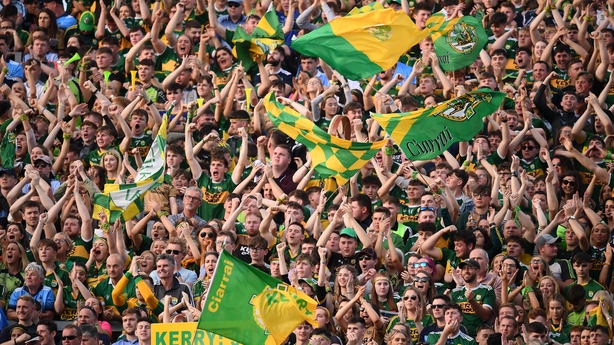 It's a sentiment Ó Cinnéide readily agrees with.
"There's a sense all year that's there's an All-Ireland in this team. I think there is an All-Ireland in this team, and they are good enough to win it, but they were good enough last year too," says Ó Cinnéide
"But if it's in you, now is the time to show it.
"We need to see an All-Ireland final level performance on Sunday in an All-Ireland semi-final."
Listen to the RTÉ GAA Podcast at Apple Podcasts, Soundcloud, Spotify, or wherever you get your podcasts.
We need your consent to load this rte-player contentWe use rte-player to manage extra content that can set cookies on your device and collect data about your activity. Please review their details and accept them to load the content.Manage Preferences
Follow the All-Ireland Football Championship semi-finals between Dublin and Kerry (3.30pm on Sunday), via our live blogs on rte.ie/sport or on the RTÉ News app. Watch live coverage on RTÉ2 and RTÉ Player with live radio commentary on RTÉ Radio 1