How Galway finish out Saturday's All-Ireland football semi-final could be the key to deciding the showdown with Derry, according to Ciarán Whelan and Eamonn Fitzmaurice.
The duo, speaking on the RTÉ GAA Podcast, warned that the Tribesmen will have to improve their performance in the last quarter at Croke Park or it could cost them a place in the All-Ireland final.
En route to their Connacht title Padraic Joyce's side ended up holding on against Mayo, despite leading by six points with just a couple of minutes to go.
They eased past Leitrim in the last four out west, before beating Roscommon in the provincial decider. Once again though a big lead - of eight points with eight minutes to go - was whittled down to one score as the Rossies landed two late goals.
Most spectacularly of all, they ended up being brought to extra-time by Armagh in the All-Ireland quarter-final, having led the contest by six points in second-half stoppage time, before conceding another two goals.
"It's a mental fatigue, more than a physical fatigue," Whelan said of the late collapses.
"It's been a trend, even if you go back to Mayo in the championship last year. They'll be acutely aware of it. If anything was going to highlight it was going to be the Armagh game, coming into extra-time and you're clear.
"It's something they will really focus in on and they'll have a few trigger points for that last quarter, in terms of keeping their concentration, or changing things up to ensure that they tighten up at the back.
"It's their biggest weakness. You look at how good Shane Walsh was the last day, but then he gives that late cross-field pass, Armagh cut it out, and all of a sudden they're up the other end of the field.
"So it's those game management situations, particularly coming into the closing stages, in terms of keeping possession, what they're doing with the ball, playing a little smarter, slowing the game down - there's loads of different aspects they're going to have to work on in that last quarter.
"Derry like early goals, not late goals. So that's another aspect that Galway have to be really focused in on. They'll be trying to stop Derry getting that early momentum.
"If there's any team that can game manage, and close out a game, it's Derry."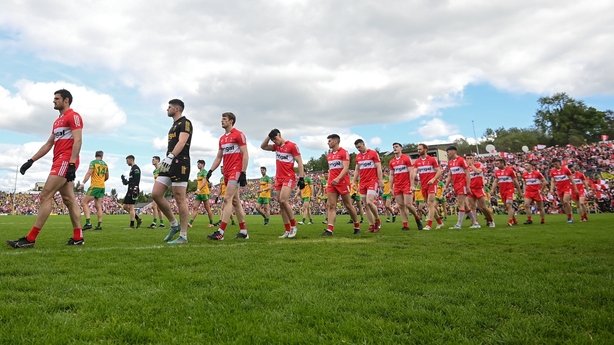 Fitzmaurice echoed Whelan's sentiments, and suggested that the Galway footballers might have learned a lesson if they were watching the county's hurlers in their defeat to Limerick on Sunday.
"In that scenario Shane Walsh should be going down in the corner, taking on his man, winning a free," said the 2014 All-Ireland winning manager.
"The ball is then put down, it takes an eternity to take the free, which breaks up the momentum - all those kinds of small things.
"If you're looking at Galway v Limerick in the hurling, right at the end, Limerick had a free. Before it was even taken Kyle Hayes went back into his own full-back line, because the only way Galway were going to get back into the game was with a goal.
"Long ball in, who is under it? Kyle Hayes. In those situations that Galway were in against Armagh, Paul Conroy should have been parked back there in the small square, and if a high ball came in he would have been there to attack it, or at least break it out.
"For one of the goals the ball actually hopped inside in the 13-yard line. No way that should be happening; someone should be getting some sort of hand on it."
We need your consent to load this rte-player contentWe use rte-player to manage extra content that can set cookies on your device and collect data about your activity. Please review their details and accept them to load the content.Manage Preferences
Listen to the RTÉ GAA Podcast at Apple Podcasts, Soundcloud, Spotify, or wherever you get your podcasts.