Galway are the biggest threat Ulster champions Derry will have faced this year, according to their experienced defender Chrissy McKaigue.
The Slaughtneil defender was able to sit back and relax while watching the titanic battle between Armagh and Galway, safe in the knowledge of Derry's place in the last four of the All-Ireland series.
It was a game however that the 32-year-old says shows the dangers his team will face on Saturday evening.
"I can't speak highly enough of Galway and anybody who was at that last game against Armagh knows how brilliant they are and the mental fortitude they showed to come back when Armagh came back at them.
"It was an unbelievable game, despite some of the incidents that went on. But the game of football and the warriors that were on show, they were absolute brilliant representatives for their county".
An 11-point league defeat back in March is another reminder, if needed, of the quality the Tribesmen possess.
"We were very aware of how good Galway were in the league, we were even more aware of how good they were when they beat us up here in the league. We know them well at this stage and they know us quite well too.
"But it is very different now, we are in the last four of the All-Ireland and in the summer months, but the challenge remains the same."
Another big Derry crowd is expected to make the trip down to Croke Park on Saturday, something that McKaigue says he and his team-mates cannot focus on.
"We are very appreciative of our supporters because they have been a massive reason why he have been so successful this year and we continue to need them.
"Please God they continue to come out in big numbers on Saturday.
"But we have to control ourselves, we have to control our preparation and the boys know that. Nothing changes, it is just another game and we will give it our best shot."
Derry won their first Ulster title since 1998 earlier this summer and whatever happens on Sunday, McKaigue says this summer has changed the whole mood in the county and it has been a successful season whether they make the showpiece or not.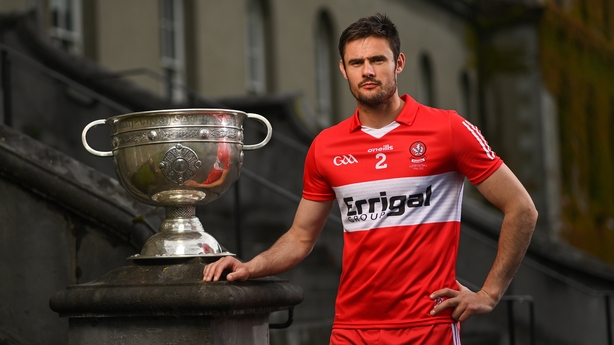 "It would be fair to say that winning the Ulster Championship this year was massive," he said.
"We hadn't won an Ulster Championship for the last number of years. To have gone into the reigning All-Ireland champions Tyrone's back yard and beaten them, that was a massive thing for this group of players and a massive thing dare I say it for the county.
"It just rejuvenated the hopes and beliefs within the county again."
This is a relative inexperienced squad according to McKaigue, who has won Ulster club titles in both codes, but they are now just one game away from an All-Ireland final.
"With the age profile of this team and the relative inexperience, the biggest thing we focus on is just the next game.
"The next game is an All-Ireland semi-final, and if someone had offered that at the start of the year we would have said absolutely.
"We are happy to be here but also focused and very ambitious. We just want to go out against Galway and give the best account of ourselves and then whatever happens after that happens."
Follow the All-Ireland Football Championship semi-finals this weekend, Galway v Derry (5.30pm on Saturday) and Dublin v Kerry (3.30pm on Sunday), via our live blogs on rte.ie/sport or on the RTÉ News app. Watch live coverage on RTÉ2 and RTÉ Player with live radio commentary on RTÉ Radio 1