In sport we look for any way to gain an advantage to create the platform to win. Players, coaches and managers will explore all avenues. Gamesmanship, undoubtedly, is becoming more prevalent as rules are pushed to the limit.
While the decision makers in Croke Park reflect on the melee between Galway and Armagh, for the benefit of football they should also reflect on an array of other rules and regulations. This week I have been reflecting on some of these areas that have baffled me during my time as a coach and manager.
Let the referee do their job
The rulebook says 'control of the game shall be entrusted to a referee, four umpires and two linesmen who shall decide on the field all matters affecting the play.'
I am delighted when I see the seven officials working together at a match. Whether that is using their microphones and earpieces or signalling the referee for his attention.
I have heard references to the size of the pitch, that one referee isn't enough. In many sports there are two referees or umpires, eg basketball and hockey. In football with seven officials (that's leaving out the so-called sideline or fourth official) there should be very little missed if they work and communicate as a team.
I would like to see more contributions from umpires and linesmen. Cut out the off-the-ball incidents. A talented forward should not be getting battered off the ball.
Additionally, work to cut out all verbal abuse to officials, there should be zero tolerance. Moving the ball forward is insufficient punishment. Verbal abuse to match officials from players, management or spectators could be stamped out if appropriate sanctions are applied every time.
In the short term this may lead to more stoppages in games and more suspensions. As a spectacle they may not be as free-flowing. Rest assured, players will adapt and in turn follow the rules for fear of being spotted by one of the seven officials. In time we would have a free-flowing game again with far less issues off the ball or verbal abuse.
New team in extra time
With the more condensed nature of the inter-county championship and the departure from replays, we are going to experience more extra time in games.
The rule that allows teams to field 15 players in extra time regardless of how many players they finished with in normal time, this is madness. If you have players sent off then you should have that sanction for the entirety of the match.
We need your consent to load this YouTube contentWe use YouTube to manage extra content that can set cookies on your device and collect data about your activity. Please review their details and accept them to load the content.Manage Preferences
Listen to the RTÉ GAA Podcast at Apple Podcasts, Soundcloud, Spotify, or wherever you get your podcasts.
In 2010 Leinster Championship, Wexford played Dublin. Dublin had two men sent off in the second half. The game finished a draw. In extra time they returned to 15 players. A boost for the Dubs and demoralising for us. Playing 15 v 13 would not have guaranteed a win for Wexford, but it would have helped.
Sort out the tackle
The rule book states that 'a tackle is aimed at the ball, not the player. A tackler may use his body to confront the opponent but deliberate bodily contact ….. is forbidden'
In my experience the only occasions that a tackler focuses on the ball is to flick it away during a toe-tap/solo or hop and when blocking down a kick. On every other occasion a tackler makes contact with hips, arms, shoulder and chest. The level of coached 'deliberate bodily contact' is growing every year.
Changes can be positive. Frees and sidelines being taken from the hand, kick-outs moved away from the small square and use of a tee and the introduction of the mark have all been helpful in improving football as a spectacle. The ambiguity around the tackle and what is allowed causes so much frustration for players and coaches. Clarification on the tackle has been overlooked, it should be a priority.
Interpretation of rules
The idea that inter-county referees would interpret a rule differently doesn't make sense. Rules and their interpretation shouldn't be a personal thing. The reality is that games in Division 1 have less frees that Division 4. How can that be?
Referees in the lower divisions are developing and hoping to make the championship panel. They are assessed and monitored on how they implement the rules of the game, not how they allow the game to flow.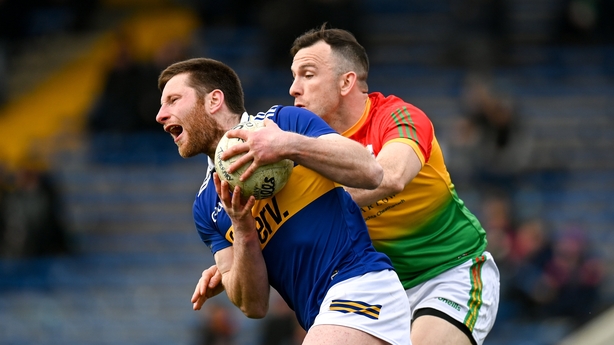 During my time with Wexford, we received excellent data on each of the referees on the championship panel. The data gathered over a number of years was very interesting; how many frees they awarded, how many yellow and red cards they awarded, what the average score was in their games.
We adapted how we trained and played according to the referee. A referee that blew for a lot of frees meant that we could afford to take on our men more. We knew that if our players didn't get past their man there was a good chance they would win a free.
When we had a referee that didn't award many frees, we played to avoid contact and being very selective of when to take on the man. We feared the extra physicality that was allowed in the tackle might cause us to lose the ball or overcarry and foul the ball.
We also looked at studying the way that individual referees interpret the advantage rule.
Prior to a Wexford game in 2008, a high-profile referee said to me 'I will let the game flow'. I was taken aback, as I was under the impression a referee's job is to implement the rules of the game.
Consistent interpretation of the rules will improve football for fans and players. It would definitely make life easier for coaching and management teams.
The questions go on and on
- Placement of ball following a foul, kickers from the hand steal huge distances. When in scoring distance could a referee use foam like they do in soccer?
- Time is so precious in games, what could be done to streamline injury time?
- Why can't the most talented U20s play senior championship and U20?
- If it is a yellow card offence not to wear a gumshield why are so many kept in their socks by players?
-Why do some counties seem to be more successful in their appeals against suspensions and sanctions?
No inter-county football games to watch this weekend but always plenty to talk about.