Kerry overcame an indifferent first half performance to shrug off the challenge of Mayo in a humdrum quarter-final in Croke Park.
Delayed due to the chaotic and hair-raising first quarter final, the second game, contested by two A-listers from the 2010s, was an altogether more tedious affair.
The pre-match formalities had a strangely off-Broadway feel for two teams so used to the big time, the enormous Armagh contingent having headed for home - or the pubs - after their penalty shootout loss.
Mayo, while their challenge eventually fizzled out in dispiriting fashion, began in gung-ho mode, apparently transformed from their league final wipeout.
Kerry, after their familiar saunter through Munster, were gingerish and hesitant in the opening quarter, the underdogs going point for point with them in the early stages.
Afterwards, Jack O'Connor was inclined to pin his team's early lethargy on the much-lamented four week gap, a consistent bugbear for the Kerry manager, who has returned to the theme whenever possible.
Kerry hearts sagged in the opening minutes as a low ball was drilled in Clifford's direction, the corner forward trodding awkwardly on the ball, spending the next five minutes hobbling around.
Any other player might have been hauled off immediately, O'Connor, however, was inclined to give his star inside man time to run it off.
Cillian O'Connor and Conor Loftus landed scores, while Aidan O'Shea, whose point taking ability has been endlessly derided, swerved over a beauty worthy of Ciaran McDonald.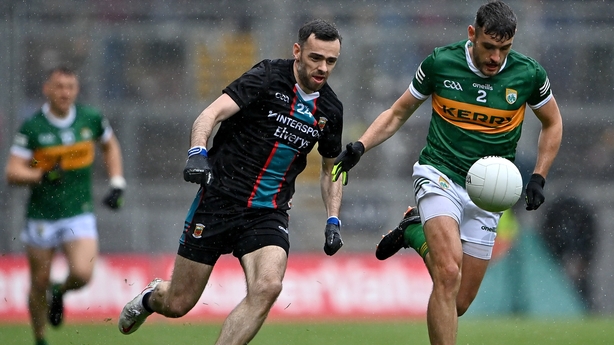 Kerry, with their totemic attacker still walking wounded, struggled to click into gear, though Gavin White and the livewire Tom O'Sullivan did raid forward from deep to notch points.
Mayo had nudged in front through a fine point from Fergal Boland by the time Clifford, who successfully shrugged off the early injury scare, fired the game's decisive score.
The Fossa galactico collected the ball tight to the Cusack Stand, played a delightful one-two with Paul Murphy before side-footing to the roof of the net, duly saluting the Kerry contingent on the Canal side.
Soon after, Mayo shipped another blow as O'Shea, in imposing form, was shown a black card on the half hour mark. While it was initially presumed he paid the price for a drag-down, word subsequently emerged that he was collared for sledging.
Still, they rallied well, O'Connor clipping a free, while the venerable Kevin McLoughlin was sent through on goal but his drilled effort just cleared the crossbar.
Only a point separated the sides at the break and Kerry's standing as All-Ireland favourites looked increasingly dubious.
Nervously, the Kerry faithful pondered whether the recent pattern of early season promise followed by summer flop - or winter flop in the case of 2020 - was about to be repeated once more.
The third quarter remained a point-for-point affair, as Kerry struggled to break free.
After a cagey opening to the second period, Tom O'Sullivan, a constant scoring threat from right back, scuttled down the right wing to fist a score.
Jordan Flynn, quick as you like, closed the gap to one again, another O'Sullivan - this time, Graham - responding for Kerry.
The favourites continued to look discomfited, Shane Ryan came bounding out of his goal to collect a skied shot, spilled it, Mayo picked up the loose ball, Ruane pointing on the swivel.
Kerry chests tightened in the stands as we braced for a grandstand finale. It never arrived.
Shrewd use of the mark gave Kerry some breathing space, Clifford, generally quiet, claiming a timely ball tight to the Cusack Stand, elegantly swinging over the score.
James Carr duly slalomed up the right wing before swinging over a point but Mayo's ebullience evaporated entirely afterwards.
Kerry duly took the sting out of the game - whatever sting was in it - David Moran, gloving plenty of ball as usual, being found in space to extend the gap to two.
Gradually, almost imperceptibly, the gap was extended as Mayo failed to raise a gallop. Their shooting, a failing since year dot, again let them down, with just four points from 16 attempts in the second period.
The ever busy Tom O'Sullivan could not be contained, though his third score should have been a three-pointer, having been put through after some magnificent skill from Seanie O'Shea.
Geaney took an impressive mark and slotted to push the gap out to four before substitute Killian Spillane chipped in with his obligatory score.
In a desultory finale, so contrasting to the first game, Geaney and O'Shea padded out their scoring stats and a game, which looked to be in the melting pot, trickled away to an abject conclusion.
The seagulls brought most of the atmosphere in the closing stages.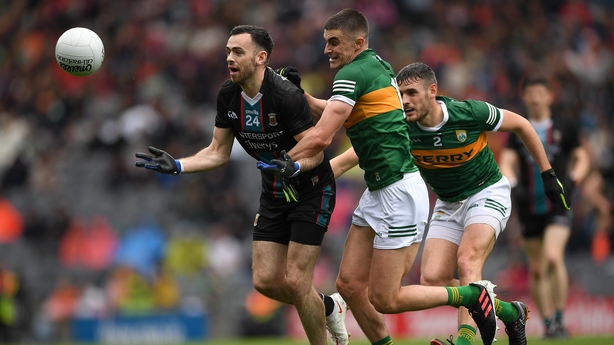 In the end, the afternoon brought to mind Pat Spillane's comment in the midst of the 2001 quarter-final double header of Dublin-Kerry (Thurles game) and Galway-Roscommon in Castlebar - "I feel like I've been on the Big Dipper and now I'm heading out on the lazy river."
And so, the Munster champions progress to a semi-final tie with Dublin - long ago regarded as inevitable. In the eyes of their famously demanding public, their form remains underwhelming, though they managed the endgame efficiently here.
Mayo, meanwhile, were well and truly put out of their misery, James Horan's fourth season in charge ending on a bum note.
Kerry: Shane Ryan; Graham O'Sullivan (0-01), Jason Foley, Tom O'Sullivan (0-03); Briain Ó Beaglaioch, Tadhg Morley, Gavin White (0-01); David Moran (0-02), Diarmuid O'Connor; Dara Moynihan, Seán O'Shea (0-03, 2f), Stephen O'Brien; Paudie Clifford, David Clifford (1-03, 1m, 2f), Paul Geaney (0-04, 1m).
Subs: Killian Spillane for Moynihan (42), Brian O'Beaglaoich for Murphy (57), Micheal Burns for O'Brien (59), Joe O'Connor for Diarmuid O'Connor (65) Tony Brosnan for Clifford (67), Gavin Crowley for Foley (73)
Mayo: Rob Hennelly (0-01); Lee Keegan, Oisín Mullin, Enda Hession; Paddy Durcan, Stephen Coen, Eoghan McLaughlin (0-01); Aidan O'Shea, Matthew Ruane (0-01); Jordan Flynn (0-02), Diarmuid O'Connor, Conor Loftus (0-01); Kevin McLoughlin (0-01), Jack Carney (0-01), Cillian O'Connor (0-03, 2f).
Subs: James Carr (0-01) for Carney (35), Fergal Boland (0-01) for Loftus (53), Aidan Orme for McLoughlin (57), Padraig O'Hora for O'Shea (63), Jason Doherty for O'Connor (70), Paul Towey for Orme (73)