Rory Gallagher struck a relatively businesslike pose after his side ran riot against Clare in Saturday's All-Ireland quarter-final.
While the Ulster final was an infamously cagey affair, both teams setting up to mirror each other, today's quarter-final was a blissfully open contest, Derry's runners availing of the gaps in the Clare defence, running up five goals in a merciless showing.
Gallagher hailed his side's "devastating brilliance" but was swift to acknowledge that improvement would be needed against their semi-final opposition.
"It's great to see that quality coming through, that ruthlessness and what I would call devastating brilliance from individuals," Gallagher told RTÉ Sport afterwards.
"We went out to open up the game quite early and we knew we'd leave a bit of leakiness. We didn't want to be cautious in our approach. We felt that'd play into Clare's hands, if we were overly cautious. Were we happy with some of the goal chances we conceded? Absolutely not. But I suppose we substituted that by dominating an awful lot of the ball.
"Clare don't play with inside players, they play with Keelan Sexton up and even early on, he was defending. We learnt a bit from Roscommon against Clare as well."
Gallagher had been strikingly bullish in advance of the tie and was fairly blunt in touting his team's superiority, pointing to the path they had navigated when coming through Ulster.
"I just felt Clare are a very good side but they haven't been at the business end of the championship. We're after coming from beating three Division 1 teams, I know the quality of our players. You go into games against Donegal, Monaghan and Tyrone, you can't hand on heart say you're going to win. But we felt we were superior players to Clare and had operated at a higher level, maybe not consistently."
Asked whether the performance had put to bed the notion that Derry couldn't deliver in Croke Park, Gallagher expressed his bemusement at the charge, though did accept that his side were new to this level.
"Well, I don't know who said that? I don't know how they can say that when we haven't been in Croke Park. People are entitled to their opinion," he said.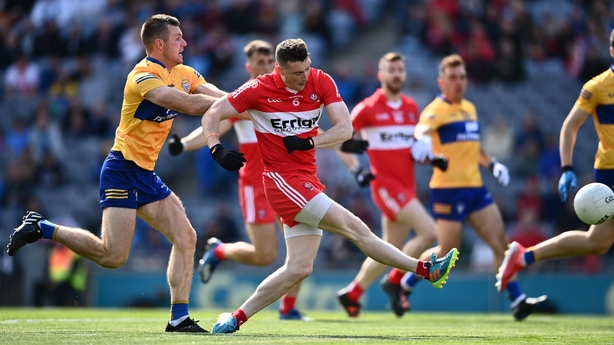 "We're not a Dublin, we're not a Kerry, who've been in Croke Park consistently. We're not a Mayo or a Tyrone who've been here and put up scores. I can understand the cautiousness and the questioning from people. Everyday you're questioned and you have to go out and prove it.
"Dublin are questioned at the minute despite some of them having seven or eight All-Irelands. I can understand that. I think today, we proved that we can score."
Shane McGuigan, carrying the bulk of the scoring load for much of the year, accounted for 1-08 of the victors' sizable total.
"It's good scoring, so it is," acknowledges Gallagher. "But Shane is very aware that the other players are a crucial part of the way we go about things. The one quality Shane has is that on every occasion, he puts the team first. Sometimes, by putting the team first means he has to come up with the shots. But he does have an awful lot of other qualities."
The winners of Galway and Armagh on Sunday are now all that stand between Derry and a first All-Ireland appearance since 1993.
Their rise under Gallagher could be best described as dizzying but the manager, intent on remaining grounded, is swift to point out that more improvement is required for the semi-final.
"We've to improve massively going into the next game. With all due respect to Clare, they haven't been in the latter stages. Galway and Armagh, while maybe they haven't been the heavyweight teams, but Armagh have been in Division 1 the last number of years, they've beaten Donegal and Tyrone.
"Galway, apart from this year, have been in Division 1 for the past four or five years, and have been in an All-Ireland semi-final and National League final. Whoever comes down, it'll be a big step up.
"They've (Derry) come a massive long way. Probably to the outside world, yeah but the likes of myself and the rest of the management got our teeth into it, we knew we'd a lot of good quality, yes it's a big leap but it's also, from our point of view, about getting the most of yourself and fulfilling your potential.
"Part of that is going to be when games don't go your way and when games don't go your way. We bounced back from a very dark day in Owenbeg and we responded well. It's really enjoyable, the ups and downs but we'll enjoy the ride as best we can."