Shortcomings in the GAA's disciplinary system need to be addressed to reduce the number of seemingly frivolous appeals that are proving successful, according to leading football referee David Gough.
Many share the view that county boards have become a little too adept at exploiting loopholes and technical breaches in a quasi-legal process that may not be in the spirit of the amateur ethos.
Clare's Rory Hayes and Peter Duggan and Galway's Cianan Fahy were all cleared to play in last weekend's All-Ireland SHC quarter-finals after having high profile suspensions overturned by the Central Competitions Control Committee.
"As long as there are loopholes within the system and not a tight process, that's going to happen," Gough told RTÉ Sport.
"They're volunteers, let's face it, they're not professionals. They're doing this at a professional level, but still on a voluntary basis.
"They want to stay involved and the responsibility is sometimes taken off them because they are volunteers and not professionals.
"You wouldn't see the same thing happening in rugby. If a player was suspended, he would take his suspension and it wouldn't be appealed, for fear that if he did appeal it and lost it, well then it would be doubled.
"That's the stage where we need to get to in the GAA – that appeals are taken seriously and that it's not just a case of 'sure we'll put in an appeal, we know you'll get off'."
"I don't feel as frustrated as I used to if a player gets off"
The Slane clubman, who will referee the clash of Mayo and Kerry at Croke Park on Sunday on a weekend of All-Ireland SFC quarter-finals to savour, has learned to detach himself from the machinations of the appeals system.
"I don't feel as frustrated as I used to if a player gets off," he added. "I still did my job on the day and the player was punished, and that's all that I am tasked with doing in the rule book.
"After that, it's someone else's job."
The need for addressing spurious appeals aside, Gough was hesitant to suggest other rule changes, but he did proffer a suggestion that would likely be embraced by managers, players and fans, if not all his fellow referees.
"The one advancement that I would like to see to help me as a referee is my microphone on match days being released to TV, or the pundits, or whoever can have access to it, so that they can understand the decisions that I'm making," he said.
"Quite often the decisions I'm making, 99% of the time, are correct in relation to the rule but they're seeing or quoting something completely different on television.
"That's a huge frustration for me. I don't watch matches back with commentary because I know what I've done on the day, so I watch it back with my mindset, and if my microphone was released to those people then they might have a better understanding of why a free was given or why I thought that a foul occurred."
We need your consent to load this YouTube contentWe use YouTube to manage extra content that can set cookies on your device and collect data about your activity. Please review their details and accept them to load the content.Manage Preferences
The primary school principal cited the 2019 All-Ireland decider as a specific example of how such technology can prove illuminating.
It took a replay for Dublin to overcome Kerry, with Jonny Cooper seeing red in the first game, while some felt Kerry's Tom O'Sullivan was fortunate to escape a similar sanction.
However, RTÉ analyst Kevin McStay, with access to Gough's microphone feed was able to provide context to television viewers.
"I was lucky on that day that Kevin McStay was wired up to me in the studio," Gough explained.
"Kevin could understand that Johnny Cooper was noted once, noted twice, noted a third time and gone.
"But equally around the non-sending off of Tom O'Sullivan, where he had been yellow carded first half but was entitled to his note in the second half.
"That lent itself to people understanding 'well David's done the right thing here', but if Kevin hadn't been wired up to me, would he have been privy to that information and would the outcome of those incidents have been totally differently played out in the media?"
Gough insists that the language pertaining to refereeing decisions is often disingenuous, and allows for an abdication of personal responsibility on the part of players.
"I'd say the language around that needs to change," Gough said.
"'You send off five players', my language would be that five players were sent off because of their actions.
"There's a complete difference in mindset there, in that I don't feel culpable in any way for sending those players off.
"They got sent off because of their actions. That's the first thing that needs to change."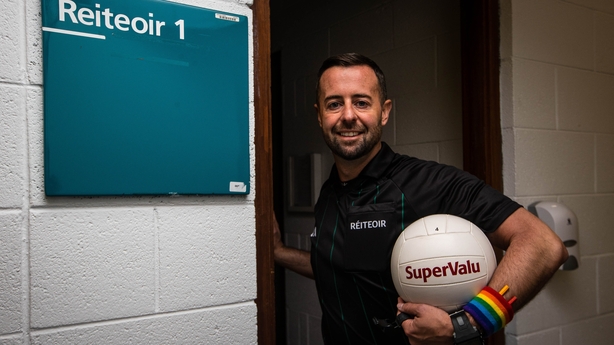 Gough was speaking at an event to mark SuperValu's #CommunityIncludesEveryone campaign. As the GAA's first openly gay top-level match official, his insight into a culture of acceptance in the sport is a unique one.
"I've received nothing but positive support from my team-mates and my club-mates at home, and the inter-county referees on a whole, in relation to my sexuality.
"It changed nothing for me, in relation to my friendships within the sporting world.
"If anything, it allowed them to know a little bit more about me and to potentially be a little bit more comfortable around me because they knew more about my personality.
"There have been absolutely no negative comments, remarks or atmosphere in relation to the dressing room culture that I've experienced in the club or at inter-county level with the referees."
Follow the All-Ireland Football Championship quarter-finals on Saturday, Derry v Clare (3.45pm) and Dublin v Cork (6pm), via our live blog on rte.ie/sport or on the RTÉ News app. Listen to live radio commentary on RTÉ Radio 1.
Follow the All-Ireland Football Championship quarter-finals on Sunday, Galway v Armagh (1.45pm) and Kerry v Mayo (4pm), via our live blog on rte.ie/sport or on the RTÉ News app. Watch live coverage on RTÉ2 and RTÉ Player commencing at 1.15pm with live radio commentary on RTÉ Radio 1.