Another Tyrone All-Ireland football title once again delivered by a Canavan. The more things change...
It was the red-hot Ruairi Canavan who signed for 1-07 and led his county to this Under-20 title with six points to spare over a tidy Kildare side at Sean MacDermott Park, Leitrim.
The game got off to an explosive start with both sides goalling within 80 seconds of throw-in.
Inevitably, it was Canavan who found the net first, finishing a fine team move in style after just 19 seconds.
Incredibly, less than a minute later, the sides were level. Daniel Lynam palmed home at the back post after Eoin Bagnall played the ball across goal.
The counties exchanged points thereafter, with Kildare holding a 1-04 to 1-03 lead after 18 minutes, before Tyrone began to seize control of the game.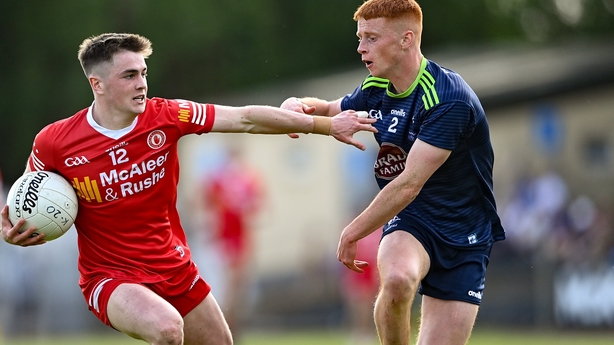 They would pick off five unanswered scores before a Bagnall free would slow the bleeding for the Lilywhites.
A beautiful effort from captain Niall Devlin gave the Red Hand a four-point lead at the interval, 1-09 to 1-04.
Indeed, if not quite a procession, the second period was largely controlled by the Ulster side. Kildare would never get any closer than that four-point gap.
In the end, Tyrone coasted home in the closing minutes on the back of that exceptional display from Canavan and a fine leader's performance from skipper Devlin.
Tyrone: S McMenamin; M Rafferty, B Conway, E Corry, J Donaghy 0-1, S Donaghy, N Devlin 0-3; R McHugh 0-1, C Daly 0-2; C Cush 0-1, C Bogue 0-1, R Canavan 1-7(3fs), S O'Donnell, M McGleenan 0-1, D Muldoon 0-1.
Subs: G Potter 0-1 for Muldoon, 48; F Taggert for O'Donnell, 53; S Daly for Bogue, 60; L Donnelly 0-1 for Cush, 60.
Kildare: C Barker; H O'Neill, D O'Donoghue 0-1, M Maguire, T Gill 0-1, J McGrath, R Burke; B Gibbons, L Killian 0-3; N O'Regan 0-2, D Lynam 1-0, S Farrell, A Browne, A Fanning 0-1, E Bagnall 0-5 (4fs).
Subs: D Swords 0-1 for Lynam, 37; J McKevitt for Gibbons, 39; J Dalton for Browne, 42; A Boyle for O'Neill, 53; A Conneely for O'Regan, 57.
Referee: Liam Devenney (Mayo).