The Ulster final clash between Monaghan and Derry pits the consistent performer against a real up and coming team.
Monaghan have had relatively recent success with Ulster titles in 2013 and 2015 and have competed well in Allianz League Division 1 for eight years now.
In the same period, Derry have played in all four divisions of the Allianz League. In the championship the Oak Leaf county have simply not performed.
Monaghan need little introduction. Banty McEneaney and Malachy O'Rourke before him worked with a core of quality players and leaders. Little tweaks and additions have been made but the core of players have remained.
Rory Beggan, Conor Boyle, Colin Walshe, Ryan and Drew Wylie, Darren and Kieran Hughes seem to have been playing forever. Leading from the front throughout that period has been their three-time All-Star Conor McManus.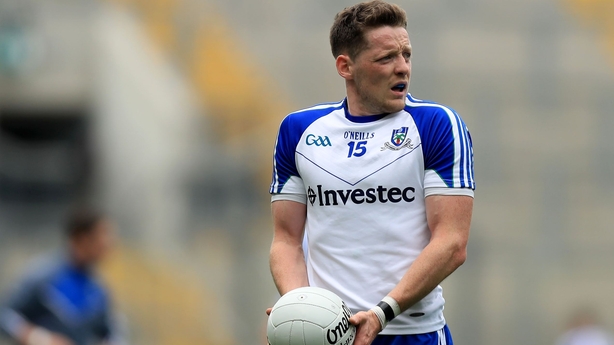 Banty, Malachy, Donie Buckley, Leo McBride, Conor Laverty and various other coaches have made a big impact on developing the Monaghan players. While other counties have had clear outs and fresh starts, Monaghan management have tended to stick by the same players.
It was more of the same in their most recent performances in the league against Dublin and Ulster Championship win against Down. The same core players coming to the fore, grinding out wins.
Monaghan have a great balance in their team. Strength and physicality when needed from the likes of the Wylies, Niall Kearns and Darren Hughes. Flair and creativity from Jack McCarron, Conor McCarthy and Conor McManus. Their squad is full of well-coached, athletic players.
All of us GAA fans are used to watching Monaghan on TV. At this stage we know what they will bring to every match they play. The same cannot be said for Derry. Rory Gallagher their manager is their household name.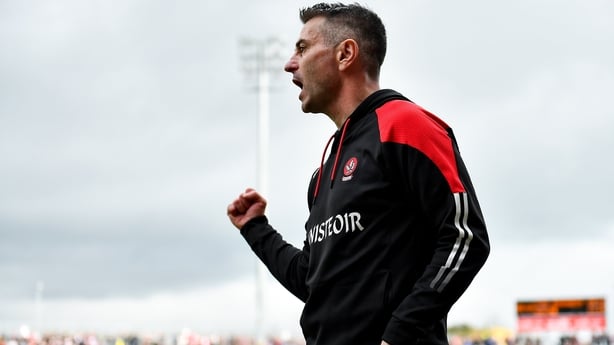 While Monaghan have only had two managers in 19 years, Derry have had a cycle of change nearly every two years.
High profile appointments such as Damien Barton, Mickey Moran, Brian McIver and Damien Cassidy struggled to get success. Prior to their win against Tyrone, Derry had won only one Ulster Championship match in 10 years.
Rory Gallagher's first championship game with Derry in 2020 was against Armagh. Ten of the team that played that day took part in this years demolition of Tyrone. That would suggest that players and manager stuck by each other and have worked hard to get to where they are now.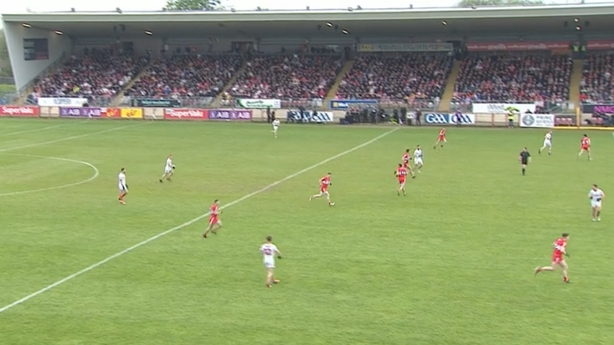 From day one Gallagher has looked for tall, athletic, hard working players. Players that will play as part of a system. The picture above shows the Derry players all sprinting back into defensive positions while Tyrone carrying the ball up the field following an unopposed kick out.
This was 30 minutes into the game and the players were still following the game plan exactly as per the pre-match plan. This is really demanding work and takes huge levels of fitness.
Gallagher coaches his players throughout the games. Against the All-Ireland champions he was passionately directing, encouraging and demanding from the sideline. Just as I experienced him doing while he was on the side lines for Donegal and Fermanagh. The man has some energy.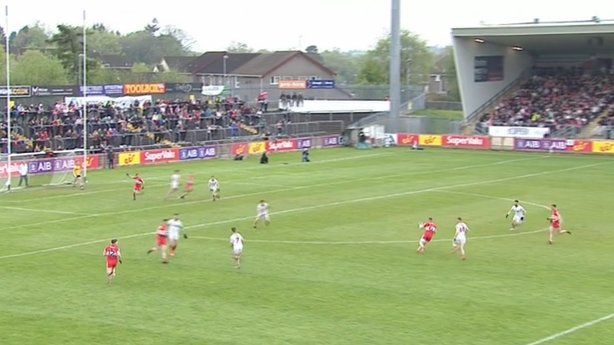 Gareth McKinless epitomises what Gallagher is looking for. He has the athletic ability that allows him to get up and down the field. He is comfortable carrying the ball at pace and is willing to impose himself physically.
He had a serious battle with Brian Kennedy until he was sent off. The picture above shows McKinless (6) as he scores a point after making a strong run forward from his half-back line. The picture below shows him winning a free back in his half-back line as he picked up the break from the kick out that was taken after he scored.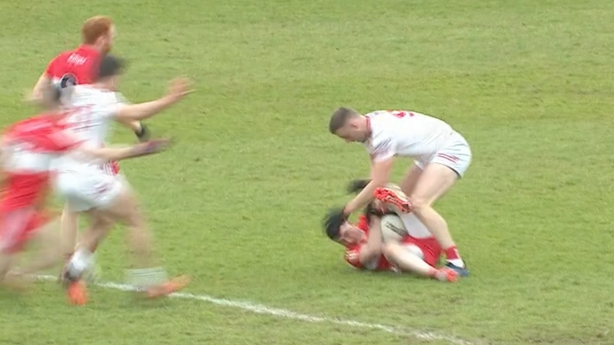 The high speed running data from the GPS units on the Derry players must have been incredible. Jogging simply didn't happen. Sprint back into defensive positions then sprint forward again to support the attack.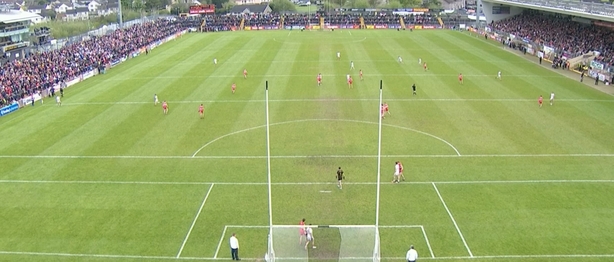 The picture above demonstrates how Derry defended from the start to the end of the game. Full 15 man defending. Danger men marked, touch tight. Brendan Rogers and Christy McKaigue are outstanding markers. The Derry inside forwards tackled between the 45 and 65m lines. All other players react by moving left, right, dropping off, tracking men or pressing up as needed.
Tyrone struggled to break them down, scoring only three points from play in the whole match. Keeping the All-Ireland champions to 0-10 is impressive. Despite the massive running demands he is making of his players, Gallagher has got total buy-in from them all.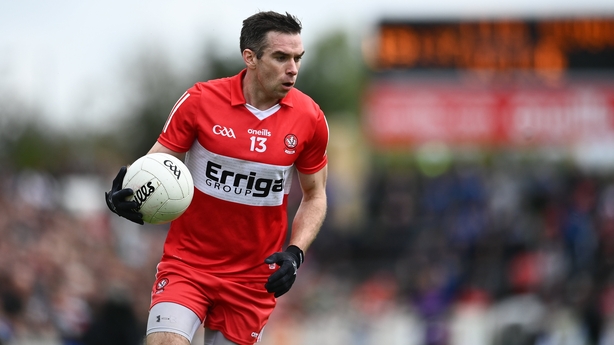 A sign of this is the work-rate of his full-forward line. Shane McGuigan, Benny Heron and Niall McLoughlin would be best known for their attacking exploits, but they tracked and tackled like demons in Healy Park. Derry really do get 15 men behind the ball.
Derry trapped, delayed and tackled Tyrone getting huge numbers of turnovers. Derry scored 0-11 directly from Tyrone losing the ball.
Many teams who get lots of bodies behind the ball struggle to get up the field and score. Derry did get up the field in numbers and scored 1-18 against Tyrone. They were very efficient scoring 68% of their kicks at goal.
The picture below shows how many players Derry committed to an attack, as Conor Doherty kicked the ball over the bar.

Throughout the game Derry transitioned at high speed committing multiple runners. Tyrone could not contain the running power of all of the Derry team.
In particular McKinless, Heron, McGuigan, Ethan Doherty, Conor Glass, Paul Cassidy and Conor Doherty were in perpetual motion.
Both teams will bring huge passion, desire and intensity. The experience of the Monaghan team against the huge energy of this Derry team makes this game hard to call.