Kerry have wrestled back the Munster U20 football title from Cork after a seven-point win in Tralee, a victory that was only properly secured in the last fifteen minutes of a contest that only burst to life in the second half.
After a jittery first half, in which both teams made plenty of unforced errors and kicked far too many poor shots, an early second half goal from Thomas O'Donnell, and six points from their substitutes, ensured Kerry relieved Cork of the title they had won in 2021 at Kerry's expense.
Though the hosts led 1-4 to 0-6 as the game headed for the final quarter, neither team looked like runaway winners at that stage, but two points apiece from substitutes Gearoid Hassett, Jordan Kissane and Jack O'Connor saw Kerry power to victory as the Rebels' title defence crumbled in front of a vociferous crowd in Austin Stack Park.
The teams had been level at 0-3 apiece at half time, with the first period was most notable for handling errors and poor shooting by both teams, as nerves and pressure seemed to tighten up both sets of players.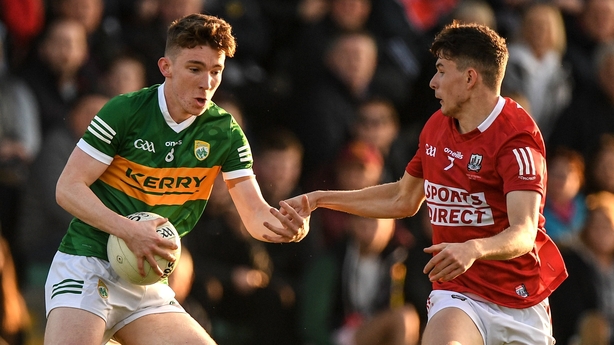 Colin Walsh and Ryan O'Donovan carried a threat in the Cork attack, but the visitors found it hard to get good possession to their inside men, while Kerry had midfielders Ruairi Murphy and Sean O'Brien carrying their fight best, with O'Donnell and Keith Evans most impressive in attack.
Both teams created a couple of decent goal chances in the first half, but were denied by a combination of good defending and poor execution.
The game broke Kerry's way in the 32nd minute when Kerry centre-forward O'Donnell took Keith Evans' pass and scored the game's only goal to make it 1-3 to 0-4, but by the three-quarter stage Cork were still very much in contention.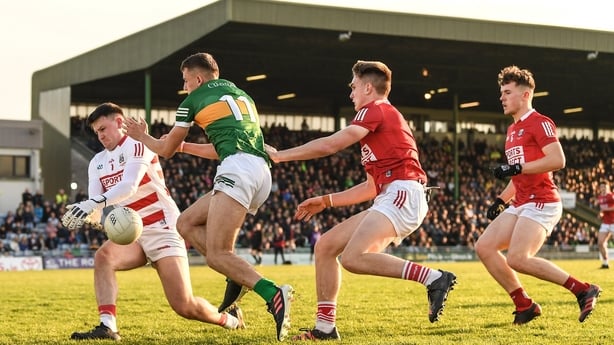 However, a couple of points from sub Hassett titled the momentum Kerry's way again, and when Kissane nailed two fine scores just before 60th minute, Cork's challenge wilted away, leaving O'Connor to stamp the win with his two points in additional time.
So, having held 28 provincial U21/U20 titles each, Kerry now move ahead of Cork on the roll of honour, but before they digest that tidbit they have an All-Ireland semi-final against Tyrone on Saturday week to consider.
Kerry: Devon Burns, Dara O'Callaghan, Alan Dineen, Joey Nagle, Enda O'Connor, Armin Heinrich, Tommy Cronin, Ruairi Murphy 0-01, Sean O'Brien, Cillian Burke, Thomas O'Donnell 1-01, Evan Looney 0-01, Dylan Geaney 0-01 (0-01f), Kevin Goulding, Keith Evans 0-01.
Subs: Adam Curran for T Cronin (ht), Gearoid Hassett 0-02 for K Goulding (42), Jack O'Connor 0-02 for K Evans (47), Tom Doyle for S O'Brien (48), Jordan Kissane 0-02 for T O'Donnell (55).
Cork: Callum Dungan, Jacob O'Driscoll, Tommy Walsh, Dan Peet, Darragh Cashman, Neil Lordan, Sean Brady 0-01, Kelan Scannell, Alan Walsh 0-01, Richard O'Sullivan, Colin Walsh 0-01, Hugh Murphy 0-01, Ryan O'Donovan 0-02, Conor Hanlon 0-01 (0-01f), Darragh O'Mahony.
Subs: Adam Walsh-Murphy for R O'Sullivan (temp, 29), Liam O'Connell for C Hanlon (ht), Paddy O'Driscoll for D O'Mahony (42), Fintan Fenner for K Scannell (47), Eoin Walsh for C Walsh (56), Conor Daly for S Brady (59).
Referee: Chris Maguire (Clare)