A remarkable recovery from 14-man Sligo, who scored two goals in the last 10 minutes, secured their first-ever Connacht U-20 football title at Mayo's expense.
In front of their home fans at Markievicz Park, Sligo overturned a five-point deficit and absorbed a red card for corner-back Shane Molloy, with goals by Eoghan Smith and Jack Lavin making the difference.
This was Sligo's first final in the U-21/U-20 grade since 2017 – they lost that year to Galway after extra-time – while Mayo, last year's runners-up, were previously champions in 2018.
There had been controversy regarding the venue with Sligo getting their wish that the game should be played at the Sligo town venue instead of the Connacht GAA Centre of Excellence at Bekan.
Sligo started well with a brace of points inside the opening five minutes but Mayo had levelled matters by the 11th minute.
Jack Davitt's first goal came in the 13th minute when he buried a shot after exchanging passes with Matt Henry.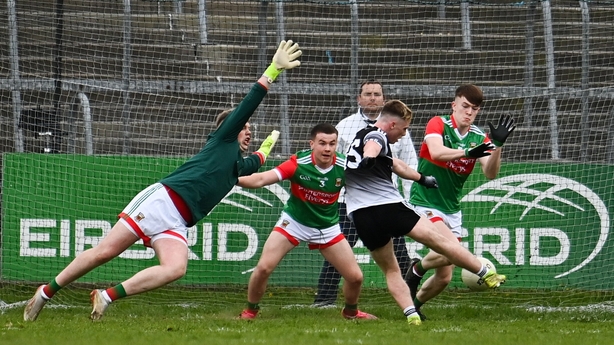 Sligo were three points up, 1-2 to 0-2, and also grateful for Mayo's wasteful shooting as the green and red shot four wides in the first 20 minutes.
Mayo responded with three unanswered points to draw level by the 21st minute, 0-5 to 1-2, with a brace of excellent scores coming from ponytailed full-forward Paddy Heneghan.
A second goal for the home side, with Jack Davitt finishing expertly from Lee Deignan's clever pass, gave Sligo another boost.
Mayo again drew level, 0-8 to 2-2, but Sligo edged back in front, 2-3 to 0-8, with a neat point from wing-back James Donlon.
Mayo had five different scorers in that first-half, compared to Sligo's three, but Sligo were to have wind advantage for the second-half.
Mayo began to dominate the second-half and they were ahead for the first time, 0-10 to 2-3, when Rory Morrin blazed over for a 43rd minute score.
A fortuitous goal from Paddy Heneghan, whose point attempt curled into the net, extended Mayo's lead to four points, 1-10 to 2-3, with nine minutes of normal time left.
Sligo's situation worsened when, within a minute, there was a straight red for corner-back Shane Molloy.
Frank Irwin's fourth point made it a five-point game, 1-11 to 2-3, and it looked like another day of misery for Sligo.
The 14 men rallied, however, and a quick-fire 1-1 from Eoghan Smith, with his goal coming from a Mayo defensive error, cut the deficit to a point.
Mayo's 12th point – substitute Niall Treacy on target – left two points between them with two minutes to play.
There was one more twist in the tale when a 59th minute goal from Lavin, who also named player of the match, gave Sligo a one-point advantage that they retained for an unexpected yet gloriously-received win.
Sligo: Kyle Davey, Shane Molloy, Marc McGowan, Feidhlim O'Donnell, James Donlon (0-2), Jack Lavin (1-0), Conor Johnston, Canice Mulligan, Joseph Keaney, Matt Henry, Eoghan Smith (1-1, 0-1), Dylan Walsh, Luke Marren, Lee Deignan (0-1, 1f), Jack Davitt (2-0)
Subs used: Ciaran O'Reilly for Feidhlim O'Donnell, 25 (temporary sub); Oisin Flynn for Matt Henry, 40; Gavin Duffy for Luke Marren, 49; Luke Casserly for Feidhlim O'Donnell, 49; Brian Byrne for James Donlon, 58; Oisin Gorman for Lee Deignan, 60+2
Mayo: Bryan O'Flaherty, Alfie Morrison, Ruairi Keane, Conal Dawson, Fenton Kelly, Donnacha McHugh, Aiden Cosgrove, Frank Irwin (0-4, 3f), Jack Fallon (0-1), Tom O'Flaherty (0-1), Dylan Thornton, Sean Morahan, Rory Morrin (0-2), Paddy Heneghan (1-3), Cian O'Connell
Subs used: Bob Tuohy for Conal Dawson, 37; Cian MacHale for Cian O'Connell, 41; Niall Treacy (0-1) for Jack Fallon, 53; Conor Reid for Rory Morrin, 60+1
Referee: Paddy Neilan (Roscommon)