A failure to convert goal chances is a worrying trend for Dublin, according to manager Dessie Farrell as he watched his side slip to a fourth consecutive defeat in Division 1 of the Allianz Football League.
Jimmy Hyland's goal proved decisive as the Lilywhites ran out 1-12 to 0-12 winners at St Conleth's Park, an outcome that moves them on to three points in the table. For the Dubs, however, the spectre of relegation loom large.
For Farrell, it is uncharted territory, as he outlined to RTÉ Radio's Sunday Sport.
"All we can do is navigate our way through this; sometimes through adversity comes great strength," he said.
"Dublin are in a very different position to previous years. We understand the reality of that, but we've just got to work harder. To be fair to the players they are very committed and their attitude has been great. We'll keep going at it."
That failure to raise a green flag was something that Farrell bemoaned in a game where only three points separated the sides at the end.
"We had three goal chances we didn't execute and they had one and took it at the end of the day.
"I thought our first-half performance was solid. They eked out a few scores in the last few minutes but still going in four points down we were happy with that. Conceding a goal against the run of play was a killer.
"Execution, generally, was poor today. It's been a trend over the last couple of games so it is something for us to work on."
Dublin's remaining three games are away to Tyrone and Monaghan and at home to Donegal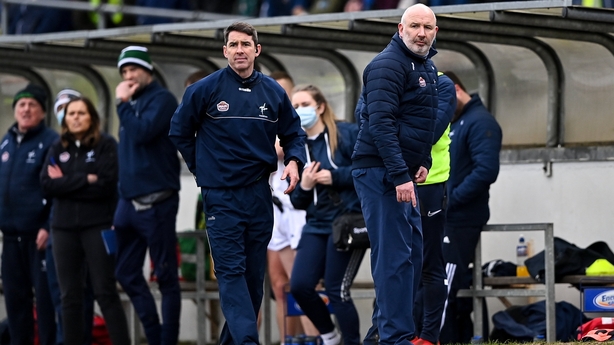 Kildare boss Glenn Ryan highlighted the "bravery and courage" from his troops in easing their relegation fears.
"We had control of the game and it was a case of whether we would continue in that vein or sit back or wait for a perceived onslaught. That would have happened had we done that.
"There were areas of the game we weren't happy with but there were other areas that were good. We showed a lot of bravery and courage and that was ultimately got us the couple of points.
"It's two points on the board for us and it was important we took something out of today's game to keep us competitive in this division. We can look forward with some enthusiasm."