Kerry manager Jack O'Connor says his players are beginning to grow in confidence, having recorded their third win in a row against Monaghan on Sunday.
After a slow start at Inniskeen the men from the Kingdom began to find their rhythm and were ahead at the break by three points. Whatever chance Monaghan had was killed off after the resumption when David Clifford hit two quickfire goals.
A third, this time from Seán O'Shea, put the icing on the cake for the Munster side, who now sit atop Division 1 on scoring difference.
"We didn't start the game great and I thought Monaghan were good early on," O'Connor told RTÉ's Sunday Sport.
"We were forcing a few passes inside, but once we got to grips with it, and judged the conditions a bit better, I thought we controlled the last 20 minutes of the first half.
"We've had the wind [at our backs] in the first three games so this was something new to go into the wind. I thought we controlled it well and kicked a few scores. We then drove on at the start of the second half and the couple of goals killed it."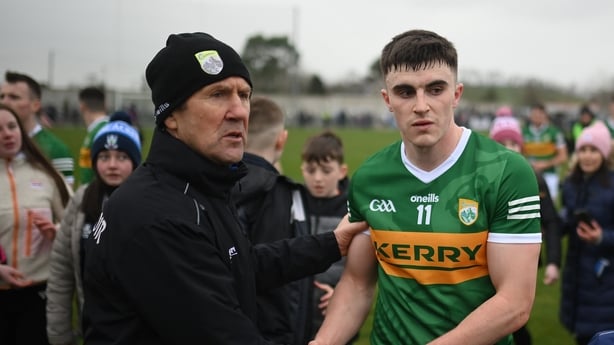 Ahead of a top of the table shootout with Mayo on Saturday week, O'Connor was asked if the team had put in the best display of his third stint in charge in Kerry.
"Players are getting confident and having a bit more faith in the way we're trying to play," he replied.
"They're buying into it. The big thing we're trying to do is build a panel as much as possible. We gave five subs a go there again. We gave Tony Brosnan a start, and Graham O'Sullivan his first outing in the league.
"That's what we're trying to do; win a few matches and strengthen the panel.
"We're training well and working on a few things. It's great to have a venue like this to try things out because Monaghan are usually very tough up here.
"They're down a few bodies - Jack McCarron, Ryan McAnespie, Conor McCarthy - are three big losses in a small county like Monaghan.
"We're under no illusions that there'll be bigger tests ahead."