Perusing the Allianz League fixtures in Round 1 and it's clear that one match-up leaves the rest in the shade in terms of back-story and potential needle.
We don't have a great tradition of heavyweight boxing style smack-talk in the GAA.
Babs Keating was occasionally in the habit of making hostages to fortune in advance of championship matches, whether it was discussing the unlikelihood of donkeys winning derbies in 1990 or suggesting that hurling "needed" another Tipp-Kilkenny decider in 1993 ahead of his team's ill-fated semi-final against Galway.
But by and large, the overwhelming majority of managers and players adhere rigidly to the "Kilkenny footballers are always tough in their backyard" school of pre-match comment.
But the upcoming game in Newbridge has seen a new frontier opened up the under-studied field of GAA smack-talk.
Two days out from the game, a member of the home team's management set-up had a jibe at the state of the opposition's playing gear on social media.
The tweet was subsequently deleted, though suffice to say, it was issued by one P. Galvin. (For those that didn't see, he posted a picture of Kerry's divisive new jersey with the caption - "This looks like what you get when you borrow an idea but can't execute it")
A member of one backroom team turning fashion critic on the visiting team's clobber - we might safely assume this is a first for the association.
Perhaps the last time it occurred in any sport was when Alex Ferguson claimed in one of his autobiographies that the Manchester United players were given an almighty lift before the 1996 FA Cup final upon seeing the Liverpool spice boys prancing around the Wembley turf in their infamous white suits.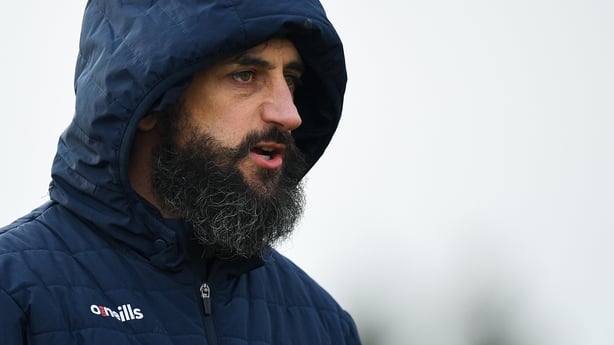 This is one of a number of strands - admittedly the least significant one - ahead of Kildare and Kerry's meeting in Division 1 in Newbridge today.
The primary one, of course, is Kerry's new(ish) manager, who is perceived to have dumped Kildare with stunning alacrity last autumn upon getting wind that his former job might be up for grabs again.
Kildare supporters did not appreciate Jack O'Connor - then still reported to be signing on with them for a third year - rhapsodising dreamily at the thought of managing Kerry on the Irish Examiner football podcast in the wake of the latter's loss to Tyrone in the All-Ireland semi-final - remarking how the Kerry job was akin to "managing Manchester United" (a dubious enough prize these days but anyhow...)
O'Connor disputes this narrative, saying the real reason he quit Kildare was that his backroom team was already disintegrating, with several unable to commit for a third year. The arduous commute from south Kerry was also instanced.
Despite reports to the contrary, O'Connor said he was already wavering about taking Kildare for another year, long before the Kerry vacancy unexpectedly opened up.
Perhaps feeling jilted, Kildare sought out some people who truly loved them and have installed an 'A-Team' style collective of beloved county stalwarts for the coming season. Their 'folk heroes assemble' management team now includes Johnny Doyle, Dermot Earley, Anthony Rainbow and Brian Lacey all working underneath Glenn Ryan.
The Kerry link, however, has been preserved with the intriguing add-on of Galvin, a man whose keen football brain is appreciated by those who've played alongside him.
The pair met regularly in the latter stages of the All-Ireland championship during the first decade of the Irish state but the modern relationship between the counties goes back to 1990, when Mick O'Dwyer landed in Kildare, igniting a decade of excitement, achievement and near-misses after years and years of abject quietude and stagnation.
After reaching successive Leinster finals in 1992 and 1993, O'Dwyer took a couple of years out before returning for a renewed push, culminating in the Leinster title wins in 1998 and 2000, an All-Ireland final appearance arriving after the former.
In the semi-final, Micko's Kildare famously toppled his native Kerry by a point, the then Minister of Finance telling Marty Morrissey afterwards that the outcome was "better than sex". These were boom times in more ways than one.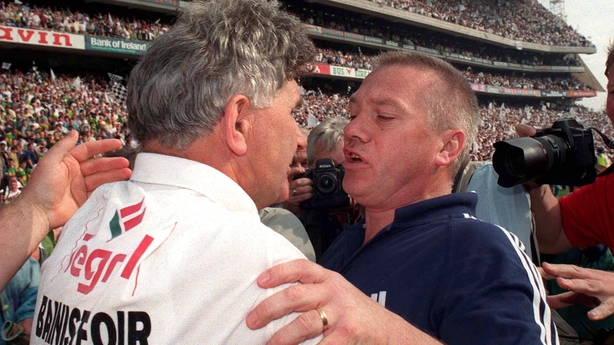 In the weeks following, there was an irresistible air of destiny about Kildare and by the time 27 September arrived, they'd convinced themselves Sam Maguire glory was at hand.
One well to do' looking supporter, with the bearing of a Kildare captain of industry on his day off, told the 'A Year 'Til Sunday' cameraman that the final was "only a mather a' just togging out." Alas, it wasn't that simple and Kildare couldn't bridge the 70-year-gap.
The Kerry link wasn't confined to the management and even extended to their playing squad at that time.
Indeed, there was a slight United Nations feel to Micko's Kildare in places.
Their superb corner back Brian Lacey, an All-Star in '98, both started and finished his inter-county career with his native Tipperary.
Karl O'Dwyer, a reputational casualty of Kerry's 1992 Munster final loss and their dismal defeat to Cork the following year, found a new lease of life as an inter-county footballer under his father's direction in Kildare.
Brian Murphy, the scorer of a key goal in the 2000 Leinster final, was born in Bishopstown outside Cork City. It was at half-time in that Leinster decider, when Kildare seemed to be floundering, when Pat Spillane suggested that Murphy would have a job making the Cork junior team had he remained down there. Cue a dramatic turnaround in the second half.
Even in later years, Kildare were upbraided for 'poaching' Seanie Johnston after the forward had fallen out with the Cavan management, famously facilitating Seanie's 90-second hurling career in the order to complete the paperwork in time for championship.
Kildare fans might justifiably have been entitled to think they were due some payback after providing a sizable chunk of prime playing material to Cork's 1989/90 All-Ireland winning teams.
This phenomenon wasn't made any easier by the fact that Kildare were footballing nonentities at the time.
In the 1990 All-Ireland final, 0-08 of Cork's winning tally of 0-11 was notched by Kildare men. That same year, the actual Kildare team were knocked out in the Leinster quarter-final by Wicklow.
Micko arrived in town to much hoopla that autumn and, after an initial stumble against (the then fiercely respected) Leitrim in his first competitive match, Kildare made it all the way to the National League final in the 1990-91 season.
Having delivered provincial titles in Kildare and then Laois, Micko started an avalanche.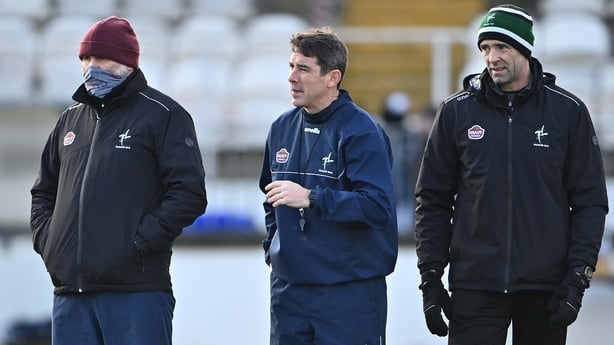 For 20 years now, the highways and byways of the Leinster championship have been stuffed with Kerry émigrés/ long commuters, trying to instruct the locals in the ways of winning football.
Still melancholic after being discarded by his own, Páidí arrived in Westmeath in 2004 and delivered them their only ever Leinster title and a cracker of a documentary into the bargain.
With Micko prowling the same sideline in the Laois manager's top, the 2004 provincial decider could truly be said to be the high-point for Kerry football gurus in the Leinster championship.
Laois, in particular, are in thrall to the Kerry coaching missionary, with five Kerrymen since Micko, plus Peter Creedon from west Cork - as near to Kerry as they could get at time, presumably. Worth noting that Armagh's Justin McNulty, now an SDLP MLA, got three seasons in charge in the early 2010s. The obvious conclusion is the county is prepared to move heaven and earth to ensure a Laois man isn't given the job.
The incumbent Billy Sheehan, though another Kerryman, is a slightly different case, given he played over a decade for Laois. Even when Laois do appoint one of their own, he's from Kerry.
O'Connor's own stint in Kildare was unmemorable though Covid complications hardly helped. His two Covid-interrupted seasons in charge were arguably equivalent to one season in normal times. Their championship campaigns were so-so at best and O'Connor was sharply criticised for their excessive conservatism in the 2021 Leinster decider.
Still, they did wind up in Division 1 at the end of his stint and O'Connor could plausibly argue he left them in a better place than he found them.
Be that as it may, the manner of his departure will likely not encourage the locals to give him the benefit of the doubt. The summer of 2018 showed how dangerous Kildare can be in Newbridge when they've a cause. The Kerry manager will be braced for a spiky atmosphere this afternoon.