When Kilcoo take to the pitch at the Athletic Grounds on Sunday in search of a second Ulster football title, the presence of one particular spectator on the sideline will provide some perspective.
Derrygonnelly are bidding to become the first Fermanagh club to lift the Seamus McFerran Cup, but they will be very much the underdogs against a Kilcoo outfit looking to retain the trophy they won for the first time themselves in 2019, following the cancellation of the 2020 competition.
While the Magpies are hoping to cement their reputation in the province, they do so fresh off the news that former county player Darragh O'Hanlon has been forced into retirement at the age of 28, the former Down captain calling it a day due to debilitating back and knee injuries.
In 2019 the Kilcoo man underwent a spinal operation which led to him having a disc removed, and after a 13-month recovery, he then sustained a cruciate ligament injury.
In December he announced his decision to hang up the boots.
The recent run of success is still relatively novel for the small club, but Jerome Johnston says it is a reminder of how short a career can be.
"Darragh [pictured below] grew up playing with us, and any finals we've played underage and even at seniors, Darragh was always part of that," he said.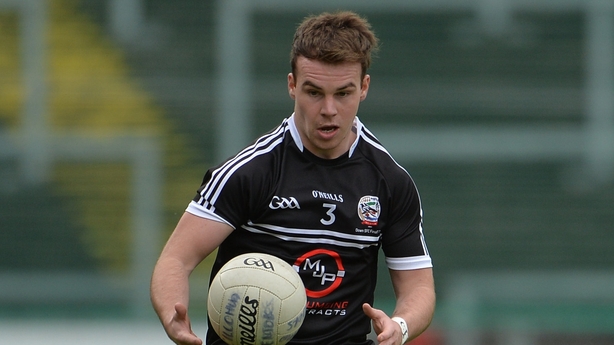 "He's only 28, so for it to be taken away from you so quickly, it's cruel. He was just very, very unlucky with the run of injuries that he's had.
"You do think what a lucky position you're in to be still playing at the minute. Injuries can come and when they come, they can lead to these things. It can end your career so we're all very lucky to be able to participate in the match on Sunday."
Pushed all the way by Burren to secure a 10th county title in 11 years, Mickey Moran's side eased past Ramor United before edging out the Glen after extra-time.
The 28-year-old has been in rich goal scoring form this season - he found the net in both Ulster ties - and he will be joined by brothers Ryan and Sheelan in facing down Derrygonnelly.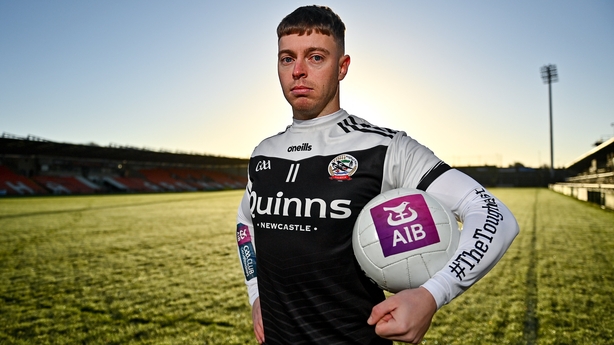 Part of the first Kilcoo team to win an U-17 provincial title, Sheelan captained Down to an U-20 Ulster title and clipped over two points in the gripping semi-final win over the Glen.
Another victory on Sunday would mark a special weekend for the young forward.
"His 19th birthday was the day of the All-Ireland final. That was definitely ruined so hopefully Derrygonnelly don't ruin his 21st as well."
That final defeat to Corofin causes much introspection.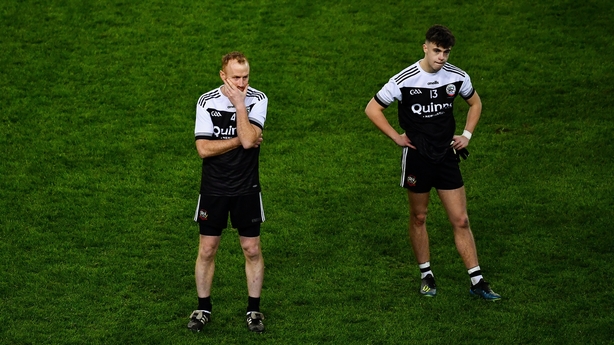 A Paul Devlin free in the 11th minute of additional time forced extra-time in Croke Park, but the Galway kingpins hit 1-05 without reply, and dreams of All-Ireland glory in a maiden final were shattered.
"We'll look back on that in years to come and it is going to hurt and any time you're beaten in a final, especially an All-Ireland final, it is going to stay with you for the rest of your life."
Before any ambitions of a final day appearance can be contemplated, Derrygonnelly must be accounted for. The Fermanagh side have advanced to their first decider after winning six of the last seven Fermanagh county titles.
I probably haven't have as much time to practice as I did in previous years, but sometimes that's a good thing
They are bidding to break new ground, and their last meeting - a narrow Ulster semi-final win for Kilcoo three years ago - is an indication that it is likely to be a close encounter on Sunday afternoon.
Johnston's preparation has been different to previous seasons given the birth of his son Lar five months ago.
"I probably haven't have as much time to practice as I did in previous years, but sometimes that's a good thing because sometimes you can over-think when you've too much time and it can go the wrong way," he said.
"When you're running after somebody and there's 60 minutes on the clock and you're cramping up, you're definitely thinking, 'I would have appreciated a bit more sleep last night'."