Some 17,000km away from Tralee, one man in the southeastern Australian state of Victoria took a particular interest in Kerry's opening McGrath Cup fixture on a wet and windy evening at Austin Stack Park earlier this month.
The main talking point from the otherwise non-descript defeat of Limerick came from the throw-in, where Stefan Okunbor marked his first senior start since returning from Aussie Rules with a remarkable leap to gather possession, fending off Treaty midfielder Darragh Tracey in the process.
The picture captured the early season imagination, but for Shane O'Bree, the Geelong Cats development coach who worked closely with the Kerryman during his time at the AFL club, it was a skill honed through hours and hours of practice.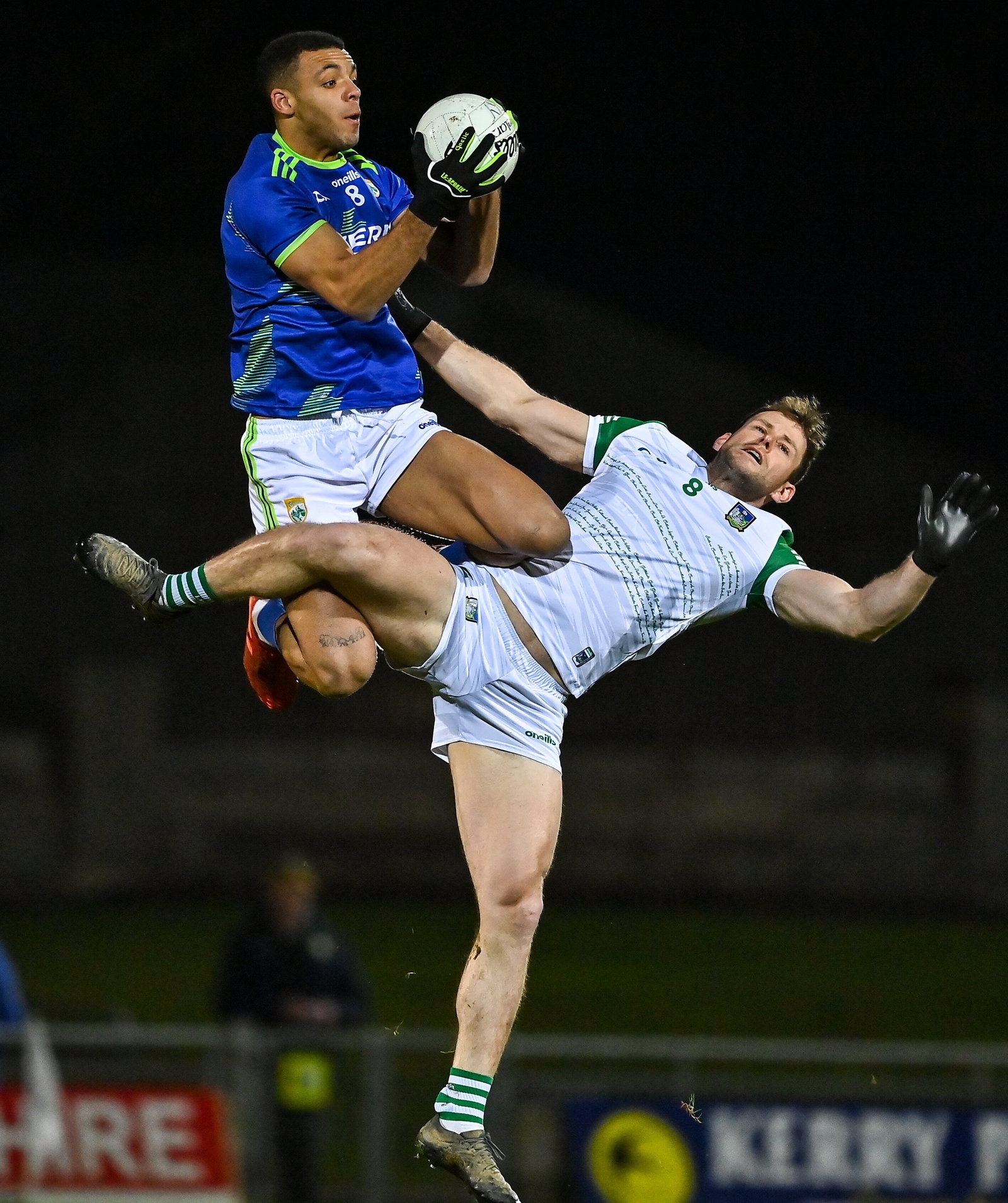 "Marking the ball at the highest point, protecting yourself from getting hurt and using your opponent as a bit of a launchpad, we worked on that a lot with Stef," he told RTÉ Sport.
"At training he was always launching into pads. It's great to see it coming out in his Gaelic footy. He's probably got a few more tricks that a lot of other players over there might not have."
Nestled in beside three established clubs in Tralee – Austin Stacks, Kerins O'Rahilly's and John Mitchells – Na Gaeil have spent the vast majority of their 43-year existence in junior ranks.
Prior to their 2019 All-Ireland junior title, a 1991 minor success was the high achievement for the club, with the bigger three hoovering up much of the talent in the area.
When Mike and Lidia Okunbor left their Moldovan farm with their children Stefan and Iren for a new start in Ireland, they were keen to integrate their son into Irish culture and society. Six-year-old Stefan took part in his first Na Gaeil training session and never looked back.
"I instantly fell in love with the game," he told the 42.ie. "Football is ingrained in Irish culture and I always felt that I was doing my bit to support that by playing."
He immersed himself in the skills of the game and before long was considered as a key player in a quality crop coming up through the ranks.
"It was probably the start of something of a purple patch for the club," says Na Gaeil chairman Tim Lynch.
Selection on Kerry development squads ensued and Okunbor replaced club team-mate Diarmuid O'Connor late on in the 2016 All-Ireland minor victory over Galway, a team that boasted the likes of Dara Moynihan, Seán O'Shea and David Clifford.
By this stage he was now firmly on the AFL radar. There were tryouts in Dublin late in 2016 and he was among a handful of Irish players that attended an Aussie Rules camp in Florida. His first visit to Australia left a positive impression on Troy Selwood, Geelong's talent ID manager, with his athletic ability and combative approach.
In 2018 Okunbor was a key operator in a Kerry U20 side that swept to a provincial title – the Na Gaeil man was named Munster Player of the Year – but were edged out by Kildare in an All-Ireland semi-final by a single point.
Selwood watched on as Okunbor, with the number three on his back, put in a man-of-the-match display in the Munster final and sent a text to remind the player he was still very much part of their plans. That October a three-year deal was signed.
"Everyone in Na Gaeil was delighted for Stefan," says Lynch, "it's great to become a professional athlete, but he was a big loss to our club."
There was an immediate appreciation that the Irishman was going to leave no stone unturned to achieve his goals.
To aid the bedding in period, he studied Geelong's player profiles until he was able to put a name to each face.
"I think a few of the guys were a bit weirded out that I was saying their names before they introduced themselves," he said at the time.
On the pitch too he was making an impression.
An early head clash with Harry Taylor indicated the tackling technique required refining, but the teething problems were to be expected; more importantly, he was earning the respect of his peers.
Geelong put an emphasis on being comfortable on the ball, for their defenders to be able to hold possession and launch attacks. Okunbor worked hard on his kick-passing accuracy and honed his defensive skills; both one-on-one defending and getting to grips with the team's defensive set-ups.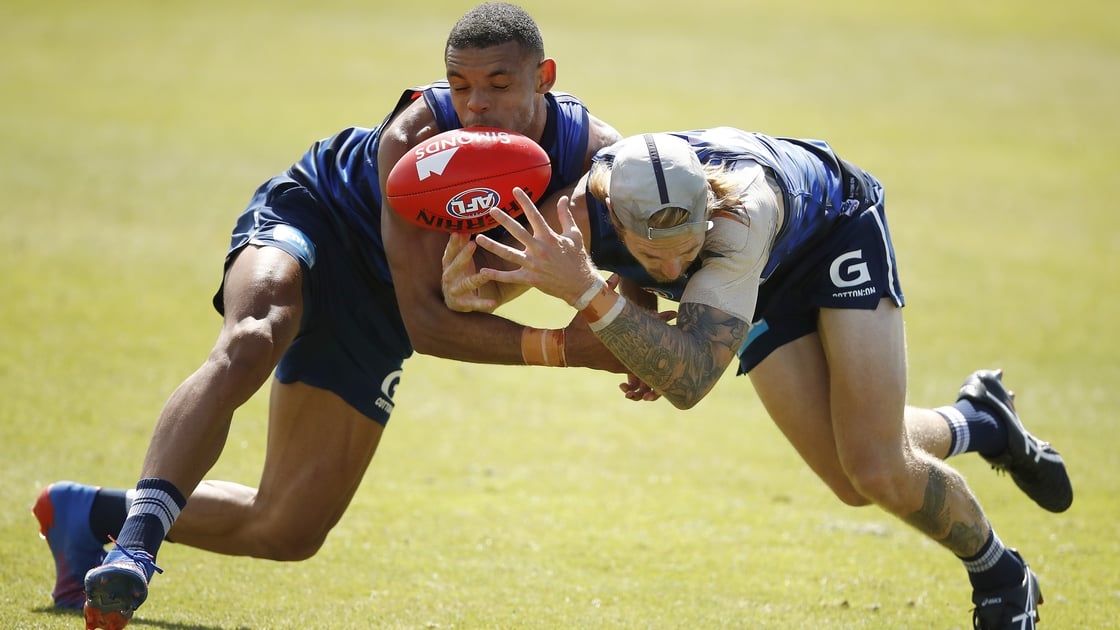 "He's a very driven, competitive bugger. He picked it up really quickly," says O'Bree, whose primary role centered on looking after first to third year players.
Okunbor's athletic prowess, explosiveness and agility meant the building blocks were in place to succeed, but his body let him down under the demands of the sport.
Shortly after landing in Victoria, early season groin discomfort was diagnosed as osteitis pubis, which effectively lay waste to his first year.
Things hardly improved in 2020. A ruptured Achilles in pre-season was followed by the Covid outbreak, so that wiped out another campaign. The make-or-break clock was ticking.
"That had a huge impact on his development," Selwood says.
Last year Okunbor finally strung a run of games together in the VFL, the reserves league. Recruited as a defender, he switched to midfield and was starting to thrive in that environment.
"He showed real positive signs in that May and June period as a midfielder, and was really improving his overall football understanding, or his footy IQ as what we call it over here," says Selwood.
Just as things were starting to finally come together, Victoria went into lockdown and the remainder of the season was cancelled. With the three-year contract running down, the decision makers in Geelong's list management faced a contractual dilemma with such a limited body of work.
The Cats opted against a new deal, with player informed of the decision after a long-awaited trip home to see his family.
"It was a really tough call," says O'Bree. "He improved out of sight, but we just didn't get enough games into him."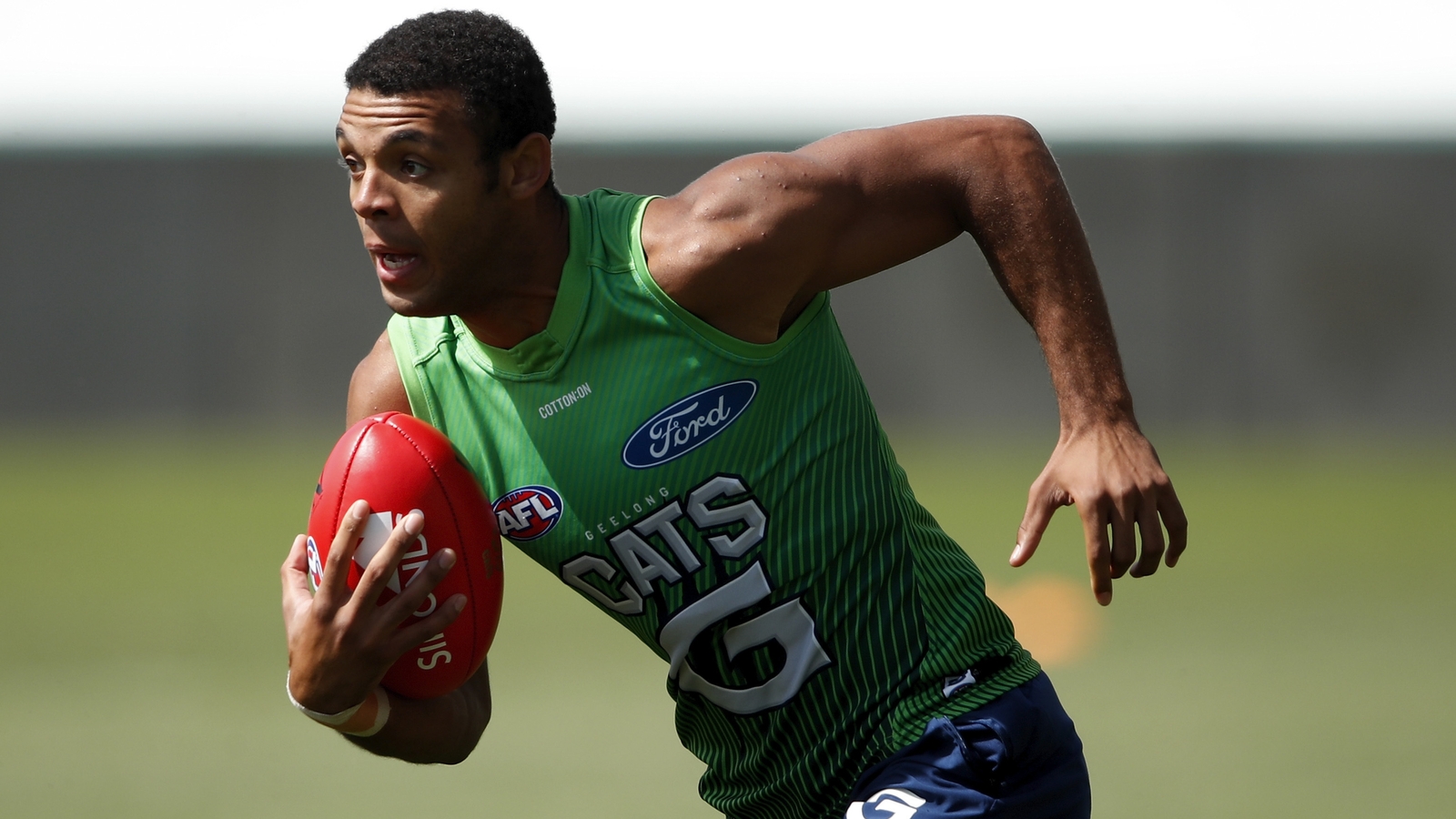 Selwood, who had left the club himself earlier in the season, thinks a short contract could have suited both parties.
"He handled himself with absolute class at that time, even though he was naturally disappointed. I believe Geelong made a mistake in not recontracting him for one more year. I felt he deserved that, away from injuries and Covid issues."
O'Bree speaks with great pride when discussing Okunbor's time in Australia and, having exchanged messages since his return to Kerry, is pleased the player has found his feet back home with family and friends.
He didn't waste a single minute of his time over here
"I had a great relationship with Stefan," says O'Bree. "He was respectful and quiet, but extremely driven. He came to me a lot asking questions, challenging me as a coach.
"That's what you want from a player. I'd have to think of new ways to coach and educate him.

"He didn't waste a single minute of his time over here."
Quickly he fell back in with the club. With a county title in the bag, Na Gaeil are just two games away from a second All-Ireland in as many years and Okunbor has formed a formidable midfield partnership with Jack Barry that has an inter-county feel to it.
Readjusting to the GAA tackle was clearly a work in progress early on, yet according to Longford's Mickey Quinn, who returned to the inter-county set-up in 2012 after three years with AFL side Essendon, game management rather than brushing up on skills may be the greater challenge.
"It took me a few games to get the game understanding up to speed," he says. "In AFL there is such an emphasis on running and staying on the move. High intensity running is monitored closely. It depends on the position you play, it's more suited to playing midfield than say full-back."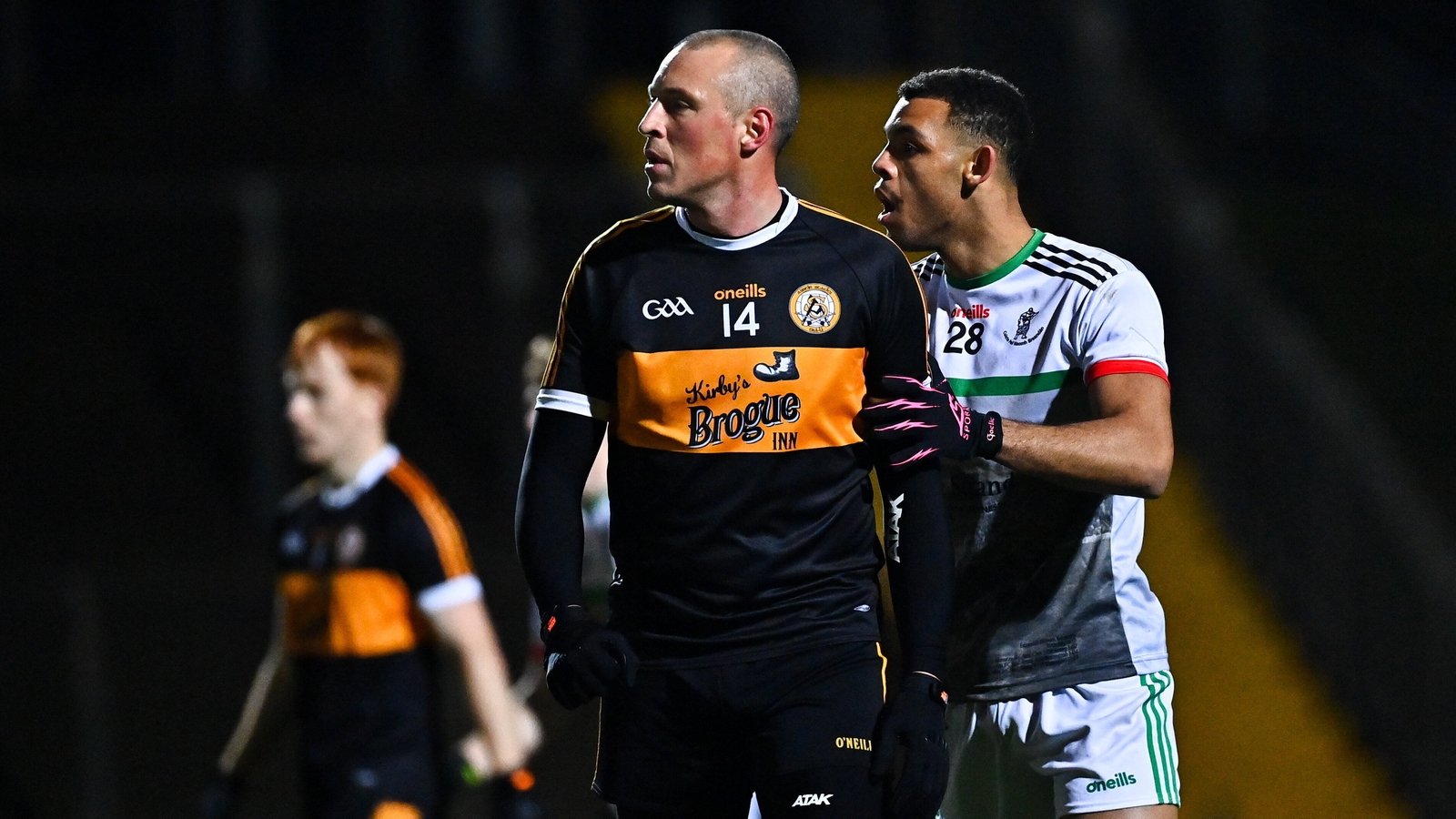 One advantage he can foresee is around handling, already demonstrated by that high fetch against Limerick.
"The guys that come back from Australia, their handling skills are really clean and crisp. It is something that is probably underestimated a lot in Gaelic football. Good handling can get you out of trouble and crisp handpasses can go further if you flight them in quickly.
"The ball is flighted backwards, so you strike the underside of the ball. Ciaran Kilkenny does it a bit. It looks unorthodox, but some guys do it really well."
Okunbor is right back into the thrust of action, with Na Gael taking on Derry's Steelstown Brian Og's in an All-Ireland semi-final next weekend and UL into the last four of the Sigerson Cup, but soon the focus will switch to Kerry. There was little surprise when Jack O'Connor, familiar with Okunbor from his time as U-20 manager, drafted the player into his panel.
The 23-year-old operated as the holding midfielder in the McGrath Cup opener, while in last weekend's Munster club final, with the game delicately poised at the break, he was moved to full-back to successfully snuff out Corofin and Clare dangerman Jamie Malone, the Tralee club eventually running out 15-point winners.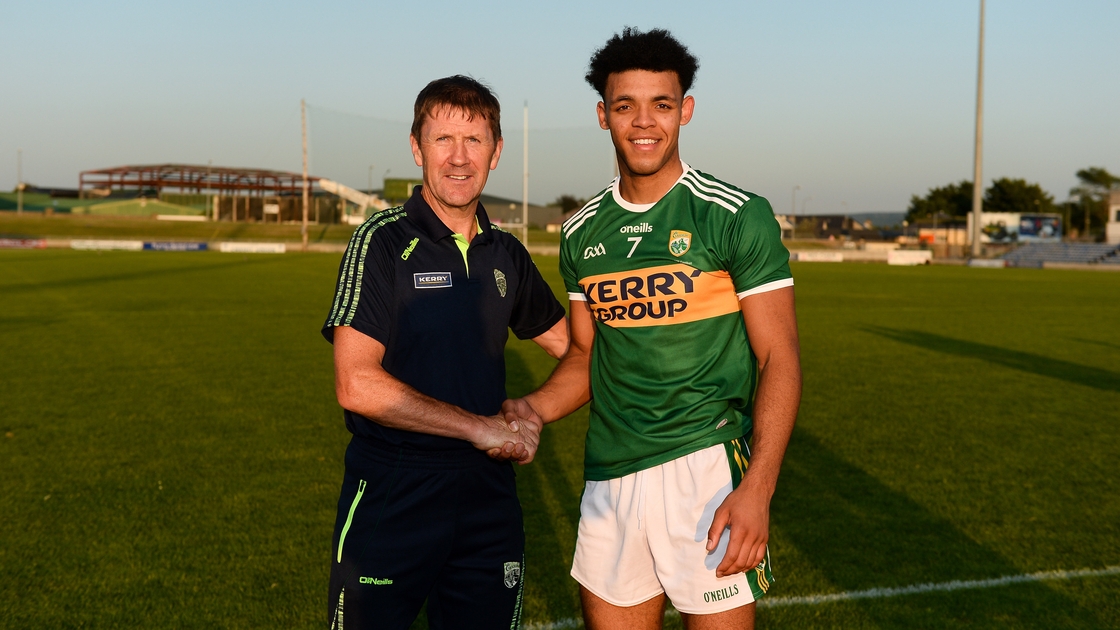 "He's an unknown quantity," says Kerry's 2004 All-Ireland-winning captain Dara Ó Cinnéide. "He wasn't a star minor. He was decent at U-20s and then he was gone.

"He's the type of fella that is coachable I'd say. What he has naturally, his athleticism, you probably can't coach, but what he might be lacking in terms of football, that is very coachable."
It is a sentiment endorsed by Selwood.
"One of the things that attracted me to Stef is the unteachable attributes which he possesses, pure athleticism, pure competitiveness and his aggression at the contest. I feel you are either born with that or you aren't. He has special traits in those three areas.
"He is extremely coachable and very intelligent young man. He loves learning about the game. Kerry have a very unique player that will have a huge thirst to get better, and most importantly, help the team."
It's early days, but the raw materials are there
One area of concern for Kerry in recent years has been their vulnerability to a quick-counter attack where runners have not been sufficiently tracked. It's not a unique problem to Kerry, but the longer they go without Sam Maguire in their possession, the greater scrutiny on such defensive lapses.
Memories of Jack McCaffrey and Eoin Murchan picking off goals in All-Ireland finals after surging runs, and the manner of the goals conceded to Tyrone last year, will have green and gold fans hoping for more defensive solidity in 2022.
A breach around the middle can have serious implications, and Ó Cinnéide is hopeful that Okunbor could prove to be a vital ingredient in returning Kerry to the top table.
"You could go back to 2008 and Darragh Ó Sé was tracking Tyrone's Kevin Hughes in a run in that All-Ireland final, and you're thinking, it shouldn't really be Darragh Ó Sé.
"Jack [O'Connor] would be solid like that. He'll pick players that will cover ground and can track defensive responsibilities. I'd say Stefan would fit the bill there. It's early days, but the raw materials are there."
Now the head of football and sports mentor at Geelong Grammar, Selwood has no doubt that Okunbor will prove himself at the top level, but a little patience may be required.
"I think he is going to be a real asset for Kerry. I was very proud of the way he made his debut last week. I think he has a huge amount of potential as a midfielder and a defender.
"It will come with time. You might not see the best of him in 2022, but I'm really excited to watch him from afar over the coming years to see what he develops into.
"His best years are ahead of him."