If Tyrone are to break new ground and land successive All-Ireland football titles, they will have to do so the hard way.
Saturday's 2022 football draws threw up some interesting ties – Galway and Mayo in Connacht and Munster rivals Cork and Kerry will clash before a provincial final – and it also determined that the All-Ireland champions are in for a testing year.
Their Ulster and All-Ireland defence will begin in a preliminary round game with Fermanagh, with Derry awaiting the victors. Should the Red Hand make it that far, the next hurdle to negotiate will be either Monaghan or Down just to reach the provincial decider.
The bearpit of Ulster is an unforgiving environment at the best of times, never mind the fact the Dublin, Kerry and Mayo will have their sights set on Sam Maguire in 2022.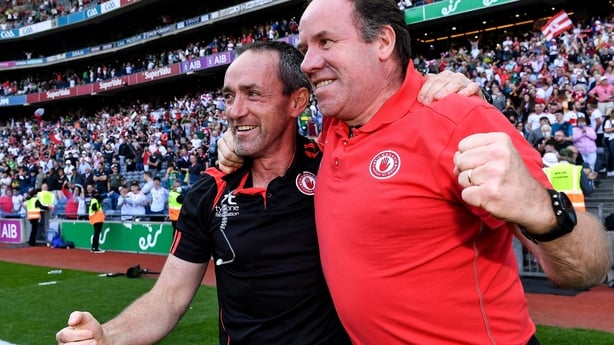 Back-to-back aspirations is likely to get little airplay from the management team of Brian Dooher and Feargal Logan. Dooher's decorated side that claimed a first-ever All-Ireland in 2003 and added two more before the decade was out, never made an All-Ireland decider the following year.
Sandwiched between Kerry's four-in-a-row side and Dublin's all-conquering run that ended this year after six successive All-Ireland wins, only Kerry (84-86), Meath (87 and 88), Cork (89 and 90) and Kerry again (2006 and 07) have managed the feat.
Ulster SFC draw 2022

Preliminary Round:
Fermanagh v Tyrone

Quarter-Finals:
Derry v Tyrone/Fermanagh
Donegal v Armagh
Antrim v Cavan
Monaghan v Down#rtegaa #2022footballchampionship

— RTÉ GAA (@RTEgaa) November 27, 2021
Speaking after the 2020 football championship draw on RTÉ Radio 1, joint-manager Logan was asked his thoughts on keeping Sam Maguire in Tyrone.
"It's a very attractive notion. Brian, myself and everyone involved with us, we just set out to bring Tyrone back to the top table. If you're at the top table, you want to be dining at it repeatedly.
"It's a big, big challenge for us in Tyrone to try and do that."
"It's an extra hurdle...the less hurdles you jump the better" – Tyrone joint-manager Feargal Logan reflects on being drawn into an Ulster preliminary round clash with Fermanagh #rtegaa #2022footballchampionship pic.twitter.com/LqGyyZByMI

— RTÉ GAA (@RTEgaa) November 27, 2021
Even aside from the mammoth challenge of landing an Ulster title from the preliminary round, Logan admitted that the wider picture means it will be a tall order to reign supreme again next year.
"There hasn't been much chat about the rehabilitation of the Dubs, and rehabilitation is probably too strong a word. They are going to be coming out hot and heavy. Kerry will be coming out hot and heavy next year.
"You could find yourself out in the middle of May next year and back to the 90s where you have a long, long summer of club football.
"Let's take it one step at a time in Tyrone."