Tourlestrane 2-12, Coolera-Strandhill 0-7
A superb second-half from Tourlestrane secured a sixth successive Sligo senior football title when they overpowered Coolera-Strandhill by 11 points at Markievicz Park, 2-12 to 0-7.
Despite trailing by a point at the break, 0-4 to 0-3, Tourlestrane were an unstoppable force in the second period, with wing-forward James Leonard scoring the goal to confirm another glorious campaign for the green and gold.
The 2019 runners-up were boosted by the return of talisman Niall Murphy, the attacker came into this game with a brilliant haul of 4-31, and their team featured former Dublin hurler Ross O'Carroll, who started at full-back, and Donagh Flynn, nephew of ex-Dublin ace Paul Flynn, was at centre-forward.
The first-half was an extreme slow burner, with Coolera-Strandhill edging matters by the bare minimum.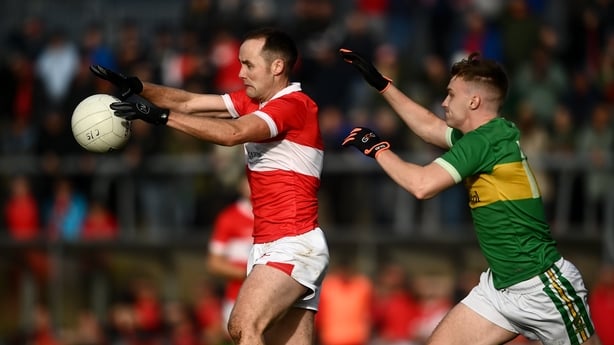 Both sides had defensive layers and used patient, short passing. The game's opening score – a point from a mark by Sean Taylor – put Coolera-Strandhill in front in the eighth minute and Brian Egan's pointed free brought the holders level five minutes later.
Two inter-county forwards, Tourlestrane's Liam Gaughan and Niall Murphy of Coolera-Strandhill, were next on target, both adept finishes, before midfielder Conan Marren put the victors ahead for the second time with a fine score.
The second-half belonged to the winners, who outscored an overwhelmed Coolera-Strandhill by 11 points, 2-9 to 0-4.
Tourlestrane's powerful display in the first 14 minutes of the second-half – when they scored an unanswered 1-4 – turned the game.
There were a number of big points, including those from Kenny Gavigan, John Kelly and Cian Surlis, while James Leonard netted in the 54th minute following team captain Gary Gaughan's industry.
Following Leonard's goal proceedings became one-sided as Tourlestrane were 1-8 to 0-5 at the water break and the second goal came in stoppage time when John Kelly converted a pass by James Leonard.
Coolera-Strandhill's afternoon went from bad to worse with the dismissal of Kevin Banks, one of their three second-half scorers, who received a second booking with six minutes of normal time left.
Tourlestrane: Adam Broe, John Francis Carr, Barry Walsh, Noel Gaughan, Oisin Kennedy, Adrian McIntyre, Cian Surlis (0-2), Conan Marren (0-1), Cathal Henry, Kenny Gavigan (0-1), John Kelly (1-1), James Leonard (1-0), Liam Gaughan (0-4, 2f), Gary Gaughan (captain), Brian Egan (0-2,2f)
Subs used: Kevin O'Hara for Oisin Kennedy, 47; Pat Harte for Cathal Henry, 52; Stephen Henry for Gary Gaughan, 55; Rian Bailey (0-1) for Brian Egan, 57; Niall Durkin for Kenny Gavigan, 60+4
Coolera-Strandhill: Keelan Harte, Jonathan Cassidy, Ross O'Carroll, Tristan Gilligan, Sean Murphy (joint-captain), Sean Taylor (0-1), Aaron O'Boyle (0-1), Kevin Banks (0-1), Peter Laffey, Leo Doherty, Donagh Flynn, Keelan Cawley, Niall Murphy (0-3, 1f), Barry O'Mahony (joint-captain) (0-1), Colm Parke
Subs used: Oran McDonagh for Donagh Flynn, h-t; Adam Higgins for Colm Parke, 37; Fiachra Staunton for Ross O'Carroll, 46; Conor Burke for Leo Doherty, 51; Gary Cawley for Tristan Gilligan, 58
Referee: Ronan Hynes