One thing that unites a significant portion of the current crop of Mayo and Tyrone players is that they have had the experience of an All-Ireland final day behind them.
For Mayo, it's only 10 months since the defeat to Dublin, notwithstanding those still there who experienced 2013, both games in 2016, and 2017.
For Tyrone, 2018 when they fell short against a Dublin on a roll of titles is not that long in the rear view mirror.
Not that experience necessarily makes things easier. Brian McGuigan had the opportunity to play in three deciders for Tyrone and never once ended up on the losing side.
But from 2003, insights he has since gleaned from the opposition that day, suggest that it was Armagh who were possibly the most tense despite having got over the line themselves the year before.
"It's funny, I was doing something with Oisin McConville the other day and we were just thinking back to the 2003 final," McGuigan tells RTÉ Sport at the launch of the KFC Zinger Popcorn Chicken.
"The build-up to that first final, the fact it was an all-Ulster final, it was massive. It wasn't even back page stuff, it was front page stuff at that time.
"Armagh were going into that final after winning the previous year, winning their first All-Ireland, whereas we were going into that All-Ireland final and had never won it.
"You would think going into that final that the pressure was all on Tyrone and Armagh would come in all relaxed that day.
"But I was just asking Oisin, and the perception that we had of them at that time looking from the outside in was that they were very uptight and we were going in very relaxed.
"The attitude that Mickey (Harte) would have took was that we embraced the media, that we embraced the whole situation, that we enjoy it.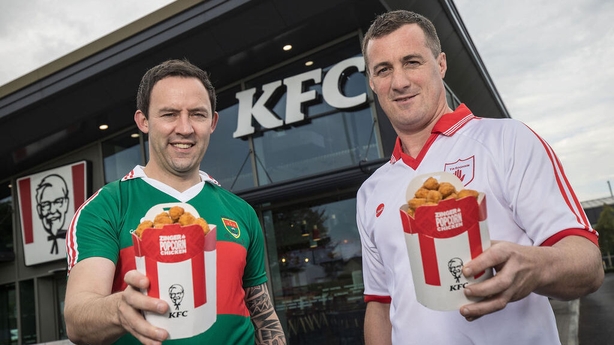 "And it's funny, I was just texting the Ardboe lad that's starting (on Saturday), my club-mate Michael O'Neill after the semi-final and he says, 'You really have to embrace the situation. These are the best two weeks of your life'.
"They go so fast, so really, really enjoy them and if you lose the final it's the worst feeling in the world possibly, but you just have to really enjoy it, and don't get me wrong, it's good to go into the final with a bit of nerves.
"If you haven't nerves then that's when you start to get worried, but you really have to enjoy the situation."
Cathal McShane lasted 55 minutes of the 2018 final, contributing 0-02, but will be expected to play a pivotal role as an impact sub against Mayo on Saturday, as he did to good effect in the semi-final victory over Kerry.
"I think Tyrone will go with the same 15 starting because today's game is a completely different game than when I was playing, where the impact sub wasn't as out there as it is now," says McGuigan of a player working his way back to his best after an injury-ravaged period.
"I think players – I wouldn't say players are happier – but they are more settled whenever they're in the subs. We were so disappointed. Like I think of me in 2008. I was starting the whole way through that championship and then Mickey Harte came to be on the Thursday to tell me that I wouldn't be starting.
"I was so disappointed, but now the likes of Cathal McShane would know that if he's not named in the starting 15 for this Saturday that he is certainly going to play a part."
And McGuigan adds that the 25-year-old, along with fellow forward Darragh Canavan, would be most effective against tiring Mayo defensive bodies.
'You only need to see the impact Darragh and Cathal had against Kerry when the game did open up and it could happen again Saturday'
"In the early parts of the year, he's stuttered along due to Covid (impact on the calendar) and the injury problems that he would have had but I think as the year has progressed, he's a massive player for Tyrone and the impact sub role definitely helps him," McGuigan continues.
"I think if he starts the game, I don't think he has enough game-time behind him yet that he would last the full game if he did start.
"Certainly him and Darragh Canavan, when they come on, it suits them now because the game opens up that much.
"Mayo's main defenders would be the likes of Oisin Mullin and (Lee) Keegan, if they go through a good 40-50 minutes following Conor McKenna and Darren McCurry, next thing they see them coming off and Darragh Canavan and Cathal McShane fresh coming on, it's bound to be a nightmare. You only need to see the impact Darragh and Cathal had against Kerry when the game did open up and it could happen again Saturday."
But Mayo's press – depending on how it is utilised – will also test Tyrone, with former Donegal manager Jim McGuinness positing in his Irish Times column this week that it will put the spotlight on Niall Morgan's decision-making in the white heat of battle.
McGuigan though believes that the Tyrone goalkeeper will be able to thrive under the pressure when it comes to the consistency of his kick-outs, aided by the underrated fielding ability of the Red Hand midfield.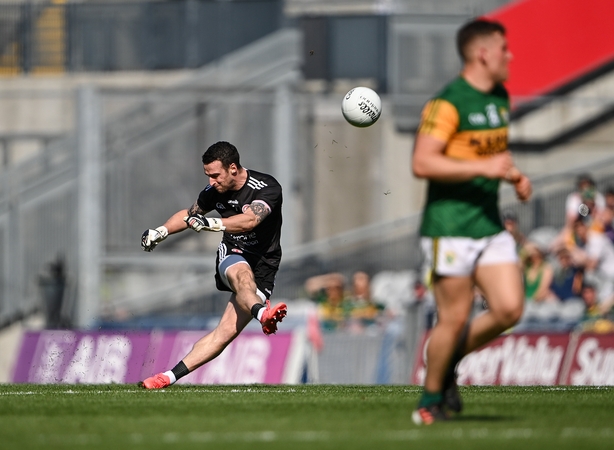 "I think Niall handles the pressure really well. He's brilliant at finding wee pockets of space, the same way as Stephen Cluxton would have done," he says.
"But I think he's finding it a wee bit more difficult in finding those now because you have goalkeepers pushing out and you have full-back lines pushing up into the half-back line to really suffocate that space in the middle of the field.
"But I think it was a deliberate plan in the semi-final for Tyrone to go long with their kick-outs because after every wide and every score that Kerry had, you could see that Niall Morgan wasn't sprinting behind the goals to get the ball. He was just walking behind the goals to get the ball and he was walking out to set his kick up, whereas if the plan was to go short, you can be sure that he'd be running to get the ball and try to find quick kick-outs.
"I think the difference this week is that I don't feel Rob Hennelly will push out and try to close off the space in front of him out in the 30 yard line, so we might have space for Niall to find his kicks.
'One thing that has impressed me about the Tyrone defence is how strong they are in the tackle'
"But the one thing Mayo would have done against that good Dublin team was to go with the high press and that could be a big factor this weekend."
Those energy levels for the starters on both sides of the ball will be sorely tested given the potent running game both sides possess on the attack, but McGuigan believes the ferocity with which Tyrone tackle can mitigate the Mayo threat on that front.
"Both teams are strong running from the defence," he acknowledges, "But the one thing that has impressed me about the Tyrone defence is how strong they are in the tackle.
"It's a bit like whenever we would have played, they seem to have really focused on hunting in packs.
"You saw that in the semi-final and it might have been a bit of Kerry's naivety going forward, where the likes of Stephen O'Brien and even Seanie O'Shea were running into tackles and getting swamped by three or four Tyrone men. And that's nearly as good as a score."
And he adds that while there is a belief that both sides could take the shackles off, he predicts that "we could see the opposite," on Saturday with a more cagey approach.
"We might see this weekend that both teams play very patient and we have a slow build-up and we could have a low-scoring final and it could come down to the last couple of minutes and who has the nerve to get that extra score."
Follow Saturday's All-Ireland senior football final with our live blog on RTÉ.ie/sport and the RTÉ News app.
Watch Mayo v Tyrone live on RTÉ2 or RTÉ Player from 3.30pm.
Watch highlights of all the weekend's hurling and camogie action on The Saturday Game at 10pm on RTÉ2.
Listen to live and exclusive national radio commentary on RTÉ Radio 1's Saturday Sport.