What's rare is wonderful. A first ever All-Ireland senior football final involving Mayo and Tyrone has the added ingredient of being so hard to predict.
It's not the pairing we expected, but both counties are there on merit, both looking to move to win number four on the Sam Maguire roll of honour.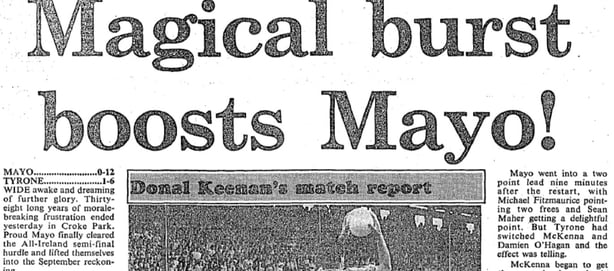 The first championship meeting between the counties was the 1989 All-Ireland semi-final. It was not a game of beauty at GAA HQ, despite the effort and workrate. It was Mayo, however, who kicked for home with telling effect, scoring the last six points of the game to win by 0-12 to 1-06. For the first time in 38 years, the Green and Red were back in a final.
Sheep and goats would be painted in the county colours as the humans got giddy again. Another Mayo man might get the chance to follow in the footsteps of Seán Flanagan and lift the famous trophy. It wasn't to be, however, as Cork edged home by three points in the decider.
Mayo were far from disgraced but little did their faithful band of followers know that that September day would be the start of a modern-day heartache.
On the line calling the shots in '89 was John O'Mahony. In his playing days the Ballaghdereeen man tasted All-Ireland success at minor and U-21 level. Along the way he was on teams that had beaten Tyrone, he then managed a team to beat the Red Hand.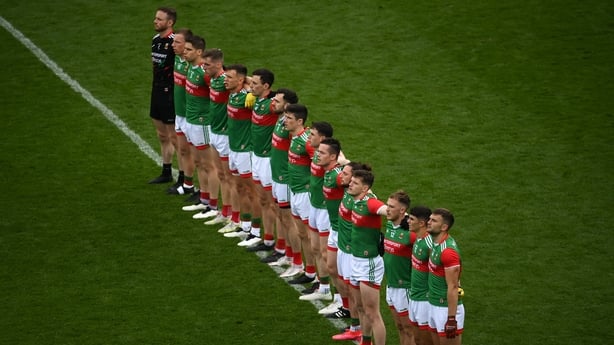 "It would be a nice book-ender if we could finish the job on Saturday," said O'Mahony, when casting an eye towards this year's footballing finale. For a man so steeped in the game, he knows only too well that past encounters don't count for a lot.
"Mayo's record against Tyrone is good in the championship, not so good in the league but that will have little relevance at the weekend," he told RTÉ Sport.
O'Mahony's heart, not surprisingly is telling him one thing with regard to the outcome of this final. "Mayo have a great chance of closing this chapter," he feels.
"Having been in the winning enclosure twice with Galway, that chasm that's between the narrow knife-edge of winning and losing is so small. If Mayo had won in '89 or in '96 I wouldn't say we'd be going for only our second one since on Saturday.
"Mayo have huge momentum after taking out a Dublin team that weren't the Dublin team of old, but at the same time the surge of confidence that that will give can't be underestimated. And while an All-Ireland final is different than any other game, it does offer all involved a chance to deliver that perfect performance."
"This final is very much a tale of the unexpected and who will cope best when the unexpected is thrown at them"
And then the head speaks: "Because it's Tyrone there is a sense that we're entitled to this one but I have no doubt that James Horan will have insulated his players from that talk. We have learned harsh lessons over the years. You're entitled to nothing when you get to an All-Ireland.
"You have to get yourself over the line, no matter how you do it. But this final is so hard to predict. The early part of the game will dictate a lot. An early black card, or even a red card for either team, and all bets are off.
"The best-placed pundits in the world can't call this one with any authority, and that's great, but I expect the first 20 minutes to be ferocious. It will be down to who gets the early momentum, gets a little bit of a cushion and from that can dictate the way the rest of the game is played.
"This final is also very much a tale of the unexpected and of who will cope best when the unexpected is thrown at them."
O'Mahony's head over heart battle is no doubt consuming all of Mayo in the build-up. There is much for the former manager to scrutinise, much of it pleasing when it comes to the further blossoming of some within James Horan's squad and the manner in which Dublin were dethroned.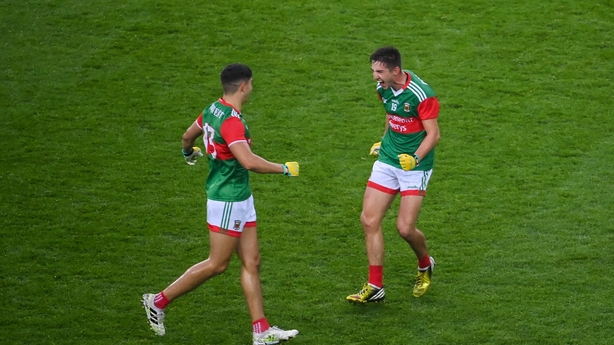 He continued: "It's an unbelievable transition from one Mayo team to another. The process started last year and we went into an All-Ireland with young players like Tommy Conroy, Ryan O'Donoghue, Eoghan McLaughlin and Oisin Mullín.
"Some of them took to it like a duck to water, others got caught in the headlights a bit but are benefiting this year. We saw Tommy Conroy give a near man-of-the-match performance with his display in the second half and extra-time against Dublin.
"And then you have the emergence of Enda Hession. There was a large snap of him on camera against Dublin, it wasn't one of fright but one of wanting to get into the fray. He looked like a player that had jets in him.
"Mayo have grown up very quickly to be honest.
"There was no way Mayo were going to lose against the Dubs. They were taking more risks in that extra-time period. When the momentum is with you and the confidence is up you are willing to take those risks; the harder you work the luckier you get. You make your own luck, you make it happen.
"Dublin were six points up at half-time and were hoping to see it out, maybe if they were at the peak of their powers they might have. Mayo's tactic was to contain them in the first half and not let them score a goal, then throw caution to the wind. It worked."
In all Mayo have had four weeks to prepare for the final, as compared to Tyrone's two. The extra period, O'Mahony believes, should be an advantage for the Connacht champions.
"They'll be happy with that break. You had the injury to McLaughlin and the emotion of winning. The first week was really about coming down from that. The next two would have focused on training and the last week will look at getting their tactical plans right. That focus may have initially focused on Kerry but now they've had time to get the Tyrone angles done.
"Tyrone's turnaround means that they could do very little, except by way of recovery which they needed. They also invested a lot of their football lives against Kerry, there's a lot of history there. A slight advantage then for Mayo."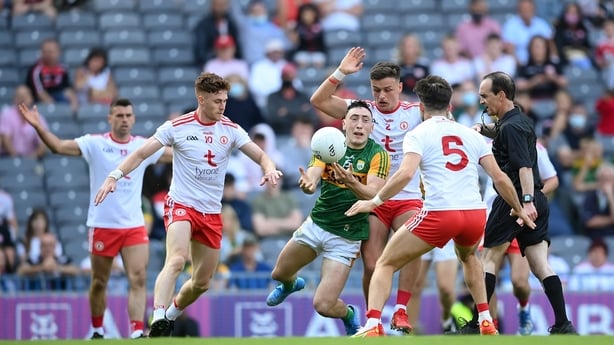 Comparing the two semi-finals, O'Mahony gives greater praise to the Tyrone effort in dismissing warm favourites Kerry.
"Mayo's performance against Dublin wasn't the perfect performance because of the first half. Tyrone's performance against Kerry, you would have to say, was the perfect performance. They threw caution to the wind and got away with things.
"Can they repeat that so quickly is the question? You could say that Tyrone fell over the line but it's also true in concluding that, aside from the first few minutes when David Clifford got his mark, they were more in control of the game than Kerry.
Tyrone's organisation, skill and their ravenous intent was too much for Kerry, says Kevin McStay #rtegaa #thesundaygame pic.twitter.com/XzfQiIECyl

— The Sunday Game (@TheSundayGame) August 29, 2021
"There was no question that Tyrone were in any way overawed. Under Logan and Dooher the handbrake has been let off, they are more risk-takers now. You only have to look at the way their scores came from their full-back line early on, how effectively Conor Meyler curbed Conor Clifford and how successful as a whole they were in turning over Kerry.
"They played as a team, whereas Kerry played as individuals and didn't merit getting there. Tyrone won the mind games before the match and then won all the match-ups on the field.
"If they get a cushion on the scoreboard in the opening half of the final, then they would be more than capable of dictating the course of the game thereafter. It would be hard to pull it back. Mayo will not want the sluggish starts they had against Galway and Dublin."
The match-ups on Saturday will be key, with O'Mahony keen to focus in on the roles assigned to Matthew Ruane, Aidan O'Shea and Lee Keegan.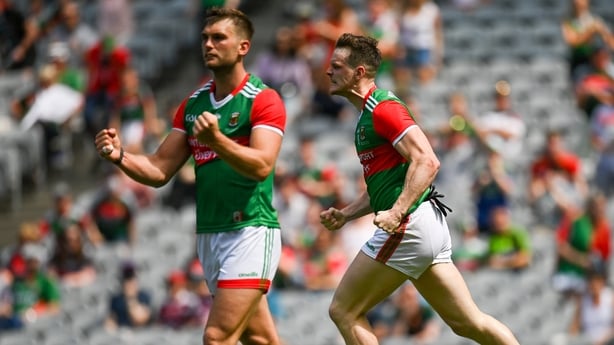 "Matthew Ruane has been the 'Brian Fenton' of Mayo because he has grown up so quickly in the middle of the field. Aidan O'Shea's role should be at 11 or alongside Ruane. They have had a good working partnership in the past, where the physical presence of O'Shea, because he is an excellent tackler, will help Mayo in pushing up on the Tyrone restarts.
"It's frightening to think that Tyrone did not get any change from Niall Morgan's long kick-outs. Mayo need to deploy O'Shea in that role and that will allow Ruane to make the incisions he did so well against Galway and Dublin. Tyrone will target Ruane so O'Shea needs to provide assistance, to take attention from Ruane and allow him play his normal game.
"Lee Keegan needs to be given a man-marking job, but not one from a full-back position. He came into his own against Dublin when more advanced, it was his best game in three years. He had gone off the boil. He requires a role where he can take thrive in taking risks going forward, while also doing a man-marking job which he is so good at."
Quite simply there is so much to digest ahead of this novel pairing, with the former manager, TD and senator, adding that the final will be "the most important game that referee Joe McQuillan will preside over". He is expecting a physical encounter, but hopefully within the rules.
O'Mahony will be present at Croke Park to watch the Green and Red try again on the biggest day. If victory is to finally come Mayo's way, he will no doubt remember former county stars Ted Webb and John Morley who departed life in tragic circumstances. There's often a tinge of sadness to go with the euphoria.
All we can do now is wait to see what unfolds. More than once O'Mahony's was at pains to say that an end to the 70-year wait will be "hard earned". A win in such circumstances would make it all the more sweeter but he respects the opposition.
Follow Saturday's All-Ireland senior football final with our live blog on RTÉ.ie/sport and the RTÉ News app.
Watch Mayo v Tyrone live on RTÉ2 or RTÉ Player from 3.30pm.
Watch highlights of all the weekend's hurling and camogie action on The Saturday Game at 10pm on RTÉ2.
Listen to live and exclusive national radio commentary on RTÉ Radio 1's Saturday Sport.