For those of a certain vintage, there was a feel of the nineties about the Championship fare over the weekend.
Well matched opponents locking horns in knock out football and debilitating heat at neutral provincial grounds was very 1993 - assuming you buy that Croke Park is nobody's home.
It hasn't been commonplace for the Ulster and Leinster championships to serve up four competitive and entertaining semi-finals in recent years but that's exactly what we got. The northern province may have provided this year's most enthralling games to date but for anyone looking for All Ireland indicators, the omens were all in Croke park this weekend.
The All-Ireland Champions did little against Meath to dampen the rising tide of belief that their star is fading. On the contrary, their second half display exposed a number of weaknesses that had previously been difficult to find.
Solid Foundaitons
At face value, Dublin fielded a starting team on Sunday that implied reliability. A back six with only Sean McMahon still establishing himself alongside five household names gave a solid foundation. With Dean Rock inevitably returning to Dessie Farrell's forward line, the threat suddenly looked much broader again.
In the opening half, the champions were moving the ball with the kind of purpose we've come to expect. In particular, Con O'Callaghan, Ciaran Kilkenny and Brian Fenton were hungry for possession and constantly probing in attack. Meath struggled to get a decent foothold around midfield and so their sporadic attacks carried very little punch.
With Jonny Cooper primarily manning the cover role and Michael Fitzsimons, Brian Howard and James McCarthy rotating in as required it was just like old times. The Dublin defence looked as solid as it ever has, broke up Meath attacks constantly and provided the base camp for regular counter attacks.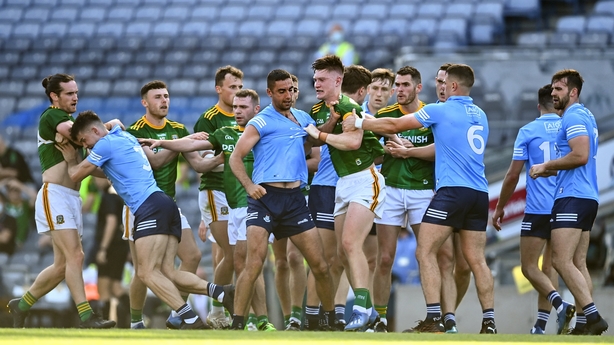 Weakening Aura
Whether the conditions played a part or whether the relative comfort of the game disarmed their normally aggressive mindset, Dublin were a different team without the ball after the break. The intensity and intent to make tackles and put Meath under pressure completely disappeared.
The Royals were able to constantly retain the ball while traversing the pitch, waiting for opportunities to appear. For all of the pace, power and skill of this great Dublin team in possession, they have always underpinned that quality with a hunger for work and contact that no one has been able to match over their tenure as champions.
It is an affront to their own standards that Meath were allowed so much unmolested time on the ball in the second half and an alarm bell for Dessie Farrell and his coaching team. In particular, centre back Brian Howard set a tone of shadowing as opposed to making contact and very quickly they were all five yards off their men and standing guard.
Meath are a game opponent who grasped the opportunity Dublin's lacklustre attitude presented but their performance without the ball raises a serious red flag for the battles that lie ahead. Dublin are certainly not at the level they have been over recent years but, as they showed through the league, if they're scrapping and pressurising constantly then they will be at the closing of any battle.
Prime Dublin will always be found ripping and tearing at the heart of opponents as they try to play. Dessie Farrell's main concern should be about his team's capacity to produce the level of intensity and controlled aggression that will be required to give them a platform to play off against the best teams in the country.
Irrespective of whether Dessie Farrell can remedy their issues ahead of or beyond the Leinster Final, the cloak of invincibility has been removed in the heads of opponents. From this point, every opponent will take to the field believing they can dethrone the champions, starting with Kildare. That in itself is a new challenge for many of these Dublin players.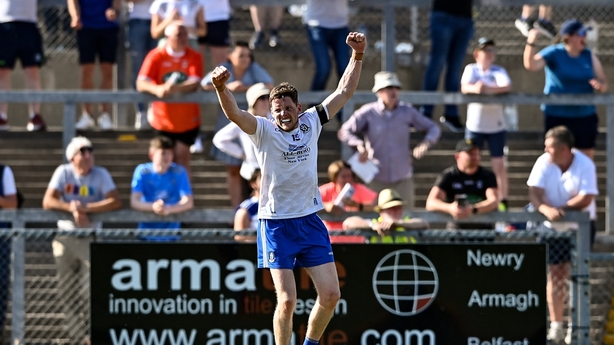 Mercurial McManus
The opening Ulster Championship semi-final of the weekend, played against the backdrop of the tragic loss of Brendán Óg Duffy, was a phenomenal spectacle. The contest showcased all that is good about the modern game but, as is often the case when attacking play is to the fore, there were some fundamentals glaringly missing from both sides. It was also one more opportunity to savour the incredible physical and mental skillset Conor McManus possesses.
First and foremost, the quality of short and long distribution was ridiculously high at times. Both teams kicked superbly to their inside forwards when the opportunity arose and there is no better way to create scoring opportunities for finishers. The conditioning of both sides was also incredible for amateur athletes given the searing heat.
In the championship moments, the match was decided by game craft. From the moment Monaghan went two points down with seven minutes to go in normal time, until they regained the lead decisively, Conor McManus imposed himself on proceedings. Carrying an injury into the game and largely caged inside throughout the second half, the Clontibret man came looking as soon as Armagh hit the front.
Roaming around the fringes of his shooting range, McManus allowed team-mates to knit passes together and waited for his opportunities to pounce. Over the next eleven minutes, three key possessions would come his way in the shooting zone and each time he would invite contact and make sure he was fouled.
Three superbly engineered and executed free kicks in a row from their talisman moved Monaghan from two points down to one up as time disappeared.
In the opposite corner, Armagh contributed handsomely to the sporting spectacle with their total commitment to attacking at every opportunity. However, during the frenzied finale when their experienced opponents' muscle memory was kicking in, tiny moments of rushed decisions and poorly executed passes tipped the scales against them.
Of course the mountain that Armagh gave themselves to climb was courtesy of four first-half goals that were very much avoidable. Three of the four were a direct result of an unprotected full-back line and no pressure on the supply. Monaghan were allowed to measure their passes and choose their support lines at will – a courtesy they won't receive again this summer, however long they stay in the championship.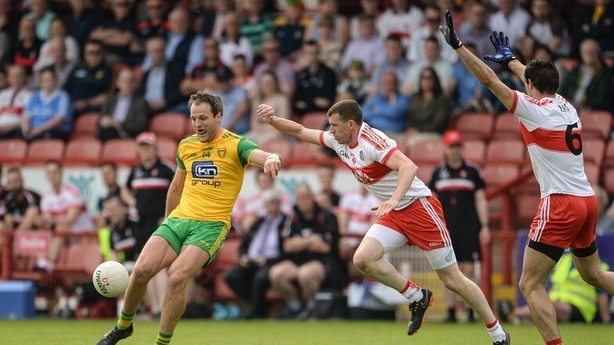 Targeting Tyrone
After so much speculation about Michael Murphy's state of readiness in advance of the second Ulster semi-final, it was ironic that his absence would have such an impact on the outcome of the game in another way. Donegal produced a heroic effort in the second half with 14men and without their talisman to hang in and give themselves the opportunity to pounce should the moment arise. Tyrone didn't allow it.
Fergal Logan and Brian Dooher would probably readily admit that Tyrone are not the finished article but they continue to improve as the weeks tick by and will relish their first Ulster final since 2017.
Starting without any of Cathal McShane, Conor McKenna or Paul Donaghy as a target, the kicking game that had featured in the National League largely disappeared. Playing what could be described as a Mickey Harte template, Tyrone's runners from the middle third cut Donegal open consistently.
Frank Burns, Peter Harte, Kieran McGeary, Niall Sludden, Tiernan McCann and Conor McKenna contributed 13 points breaking at pace and finding gaps in the Donegal cover. With the target man options to come back in as required, Tyrone can now vary their attack – something that may be very important in the Ulster Final and beyond.
Thou Shalt Not Pass
What set Tyrone apart from the other teams still chasing championship progress over the weekend was their commitment to defending collectively. Like their attack, their defensive structure is far from perfect but the tenacity of each player to make tackles and support each other was striking.
This season has seen a significant shift towards an emphasis on creativity and score execution at the very highest level of our game but winning the big games requires a balance. Championship winning teams take as much pride in standing their ground and the belligerence required to protect your own castle as assaulting their opponent's.
As we move towards the business end of the season, and with so much attacking talent in every line up, it shouldn't be a surprise if the team that defends best is the last one standing.