The first weekend of provincial championships every year has a magical feel about it as it reverberates around the country. For those involved in the opening exchanges, it will have been a nervous week.
No-one wants to disappear for the year on day one, but that will be the reality for seven teams this weekend. The majority will be looking on engrossed, while players and coaches will feel the mixture of chill and anticipation that watching others turn the lights on usually brings.
As Tipperary and Donegal's 2020 stories demonstrated, knock-out football means that fairytales are always possible, but the reality of this season will be much more business-like.
Of course this year is different. Whereas the cloak of uncertainty lay over player commitment, team schedules and even the progress of competitions from week to week in 2020, there has been clarity from the outset of activity this year.
Players have a pre-season platform and coaching teams have planned fully for the calendar they were presented with. Although there may have been different priorities in the league, the pack leaders would have planned for steady progression across the four guaranteed games, even at the expense of losing games.
With squads approaching match-fitness and with time to glue together team cohesion across the league campaign, championship odds in every game tilt towards the establishment. The chances of underdogs taking out a big gun this year remains, but is significantly diminished because of the greater preparation time.
There will be less threads created by sloppiness to pull at for underdogs this summer – and the ambushes of last year will help focus minds. Physically and mentally, every team in the country will be better prepared for the 2021 championship than last season and that augers poorly for the outsiders.
If increased preparation time creates inevitability in a lot of contests ahead, the disappointment may not stop there. There are really only two provincial championships that realistically have any ambiguity of outcome attached.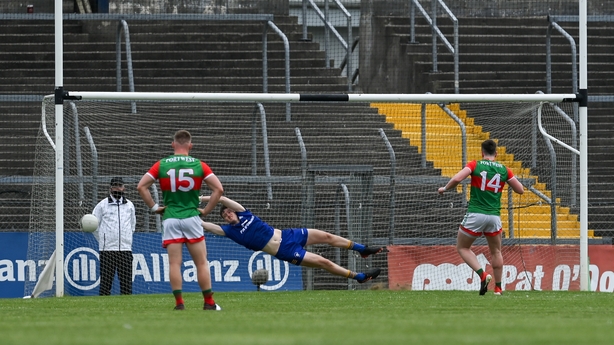 Mayo emerge from the opening month of the season apparently in form and should win out west. They pass both Galway and Roscommon travelling in the opposite direction between league form and status.
However, Division Two has always been difficult to get to the pitch of championship football from and Mayo's preparation games have been a couple of intensity notches below their closest rivals.
Ulster retains the greatest intrigue and remains a graveyard for the over confident.
Donegal, Tyrone, Monaghan and Armagh can all make strong to reasonable cases for their competitiveness with respect to the Anglo-Celt Cup. The other five can all be reasonably expected to go nowhere without a significant scrap and those are the ingredients for a championship that bucks the trend nationally.
Chastened by recent experiences in losing career defining games they should have won, we can expect Donegal to be focused and firing on all cylinders when they begin their campaign to regain the Ulster title this weekend.
Over the last two seasons Kerry have amassed enough emotional fuel to generate a serious assault on Dublin's title this year. Coupling the All-Ireland Final near miss of 2019 with the devastation of Pairc Ui Chaoimh in 2020 conjures images of sand slipping through the fingers of once in a generation players.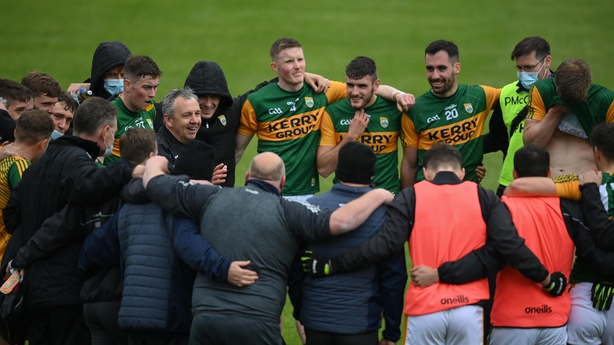 If Peter Keane has used his league time well to strike the tactical balance he has been searching for, then the Kingdom will tear through the Munster Championship.
Of course, whether their rage and game-plan development is enough to surpass the perennial champions, only August will tell us. In the meantime, Clare may be the most significant obstacle for the Kingdom to navigate.
There is no revelation in expecting Dublin to cruise through the Leinster Championship. It is inevitable that they will, but primarily because the others are psychologically beaten down by the prospect of facing them.
In particular, Kildare and Meath have the quality to put Dublin under pressure and even take advantage of an off day. That won't happen this year because neither have shown anything approaching the type of self-belief and resilience that should underpin talent to have a serious go at the Dubs.
The final story of this summer will be an answer to whether the upward curve of Kerry's overall development has yet crossed Dublin's on the graph. Analysing the lack of consistency of personnel and subsequent openness in defence, the champions appear to have a challenge in recreating their normal ruthlessness at the back.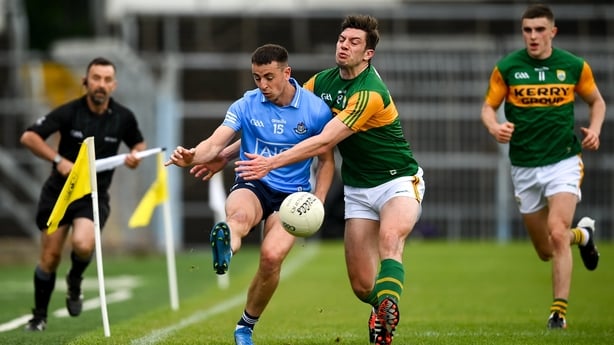 Creating defensive shape and efficiency is a painstakingly slow business, built on relationships and understanding. Relying on the ever dependables to slot in and resume standards would be reckless given the age profile of some so Dessie Farrell will be planning on Sean McMahon or Robbie McDaid growing to the level of the others.
The defensive question marks, Dean Rock and Stephen Cluxton's absences and Farrell's requirement to look at younger options in the limited league campaign mean that Dublin begin without much cohesion. Of course the inevitable Leinster championship cruise will provide ample opportunity to remould ahead of the serious business.
It will be All-Ireland semi-final time before the Dublin manager knows absolutely if wear and tear have taken enough edge off Mick Fitzsimmons, Jonny Cooper and James McCarthy in particular to make a fundamental difference.
In the final showdown of this season, those three could be facing down David Clifford, Seamie O'Shea and the rest of Kerry's attacking arsenal. Any decline will be examined closely.
Historical imbalance and advantage cannot be tolerated going forward
When you step back to analyse the All-Ireland championship and it's value to all stakeholders, what is clear is that provincial championships have outlived their original purpose.
If there is a future for the four parochial stand offs, it is not as the gateway to an All-Ireland series. With the time and resources now invested in our games, historical imbalance and advantage cannot be tolerated going forward.
A poll of everyone closely involved with teams competing at the highest level would inevitably find strong support for a reimagined championship that offers everyone equality of opportunity and provides supporters and media with more consistently meaningful games.
When both of the pandemics we are living through currently – Covid and rules tinkering – finally pass, the GAA should prioritise a competition structure that does justice to the players and supporters.
Gaelic Games are our national sport and should have a platform that showcases the entertainment they provide.
Follow all the championship matches this weekend with our live blogs on RTÉ.ie/sport and the RTÉ News app. Watch Down v Donegal and Clare v Waterford live on RTÉ One (from 12.55pm) and see highlights of all the weekend's action on The Sunday Game at 9.30pm on RTÉ One. Listen to live and exclusive national radio commentaries on RTÉ Radio 1's Saturday and Sunday Sport.