In a league campaign where they topped the Division 1 standings. Kerry manager Peter Keane was pleased that so many of his squad got game time and that defensively a certain solidity was there.
On Saturday next the Kingdom, with a home game against Clare, begin their quest to regain the Munster final crown. Most observers not only have them as hot favourites to do that, but also see Keane's outfit as the side that could topple the Dubs in the All-Ireland series.
The manager, not surprisingly, isn't looking beyond the challenge of Clare at Fitzgerald Stadium.
Clare had a very good league and have good forwards, so it's not going to be easy, said Keane at a Kerry press briefing ahead of the Munster campaign.
"If you look at them, Colm (Collins) has been with them since 2014 and has put a very good style of play together and a very good management structure. You can see the fitness in them if you look at the last two games where they kicked 2-18 against a team (Mayo) that played in the All-Ireland final last year. The match before that they kicked 1-18 against the team that beat us last year.
"We're expecting a huge battle. They're kicking huge scores. They're tough, tenacious and very fit. They will have got a lot of momentum and a lot of experience out of the run they've had, so we're expecting a big challenge next weekend."
As to the make-up of the current Kerry squad, Keane used the league to give youth its chance, with a number of players seeing action across the four games. The manager is happy with how things are transitioning.
"We lost four players, Peter Crowley, Jonathan Lyne, Brian Kelly and Shane Enright at the start of the year. Last year we lost a couple of players as well," he says.
"There's a big transition with younger fellas coming in: Diarmuid O'Connor, 22, Dara Moynihan and Seánie O'Shea are around the same age as well and David Clifford. We've a lot of young players here and we need to build depth. That's the only way you're going to have a platform going forward if you have depth in the county to go about it.
"In your normal circumstances when you have seven rounds of the National League it's a fairly pressured environment. You now have a split season coming and you're going to have to have depth all the time, something I've been trying to do – build a pool of players that we could call on but there's no point just bringing them into the panel. You've got to put them on the field and give them some game time.
"Like I said earlier, that's 28 or 29 players and to get football into them over three or four games I was very pleased to do that."
Over the last year or so, much has been said about Kerry's supposed defensive frailties, but Keane was quick to point to the number of scores conceded during the league.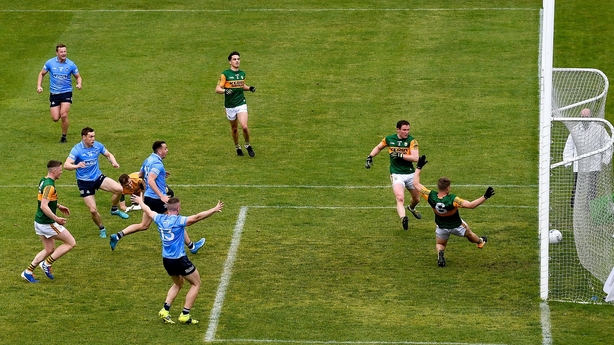 "I would have to say if you look at our defence, we played Galway and conceded 11 scores. We played Dublin and we conceded 13 scores, albeit four of them were goals which is what you don't want to be conceding, but I think the second half against Dublin we conceded 1-03.
"We played Roscommon and we conceded 1-12; 13 scores and from the 48th minute on against them we conceded one score which was a goal. Last weekend was probably the highest at 1-14 (against Tyrone), which is 15 scores so I would think the communication is quite good there.
"They seem to be from what I'm hearing on the field anyway, they are doing a lot of talking and talking to each other. Obviously you'd love to concede nothing at all, but I'm not sure that happens too often."