Paul Mannion says his decision to step away from the Dublin football panel had nothing to do with hunger or motivation, but simply achieving a better work-life balance.
The six-time All-Ireland winner raised eyebrows earlier in the year when he decided to leave Dessie Farrell's set-up, just a month after coming on as a substitute and kicking a point in the 2020 victory over Mayo.
The 28-year-old, who missed the 2015 campaign when he travelled to study in China, says he is very happy with his decision to pursue other interests.
The three-time All-Star has established himself as one of the finest forwards in the country, and while he is looking forward to the season ahead as solely a club player with Kilmacud Crokes, is content to step away from the cut-and-thrust of the inter-county scene.
"It's the day-to-day, week-to-week commitment that you have to give to be your best when you are in that team," he told RTÉ Sport, speaking at an event to mark the PwC All Stars 50th anniversary.
It felt that, in the last year or so, I was kind of struggling to commit myself to the standards that I had in times gone by
"It's not just a training thing. It's travel hours, preparation time, meeting time, making sure you are getting enough sleep, eating the right food, recovering properly, doing your homework if you are reviewing opposition.
"It's a huge commitment when you add all that up.
"It felt that, in the last year or so, I was kind of struggling to commit myself to the standards that I had in times gone by. I found myself also wanting to spend time on different things.
"Last year, having the time off because of Covid, that fed into my thought process as well. Suddenly football stops, you don't have to go training and to matches, you realise how much spare time you actually do have."
Some have asked whether his motivation had waned by time the Dubs completed their latest Sam Maguire success, but Mannion says that was never the case. Indeed the pre-Christmas victory was as sweet anything that preceded it.
"When we won last December, that honestly felt like I had won for the first time. It was that good," he said.
"The motivation to win more and be part of the team was always there. It was more the day-to-day and week-to-week commitment.
"I think people maybe assumed because I stepped away that it wasn't enjoyable, or that I wasn't motivated for it. I was. I think the reaction after the game showed that."
After mulling it over early in January, and bouncing the idea off others, he went with his gut. Telling the team-mates was "emotional", but informing Farrell was "challenging", a man who has invested so much in him over the years with Dublin at different levels.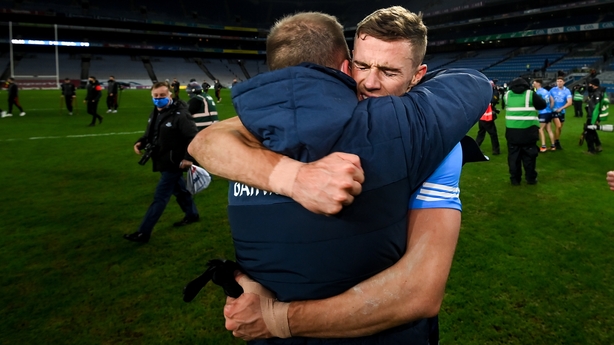 "Dessie brought me into Gaelic football really at minor. I feel like I do owe him so much and I'm so grateful for the opportunity he gave me. That was what really got me into Gaelic football."
While he admits that it was strange when the league kicked off not to be back involved, he's happy to have more choices with less time constraints. Soccer and golf have received more attention than before, and he's "hacking away" at the guitar.
"It's just about not having to check your schedule two, three weeks in advance to see if you can commit to something. To be able to decide on the day if you want to have a drink, or go somewhere. The freedom to do what you want to do.
"I still have commitments with Crokes, but there's that bit of less pressure in terms of time commitment."
Other commitments include a new sales role within Google Cloud, but has he considered a possible Dublin return down the line?
"I haven't thought about that at all. This time last year, I wasn't thinking that I wouldn't be involved this year. I generally take one year at a time.
"Who knows if I'll come back in a few years. It's not something I have really thought about."