Dessie Dolan claims that he would "love to be a player for Armagh" right now, given the current trajectory of the county under their management team.
All-Ireland winner Kieran McGeeney has held the reins in Armagh since 2015 but has recently strengthened his backroom team, adding former team-mate Ciaran McKeever to the set-up along with Kerry legend Kieran Donaghy.
Dolan believes that the trio are perfectly poised to take Armagh to the next level and admitted to being slightly envious of the players that work under them.
Speaking on the RTÉ GAA Podcast, Dolan said: "I saw a picture from the first round of the league and it was the three Kierans having a chat. Ciaran McKeever, Kieran McGeeney and Kieran Donaghy and it was like the three musketeers.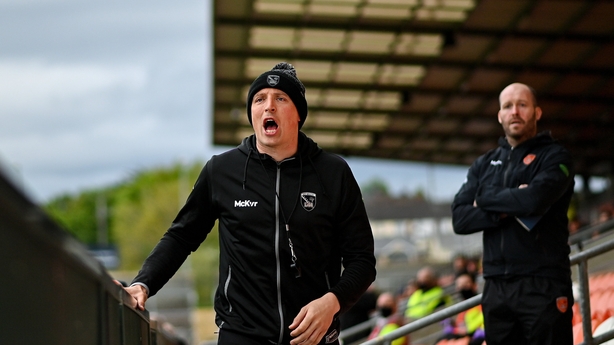 "I would love to be a player in Armagh right now. Kieran McGeeney as a captain was the most inspirational man I've ever come across and he doesn't get a credit he deserves. [He's] a great guy, a great manager and quite funny and witty as well when he wants to be.
"Kieran Donaghy is the largest personality you could come across, he fills the room with energy when he comes into it.
"Ciaran McKeever - I have a scar of about 12 inches on my thigh from Ciaran McKeever. And you know what, I have so much respect for him it's like a badge of approval for me.
"I'm delighted I have it because it's a Ciaran McKeever stamp of approval. He was teak tough, he's the lad I'd go to war with.
"When you put that management team together and Armagh with the potential that they have and the forwards that they have…"
Armagh take on Roscommon at the weekend and Dolan believes that Anthony Cunningham's side will let McGeeney know just where his team currently stand.
Dolan believes that if Armagh can control Enda Smith, they'll be halfway to claiming victory at the Athletic Grounds.
"It's a great test for them Sunday because Roscommon have good forwards, they're hot and cold but when they're good, they're very good.
"The only thing for me is that people have kind of caught onto Enda Smith insofar as 'let's lock down Enda Smith'. Padraig Joyce did it with Kieran Molloy.
"When Enda Smith is quiet, Roscommon don't play with that fluency.
"When they brought him up to midfield he improved last weekend because he was a bit freer but Enda Smith wants it loose and free and other teams, for example Armagh this weekend are not going to give him that freedom."
We need your consent to load this YouTube contentWe use YouTube to manage extra content that can set cookies on your device and collect data about your activity. Please review their details and accept them to load the content.Manage Preferences
Listen to the RTÉ GAA Podcast at Apple Podcasts, Soundcloud, Spotify, or wherever you get your podcasts.