Crowbarred into the narrowing gap before any possible championship this summer, the Allianz Football League has had a nuisance factor for Croke Park decision-makers from a long way out. With so much time lost to the mishandling of elite status and no prospect of paying customers likely, these games were never a priority for anyone beyond the teams and supporters.
The nuisance factor comes from the value that the majority of counties put on league fixtures. They are where teams are built and playing styles developed over a sustained programme of fiercely competitive tussles against the teams in the country who are closest to you in performance levels.
The structures eventually cobbled together – with no logic and diminished benefit to regionalised games – has served very few teams well and copper-fastened the natural order established over recent seasons. There has been little time for real development.
Safety Net
For teams with survival as a priority, the assigned league fixtures were little more than progress reports. With everyone's status guaranteed to hinge on a play-off – irrespective of league results – the priority was clear before a ball was kicked.
In the main, the three league games became about assessing personnel and building momentum ahead of the only league game that matters in two weeks. There was no requirement to take risks with players carrying injuries nor to necessarily be at full throttle whenever survival will be decided by a one-off performance after the regulation fixtures.
While the competitiveness that comes from evenly matched teams playing was still there, the stakes were not at the level we have come to expect. Even in the Division One North group, which ended with two well fought draws, there was no massive sense of urgency from players to get over the line at all costs.
Everyone had a safety net.
Creative Thinking
The most compelling result of a National League with reduced importance has been most teams' attitude to the games. It has been thoroughly entertaining to watch teams go at each other and bring their training ground work to competition.
With decisions to be made around prioritising coaching time, it is obvious that most coaches have focused on developing their attacking play ahead of the championship. Naturally, that has impacted on the quality of defending as all of that plays out on and off the pitch.
It is not that players or units within teams are any less capable defensively than they were a few months ago. Rather, if the coaching input through the week has a weighting towards messaging focused on the construction of attacking patterns then that carries into performances.
If video analysis, team reviews, individual reviews, opposition planning, etc. all largely focus on how the team can better create scoring opportunities and how everyone can contribute to that then players' minds will follow where they are led.
Players will generally go into games with two or three performance focuses and those will often be shaped by the last input they've had from the coaching staff.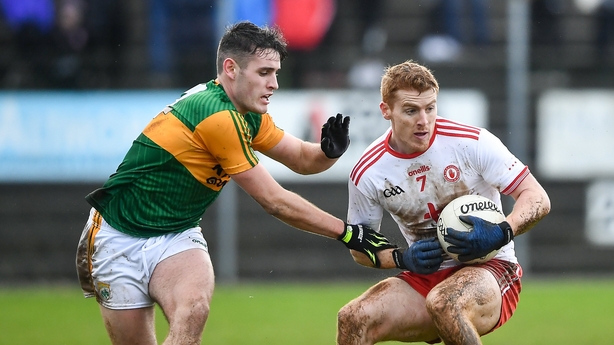 Pragmatism
One of the consistent observations from these three rounds of league games has been that the "blanket defence is dead" or that defending in numbers is a thing of the past because the game has evolved past that. That is wishful thinking – especially when you consider the reality of how our game is played most effectively.
Coaching staff know exactly what their most robust defensive structures and personnel are but that has not been the priority in these games. Relegation play-offs in particular will see a return to broader performance principles across the board: Defend well first and play from there.
Galway and Tyrone's changes over this three-game journey prove the theory perfectly.
The Tribesmen began the league campaign with a naive offensive leaning approach in Tralee. They faced down the most potent attack in the country with no cover at the back and got what they should have expected.
A more pragmatic approach last week secured the points against Roscommon but their best performance of the season came in game-day three against the All-Ireland champions this weekend. Galway operated with one and often two cover players to blunt Dublin's attack, translating to a competitive edge and some excellent counter-attack football.
Tyrone began Division 1 North with ambitious plans for a high press, no cover players and long kicking to Conor McKenna as an inside target man. A more measured performance in game day two then laid the foundations for how they approached Monaghan at the weekend in the first game of consequence under their new management team.
Feargal Logan's men absorbed a considerable amount of pressure from Monaghan in the second half in Omagh without breaking. That rearguard action was in no small part due to the extra layer of safety Frank Burns provided as sweeper and the deeper tackling line their middle third took.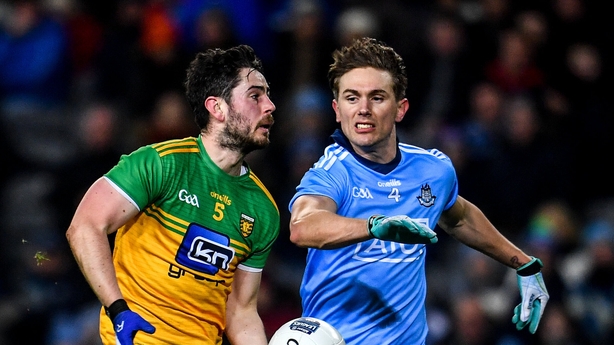 Kerry's Conundrum
There is little doubt that how teams are attacking is now more varied. Many have seen the value of kicking early into space and shown a willingness to do that consistently but the length and angles of support running from deep has also been very impressive.
Kerry in particular have found another level in attack through the speed and accuracy of their ball movement and support play. Of course, while Dublin will settle into their established defensive structure for the championship, Kerry are no further on with how they can be effective defensively without taking away from their offensive prowess.
This is exactly the conundrum they couldn't solve last season and which the stars aligned to allow Cork to exploit.
Defence Wins you Titles
As the first games of real consequence this summer, the promotion and relegation play-offs will bring pragmatism back front and centre. The equation is pretty simple – you can't win football matches without defending competently as a team and most coaches are acutely aware of that truism in the modern game.
Despite the erosion of the perceived value of defenders and defending generally over the last five years, those abilities remain highly-prized amongst coaches and teams.
Using the greatest team of the modern era as a benchmark, while Brogan, Connolly, Rock, O'Callaghan et al carried most of the headlines, the All-Ireland titles would not have gathered in Dublin without the peerless defensive qualities of McCarthy, O'Sullivan, McMahon, Cooper, Fitzsimmons, et al.
Although it is amongst the most clichéd mantras, it remains absolutely true that attack wins you games but defence wins you titles.