Colm Cooper says he's worried about the integrity of this year's Allianz Football League with the potential for no finals to take place in any divisions.
That's already the case in Division 2 and Division 4. This is because Mayo and Clare, who meet in the second tier, and Louth and Carlow all have championship games on the weekend of 26-27 June.
Promotion and relegation across the entire NFL will be decided on the weekend of the 12/13 June, with the pairings in all divisions having been confirmed on Sunday evening.
It was agreed before the competition started that every county would be afforded at least one week off before their championship opener with this season once again being straight knockout.
As such, no decider can take place in those two divisions.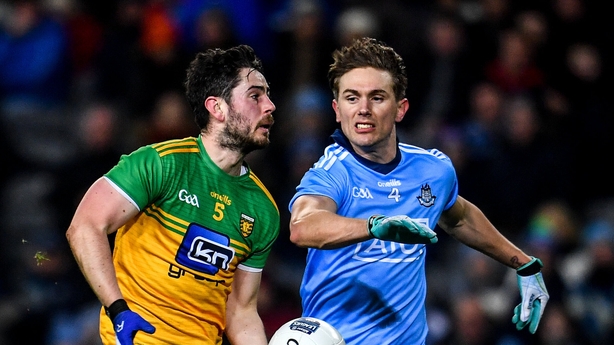 Meanwhile there will only be a final in Division 1 if Dublin meet Tyrone, while Derry and Fermanagh must win their respective semis against Limerick and Offaly for there to be a final in the third tier.
Speaking on RTÉ's Allianz League Sunday Cooper said the situation is far from ideal.
"I don't like it and I think the integrity of the competition is under threat," said the five-time All-Ireland winner.
"If you start a competition you need to be in a position where you're able to finish it. I understand Covid, I understand time restrictions. But I think asking teams to go out three weekends in a row, and teams fighting for their life - promotion or relegation - you have to be a in position where you're finishing competitions.
"They're fighting it out to win competitions. First and foremost the managers and players wanted to get games under their belts before championship. That was the detail of why league games are going ahead.
"Surely if we're going into a competition let's make every effort to make sure that we can complete them, regardless of which teams are in the final.
"For me it doesn't make sense - I wouldn't be too pleased about it. People will say that was decided before the competition was set out but it doesn't wash with me."
Speaking on the same programme 2002 All-Ireland winner Oisin McConville said that the uncertainty over a potential final in Divisions 1 and 3 will make it harder for managers involved to make plans.
"If you're Dublin going into a Division 1 semi final and you're intent on winning that competition, do you have a challenge match organised for the following week or do you wait and see who comes through the other semi?
"Teams are not just planning for this weekend or next weekend - they're planning further down the line and that makes it very difficult.
"But Colm is 100% right. The integrity of the competition is in question."