Having dropped out of the top tier last year, Meath's opening game in Division 2 North is against neighbours Westmeath at Pairc Tailteann.
For the visitors, Ray Connellan is likely to be a central figure. The 26-year-old is embarking on his second inter-county season since returning from Aussie Rules, but the Athlone man could be forgiven for requiring time to focus on matters on the pitch after a busy couple of weeks.
On Wednesday he finished his second-year exams, just days after his Late Late Show appearance to highlight I'm Fine, a four-part documentary on RTÉ Player dealing with mental health.
Connellan charts his journey from an anxiety ridden teenager to someone now very comfortable in his own skin.
In truth, he didn't give it a whole pile of thought. In October of last year to mark World Mental Health Day, Ray Connellan posted a message on Twitter briefly outlining his own struggles during his teenage years.
His anxieties took him to bleak places; at one point he contemplated taking his own life, but six years had passed and he saw the opportunity to offer reassure for anyone sailing in choppy waters.
Connellan sent the message with little concern of exposing himself in the public arena.
Few outside his immediate family and inner circle knew of his troubles, but his rationale was simple: it might help someone in a similar predicament see a light at the end of the tunnel.
The reaction took him by surprise and an interview in the Irish Independent, where he spoke openly about his past experiences, soon followed.
It also sparked an idea for his childhood friend and video editor Michael Fitzpatrick. The fruits of his labour, along with Conor Hayes (cinematographer) and Andy Ascough (director and producer), is I'm Fine.
It follows Connellan, Lorcán McMullan, Conor O'Keeffe and Hugh Mulligan as they speak about their struggles with mental health.
"I didn't understand that the programme would take off in the way it did," Connellan says. "I was naive perhaps, but the lads backed themselves and the idea."
We need your consent to load this YouTube contentWe use YouTube to manage extra content that can set cookies on your device and collect data about your activity. Please review their details and accept them to load the content.Manage Preferences
In the documentary Connellan talks about his experience with depression, panic attacks, and suicidal ideation* in his late teens following a series of bereavements.
Another trigger was discovering that his father Paul had also suffered with his own mental health problems and attempted to take his own life when Ray was young.
Unaware at the time, but devastated upon finding out the truth, Connellan says it took time to come to terms with the news that the strong, male figure in his life had felt so low.
"Growing up, I didn't know what happened to him, I thought it was an accident or something, but mam said she would tell me when I was ready," he says.
No-one in the world loves you as much as your parents do. My mam and dad would have had to plan my funeral, my brothers would have had to carry my body
"It was a shock. When I got to understand his reasons behind it... he felt there was no real way out."

Fear ignited the self-destructive fire in him and alone with his thoughts, the voice in his head became increasingly negative and corrosive. Everything in his life felt out of control and he speaks movingly in the documentary about what could have unfolded for his family if he had chosen a different path.
"No-one in the world loves you as much as your parents do. My mam and dad would have had to plan my funeral, my brothers would have had to carry my body."
There was no watershed moment with his dad, things were discussed over time. Peace has been made with the past through understanding and acceptance.
What shines through in the documentary is the bond between the two men.
"Since I was 15 or 16, I feel like he is just more like one of my mates rather than my dad."
The Connellan fourball on the golf course, Paul and three sons David, John and Ray, is something cherished by a family of high achievers in sport.
Paul played League of Ireland football with Dundalk and UCD and also won an U-21 All-Ireland football title with Dublin in 1975.
Eldest son David spent some years in the second tier of French rugby as a professional player, John retired from inter-county football in 2017, Ray's Westmeath career has bookended three years in Australia pursuing a career in the AFL, while sister Eimear has also donned the Westmeath colours at senior level.
The dynamics in the family haven't changed over the years, but events have conspired to solidify the relationships, opening up conversations that are not always easily expressed.
"That's nice, because I don't think it's something that men take the opportunity enough to show gratitude just for being mates with one another."
What sets the Westmeath player apart somewhat from the other three men in the documentary is that a greater passage of time has occurred since his mental health issues. It is a decade since Connellan first went through his difficulties, and more than six years since he came out the other side.
In the meantime he has developed numerous relationships with people who have no idea of what he went through at that time.
None more so than his girlfriend Lucy.
We need your consent to load this Instagram contentWe use Instagram to manage extra content that can set cookies on your device and collect data about your activity. Please review their details and accept them to load the content.Manage Preferences
The pair started dating last year and the 26-year-old was open and honest from the outset. While the severity of the situation was never lost on her, it was through talking to Ray's mother Mary in recent weeks, getting an insight into the day-to-day lifestyle he endured at the time, that has given greater understanding.
"It's hard for her to picture the two people. It's so different to the person she knows."
If the reaction to a tweet and newspaper article took him by surprise, last week's Late Late Show appearance was on a different level.
Connellan insists the scale of the reaction is in many ways irrelevant. "It's just about the message. If I resonated with one person, that was enough for me."
It has all the same blown him away.
There are hundreds of messages on Instagram he has yet to get to, the WhatsApps and texts still coming through.
The slow response is more than simply volume, he wants to take the time to give a meaningful acknowledgement to those who took the time to make contact, many of them strangers.
"I don't want to copy and paste the same message for everyone, it's just been hard to get through them all. I want to make sure I say thanks to everyone."
They were some really sentimental messages, supporting me. I was brought to tears with a few of them
That Friday night he stayed in a hotel in Dublin after the TV appearance. Back in the room Lucy fell asleep, and alone for the first time that evening, decided to scroll through some of the messages.
The posts from complete strangers left him humbled, but it was the support from closer to home that really left a lasting impression.
Emotionally-laden messages from his mates, "the lads", took him by complete surprise. Some reached out to say they had similar experiences, others of how proud they were of him for speaking up.
"They were some really sentimental messages, supporting me. I was brought to tears with a few of them. They were incredibly kind, and not how we, these lads and myself, would normally speak to each other. It was so considered and thoughtful."
Westmeath players John, far left, and Ray, far right, celebrate victory over Meath in the 2015 Leinster semi-final with mam, Mary, sister, Eimear, dad Paul and brother David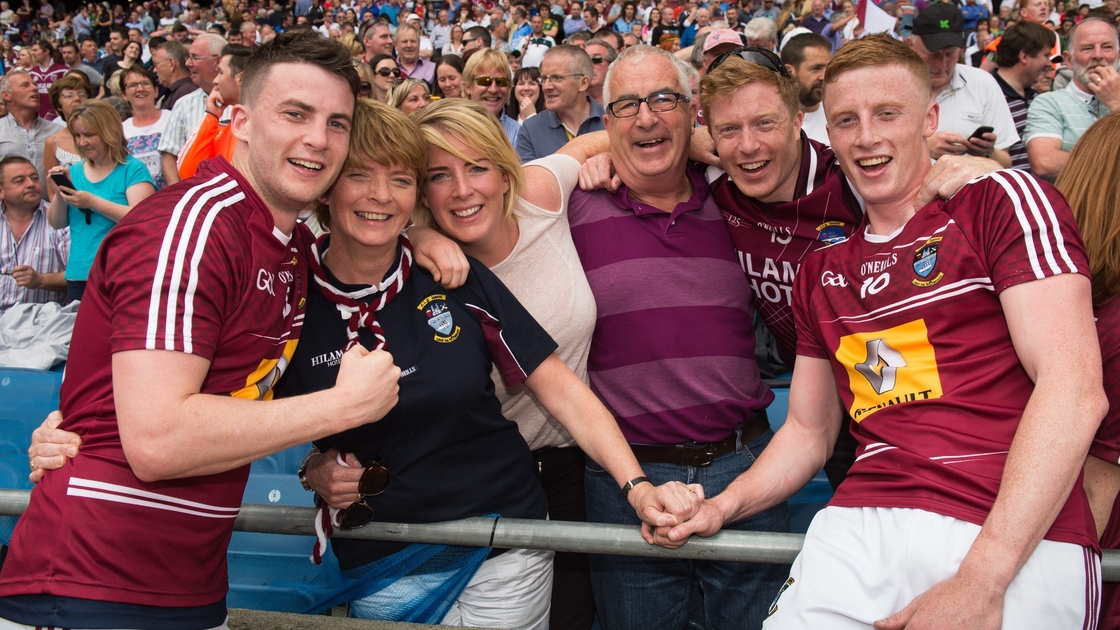 Two years down and one to go to achieve a BA in English and Geography, Connellan sees a future career in perhaps recruitment or sales.
The here and now is one of contentment – exams and assignments aside – and his mental health checklist is there for guidance: breathing, sleeping, eating good food, drinking lots of water and exercise.
"I know if I nail all those things, that I'm in as good a position to deal with stress and anxiety as I could possibly be."
Poor sleeping was a symptom of his anxiety and the technique he has used in recent years allows the heart-rate decrease and the mind drift.
"For very inhale and exhale, I count. When I breathe in and out, that's one, in and out, two etc and I count backwards, from a number. Your mind focuses on one task and the stresses that keep you awake, you forget about them.
"Inevitably your mind drifts as you lose concentration, and when that happens, you start again. By the third time I start again, I get dozy and would be ready to doze off."
That technique isn't required as much any more, but regularly – be it exams, or general day-to-day issues – a few simple deep breaths brings clarity in the face of anxiety.
"I still actively work on it. I'm not completely over it as such. I still have tendencies to get anxious".
This weekend's football and the return of the Allianz League will force Connellan to "flick the switch" and return a focus to Westmeath as they look to navigate their way through Division Two North before preparing for a championship joust with Laois.
Taking on near neighbours Meath first up is in many ways the ideal start in an unusual playing calendar, but where they are as a team, like everyone else, is hard to figure out.
"We have been so long without competitive football, it's strange to be going straight into a competitive match."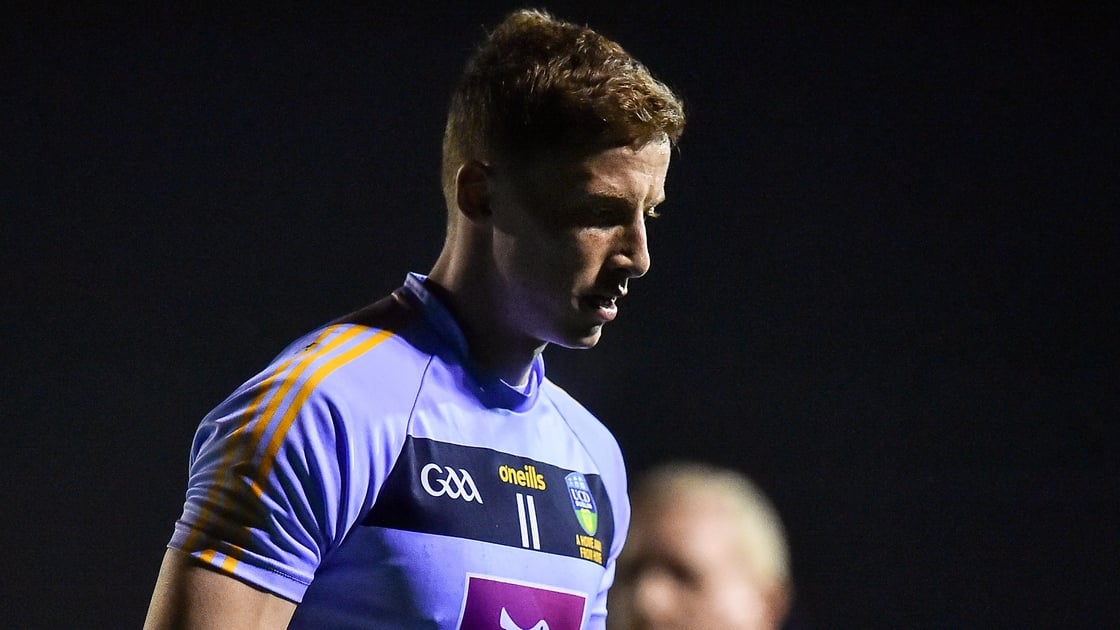 After a time pursuing an AFL career, Connellan's return to championship football last year lasted just 70 minutes. Dublin's winning margin of 11 points looks all the more impressive given what other counties have suffered at the hands of the Sky Blues in Leinster, but the game also illustrated the class the Athlone man has brought to the set-up since his return.
One a day when Tipperary's Conor Sweeney and Kerry's David Clifford scored sensational scores, Connellan's sweetly struck point from an acute angle off his left was every bit as special.
It wasn't a bolt from the blue either - he managed a similar feat against Fermanagh in the league - but for a player who grew up idolising mayo magician Ciaran McDonald, it was a memorable moment in front of the cameras.
"It's a skill I do practice and work on, so it's nice when it comes off, especially in a big game."
The GAA is just one part of his make-up, but similar in how he never wanted to be defined as a footballer, Connellan doesn't want his mental health experience to define him as a person.
He's content and possesses the coping skills to deal with what life throws his way.
"I probably have more going on in my life now than I ever had before in terms of commitments and what could stress me out, but I know how to handle it now.
"My life is really good."
He's Ray Connellan, and he's happier than he has ever been.
*If you are affected by any of the issues raised in this article, you can contact; The Samaritans (phone 116123), or Pieta House (1800247247).